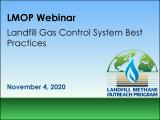 On November 4, 2020, LMOP hosted a webinar about landfill gas (LFG) control system (GCS) best practices. The major topics discussed were the importance of staff training for an effective and safe GCS, how an automated wellfield tuning technology was chosen and implemented at the McCommas Bluff Landfill, and how this technology monitors and controls the LFG collection process to maximize methane collection. The presentations were followed by a question and answer session.
For more information about best practices related to LFG collection and control, see Chapters 7 and 8 of LMOP's LFG Energy Project Development Handbook.
Speaker Bios
Matt Lamb | Senior Scientist | Smith Gardner
Matt has been involved in several aspects of LFG management since 2002, including wellfield monitoring, sampling for quality and Tier 2 analysis, Title V and PSD permitting, and LFG collection system (GCS) design. Mr. Lamb has seen LFG management expand from mandatory collection and control to voluntary collection for carbon credits and LFG energy projects. As Smith Gardner's Health and Safety Officer, Matt understands the importance of training.
Mark Messics | Director – Field Optimization and Development | Energy Power Partners
Mark has more than 31 years of experience in the LFG energy industry and has been with Energy Power Partners since 2015. His current focus is optimizing LFG production at the City of Dallas' McCommas Bluff Landfill, where Energy Power Partners operates one of the largest renewable natural gas (RNG) plants in the country; in 2017-2018, he oversaw the implementation of automated wellfield tuning and evaluated the increased LFG collection efficiency.
Nicole Neff | LFG Collection Project Manager and Sales | Loci Controls
Nicole came to the LFG energy industry with seven years of spatial analytics and environmental data management experience and a background in Environmental Science and Civil Engineering. Since joining Loci in 2017, she has been instrumental in designing and developing remote and automated LFG collection and control technology. She is responsible for daily oversight of Loci's U.S. systems, including the McCommas Bluff project.

View video on YouTube: LMOP Webinar: Landfill Gas Control System Best Practices Exit
You may need a PDF reader to view some of the files on this page. See EPA's About PDF page to learn more.