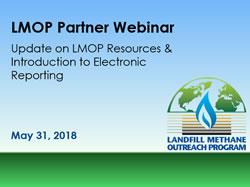 On May 31, 2018, LMOP offered a webinar to Partners to review recent updates to the following LMOP resources:
LFGcost-Web V3.2
LFG Energy Benefits Calculator
National Map of LFG Energy Projects
LMOP also presented information about the transition to electronic reporting of LMOP Partner voluntary data on landfills and LFG energy projects. Electronic reporting will be done through a separate LMOP module in e-GGRT. During the webinar, an overview of the new e-GGRT module was provided and the timeline for implementation was reviewed.

View video on YouTube: LMOP Webinar: Introduction to Electronic ReportingExit
You may need a PDF reader to view some of the files on this page. See EPA's About PDF page to learn more.