The Big River and Floodplain - St. Francois, Jefferson and Washington Counties in Missouri - Fact Sheet, July 2019
Free Lead Testing and Residential Cleanup Opportunity
Protect Public Health and Prevent Lead Poisoning
---
SEDIMENT AND SOIL IN THE BIG RIVER AND ITS FLOODPLAIN MAY HAVE HIGH LEVELS OF LEAD AND OTHER TOXIC METALS
If you own property along the Big River, or within the Big River floodplain, the U.S. Environmental Protection Agency (EPA) would like to conduct soil sampling (testing) on your property. Sampling and residential cleanup is performed at no cost to property owners. Residential properties include yards and child high-use areas such as parks and playgrounds. If you live or recreate along the Big River, you are at risk of being exposed.
Lead exposure can cause a range of adverse health effects for children and adults, from lifelong behavioral disorders and learning disabilities to seizures and death. It is harmful if inhaled or swallowed. EPA classifies lead as a probable human carcinogen and is a cumulative toxicant.
Lead is particularly dangerous to children 7 years old and younger because their growing bodies absorb more lead than adults do, and their developing brains and nervous systems are more sensitive to the damaging effects of lead. Pregnant women and nursing mothers should avoid exposure to protect their children. Babies and young children can also be more highly exposed to lead, because they often put their hands and other objects into their mouths that can have lead from dust or soil on them.
It is important that children in this age range have their blood-lead level tested annually because lead-poisoned children do not always look or act sick. It is important to know that even exposure to low levels of lead can severely harm children. Exposure to lead can cause negative health effects in infants and young children, including, but not limited to:
Nervous system and kidney damage

Learning disabilities, attention-deficit disorder, and decreased intelligence
Speech, language and behavior problems
Poor muscle coordination
Decreased muscle and bone growth, and hearing damage
Lead exposure is also dangerous for adults and can cause health issues, such as fertility problems (men and women), high blood pressure, digestive problems, nerve disorders, memory and concentration problems, muscle and joint pain.
HISTORY AND SUPERFUND SITE BACKGROUND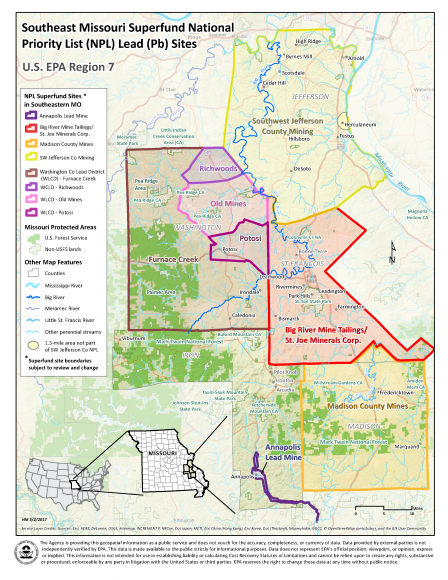 Figure 1: Southeast Missouri Superfund NPL Lead Sites - click to enlargeThe Big River flows north through the Old Lead Belt, which was one of the world's largest lead mining districts where mining began in the early 1700s and produced more than 8 million tons of lead. (See Figure 1 at right.) Large amounts of mine waste containing heavy metals were deposited into the Big River watershed as a result of these mining activities. EPA has been working for decades to investigate and address the sources of mining-related contaminants from historic mining activities in the watershed that flows into the Big River.
Federal, state and local agencies are working together to protect public health. So far, EPA has stabilized the major lead mining waste piles upstream of the river and floodplain, and has initiated the cleanup of residential properties in many impacted areas of St. Francois, Jefferson and Washington counties.
Periodic flooding along the Big River can introduce contaminated river sediments to flooded properties. Even if you have had your property tested before, it should be tested again if your property has been flooded.
SAMPLE MATERIAL BEFORE MOVING IT OFF-SITE
EPA is working with landowners in this area who borrow soil, sand or gravel or grow sod to prevent the possible spread of contaminated materials, especially to residential properties. Spreading highly contaminated material [above 400 parts per million (ppm) lead] in residential areas could result in harmful exposure to others and could be a violation of federal law.
If you engage in moving materials that are potentially contaminated, either as a business or private citizen, and are not already sampling on a regular basis, we strongly suggest that you contact EPA (contact below) to develop a sampling plan that will help protect you and others.
To have your property sampled for potential lead contamination, please contact EPA's contractor, Tetra Tech, at 636-797-8446 within 30 days to initiate the process. EPA will coordinate sampling activities to minimize inconvenience to you.
If your residential property (in St. Francois, Jefferson or Washington county) is tested and found to be contaminated with elevated lead levels near your home, EPA will clean it up at no cost to the property owner.

In addition, EPA can provide information to effectively manage land along the Big River to prevent spreading contamination downstream or to other properties.
Alternately, landowners could perform lead sampling on their own property, but with EPA oversight. If you would like to perform the sampling on your own, please contact EPA.
It is important that children 7 years old and younger have their blood-lead level tested annually. The only way to know if your child has elevated blood-lead levels is to have his or her blood tested. Children are exposed to lead when playing outside or on the floor of their homes if contaminated dust or dirt has been tracked in from outside. They can also be exposed if they eat certain kinds of fish caught in the Big River, or if they swallow or breathe contaminated dust or dirt.
Talk to your child's doctor or local health agency to arrange for blood lead testing/screening:
St. Francois County Health Center: Park Hills, 1025 West Main Street; phone: 573-431-1947.

Jefferson County Health Department: Contact them by phone at 636-797-3737, or at one of these locations: Hillsboro, 405 Main Street; Arnold, 1818 Lonedell Road; or High Ridge, 5684 State Road PP
Washington County Health Department: Potosi, 520 Purcell Dr.; phone: 573-438-2164
In general, lead exposure can be reduced by:
Washing hands after playing outside and before meals

Regularly cleaning floors, window sills, and other surfaces. Use a mop or sponge with warm water and general all-purpose cleaner. Thoroughly rinse sponges and mop heads often during cleaning of dirty or dusty areas, and again afterward.
Regularly washing children's hands, bottles, pacifiers, stuffed animals, and toys. Keep play areas clean.
Removing shoes or wiping soil from shoes before entering your home to avoid tracking in lead from soil.
Making sure children avoid fatty (or high fat) foods and eat nutritious meals high in iron and calcium. Children with good diets absorb less lead.
We are here to help protect you and your family from lead contamination. If you have questions, need additional information, and/or would like to receive site updates, contact EPA:
Daniel Kellerman
Remedial Project Manager (RPM) in Washington County and Team Leader
U.S. EPA Region 7
11201 Renner Boulevard
Lenexa, KS 66219
Phone: 913-551-7603
Toll-free: 1-800-223-0425
Email: 
kellerman.daniel@epa.gov
Jason Gunter
Remedial Project Manager (RPM) in St. Francois County
U.S. EPA Region 7
11201 Renner Boulevard
Lenexa, KS 66219
Phone: 913-551-7358
Toll-free: 1-800-223-0425
Email: 
gunter.jason@epa.gov
Greg Bach
Remedial Project Manager (RPM) in Jefferson County
U.S. EPA Region 7
11201 Renner Boulevard
Lenexa, KS 66219
Phone: 913-551-7291
Toll-free: 1-800-223-0425
Email: 
bach.greg@epa.gov
Elizabeth Kramer
Community Engagement Specialist
U.S. EPA Region 7
11201 Renner Boulevard
Lenexa, KS 66219
Phone: 913-551-7186
Toll-free: 1-800-223-0425
Email: 
kramer.elizabeth@epa.gov