Chicago Heights Superfund Site, St. Louis, St. Louis County, Missouri - Fact Sheet, April 2017
Results of Expanded Area of In-Home Sampling
RESULTS FROM AIR AND SHALLOW MONITORING WELL SAMPLING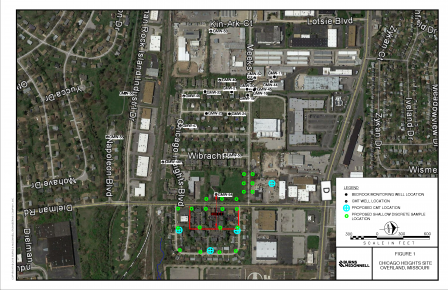 CHICAGO HEIGHTS SUPERFUND SITE MAP (click to enlarge)During February and March 2017, indoor air and sub-slab vapor samples were collected from several of the Primm Place apartment buildings east of Dielman Road, as well as the St. Luke's AME Church, the First Baptist Church of Elmwood, and one private residence on Meeks Boulevard. Groundwater samples were also collected from 18 shallow temporary monitoring wells in this neighborhood, and in Martin Luther King Park west of Dielman Road. These samples were collected to determine if groundwater is contaminated by tetrachloroethylene (PCE) and trichloroethylene (TCE) from the Missouri Metals facility, discovered in a well located in Martin Luther King Park in late 2016, pose any risks to homes and buildings east of Dielman Road.
For more information about the in-home sampling, visit EPA's February 2017 Fact Sheet. Learn more about tetrachloroethylene and trichloroethylene.
None of the sub-slab vapor samples collected from these homes and buildings showed any contamination from PCE or TCE chemicals. Only three samples of indoor air, out of 31 collected, showed any detections of these chemicals, and the levels were below health-based standards. Since the sub-slab vapor samples did not contain these chemicals, the detections in indoor air are not from sources beneath the ground and, therefore, are not related to contamination from the Missouri Metals facility.
Eighteen shallow groundwater wells were sampled and only one of the wells showed detections of PCE and TCE at low levels. This well is not adjacent to an occupied building. These results indicate that there is not a shallow plume of contaminated groundwater beneath the neighborhood east of Dielman Road.
Because the results collected during this investigation demonstrate that residents in this neighborhood are not at risk from contamination from the Missouri Metals facility, no further sampling of sub-slab vapor, indoor air, or shallow groundwater in the neighborhood east of Dielman Road are planned at this time. The sub-slab vapor sampling points installed in these buildings will remain in place should further sampling be required in the future.
NEXT STEPS
EPA is working with PerkinElmer, Inc., current owner of the Missouri Metals facility, and the company that has been conducting the ongoing investigation of the Chicago Heights neighborhood and the Missouri Metals facility, to install three additional permanent bedrock monitoring wells in the neighborhood east of Dielman Road and one south of Martin Luther King Park. These wells should be installed in April and sampled in May 2017. Deep groundwater sample results from these wells will help the EPA confirm the extent of contamination in bedrock and support a decision on how to begin cleaning up the groundwater contaminant plume from the Missouri Metals facility.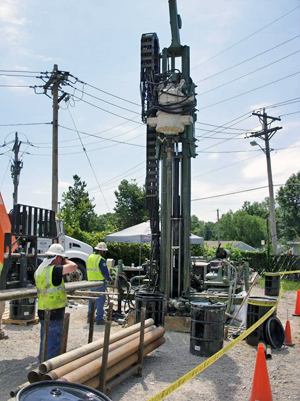 A PerkinElmer contractor drills a bedrock monitoring well on the Missouri Metals property.WHAT YOU CAN EXPECT
Residents may observe contractors for PerkinElmer drilling holes and installing the bedrock wells in the rights-of-way along the roads in the neighborhood east of Dielman Road and south of Martin Luther King Park in April, and collecting groundwater samples from the wells in May.
SITE BACKGROUND
The Chicago Heights Boulevard Site involves a contaminated groundwater plume located in an unincorporated area of north St. Louis County, Mo.
At some time before 1988, an unknown quantity of the industrial chemicals PCE and TCE was released at an industrial property located at 9970 Page Avenue, just northwest of the Elmwood Park neighborhood.
This contamination traveled through the soil and into the groundwater. Since then, TCE and other contaminants have been detected in groundwater and vapors in certain locations of the neighborhood, and TCE vapors have been detected at levels of concern in several homes. Vapor mitigation systems have already been installed in most of the homes and apartments west of Dielman Road to prevent entry of contaminant vapors that may otherwise linger in the homes.
In November 2012, EPA reached a settlement with PerkinElmer, the current owner of 9970 Page Avenue. This settlement, in the form of an Administrative Settlement and Order on Consent, requires PerkinElmer to address the contamination emanating from their property.
ADDITIONAL INFORMATION
An Action Memorandum for work performed at this site in previous years is available on EPA's website.
For more information, please contact:
Tamara Freeman
Community Engagement Specialist
EPA Region 7
11201 Renner Boulevard
Lenexa, KS 66219
Daniel Gravatt
Remedial Project Manager
EPA Region 7
11201 Renner Boulevard
Lenexa, KS 66219
Toll-free: 1-800-223-0425
Email:
gravatt.daniel@epa.gov