EPA and Local Groups Work to Eliminate Lead Poisoning in St. Joseph, Missouri
– EPA Region 7 Feature –
By Shannon Bond, Office of Public Affairs
Children came to the Bartlett Center Halloween party in St. Joseph, Missouri, for the candy, but some parents came for the free lead screening on Oct. 25, 2019. EPA Region 7 partnered with the Bartlett Center and the St. Joseph Health Department to offer the screening at no cost. After a visit with the nurse, kids received candy and goody bags.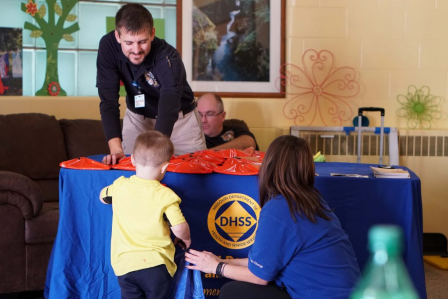 Bartlett Center Executive Director Marchel Turner explained that lead screening is important for children in the 64501 ZIP code. Fifteen percent of children in this area reported elevated blood lead levels, according to a Reuters examinationExitin 2016. St. Joseph was one of nearly 3,000 areas in the U.S. with elevated lead poisoning rates.
Turner, who holds a master's degree in counseling psychology, explained that lead poisoning can lead to behavioral issues and learning disabilities, so parents need to understand the danger.
"A lot of parents don't feel their kids need help with behavior issues because it's just them being bad. But if something is going on chemically in their brain that causes them to act out, I think parents will be more obliged to get their kids checked."
Lead poisoning is hard to recognize and can be different for every child. And some children do not display symptoms at all.
"If you get up in the really high ranges, it can cause nausea, vomiting, coma, or even death," Sadie Kennedy explained. She is a registered nurse and clinic coordinator for the St. Joseph Health Department. "But obviously, if we are aware of it, we are intervening before we get to that level."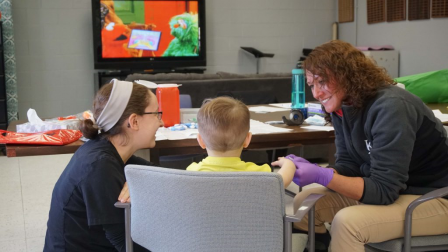 Most lead exposure in St. Joseph originates from lead paint in older homes and historic houses lining the city streets. Many of these, according to Kennedy, have not been painted since the 1978 law banned the use of lead in paint. "People think just because lead isn't in the paint anymore that lead exposure risk isn't there. And the 1970s wasn't that long ago, even though it seems like it. Lead is an element, so it doesn't go away," she said.
Even if homes were painted since 1978, lead may still be lurking in some places. Lead-based paint breaks down over time and the element finds its way into dust around the house. Doors and windows are the most common areas. Children playing and crawling in these spaces have the potential to pick up dust on hands, shoes and cloths.
In 2018 and 2019, EPA partnered with the city and community organizations to offer tools and activities for parents and children. Region 7 staff members like Anna-Marie Romero, Office of Environmental Justice, visit St. Joseph regularly to offer educational sessions at day care centers and schools.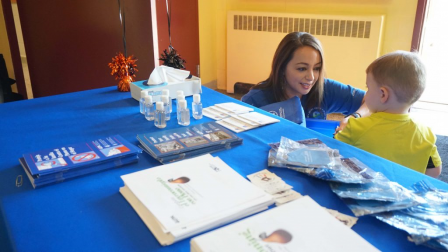 "We let children handle eggshells during events to help them understand what peeling paint feels like and what to stay away from. We also put a teaspoon of sugar in our palm and let the children see it. Then we stir it into a patch of soil, and as it absorbs, we explain that just because we can no longer see the oil, doesn't mean it's not there," Romero said. "In a matching game, we use images to help children identify potentially contaminated areas, and solutions like hand washing."
Hand sanitizer is not enough, Kennedy pointed out, because putting sanitizer on hands without washing and drying just moves the lead around. "You have to wipe it off. The biggest exposure is hand to mouth when kids eat or just put their hands in their mouths, because that's what kids do," she said.
Kennedy also stressed that the only way to know if your child has lead poisoning is to get them tested.
"We recommend parents go to their pediatricians to keep them involved," she said, explaining that pediatricians have lead-care analyzers, which produce detailed results immediately. "At the health department, we can test you with a finger stick, but it will take longer to get the results back because we don't have the machine pediatricians do."
Learn how to protect your family from exposures to lead