EPA Highlights Historically Black Colleges and Universities in Region 7 for National HBCU Week, Sept. 21-25
– EPA Region 7 Feature –
By Alyssa Cole, Office of Public Affairs
What is now an expectation, the right to an education, was once denied to people who were enslaved in the United States. During the late 18th century and throughout the 19th century, government officials passed laws criminalizing the education of these people. In response, African Americans, abolitionists, and other allies began to establish institutions of higher education for the benefit of African Americans, now known as Historically Black Colleges and Universities (HBCUs).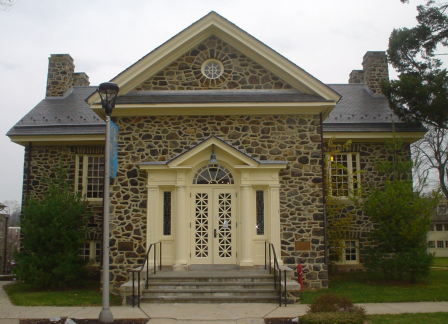 Carnegie Library on Cheyney University campus, built 1909. (Public domain)In his will, Richard Humphreys bequeathed a tenth of his estate, $10,000, to a society or organization that would establish an institution of higher learning specifically for African American people.
The Institute for Colored Youth, now Cheyney UniversityExit, known as the first HBCU, was founded in 1837 with the support of Humphreys, a Quaker from Philadelphia. Since that time, over 100 HBCUs have been founded across the U.S. According to the National Center for Education Statistics, there are currently 101 accredited HBCUs.
In Region 7, there are two HBCUs: Lincoln University of MissouriExit, a public Land Grant university in Jefferson City, Missouri, and Harris-Stowe State UniversityExit, a public university in St. Louis. To honor HBCU week, EPA Region 7 is highlighting these institutions and our people who attended HBCUs.
Lincoln University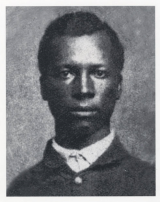 Photo of John Jefferies, Private of the 62nd U.S.C.T. Infantry, U.S. and a founder of Lincoln University, 1866. (Photo credit: Lincoln University Picture Collection, Inman E. Page Library, Jefferson City)Though the Civil War ended on April 9, 1865, members of the 62nd and 65th United States Colored Infantry were not finished fighting for the rights of formerly enslaved people. This time, though, their fight was for education.
The armed forces provided these soldiers with an education. Once the war ended, these men sought to extend their educational good fortune to all formerly enslaved people in Missouri, the state most of them hailed from. They believed that African Americans, regardless of their societal standing, had the right to a formal education.
Together, members from the 62nd raised $5,000, while members from the 65th supplemented this amount with another $1,400. They formally established Lincoln Institute on Jan. 14, 1866, and opened its doors to students on Sept. 17 of that year. Richard Baxter Foster, the 62nd's former commanding officer, served as the first principal of Lincoln Institute.
Lincoln University Founding Constitution, 1866. (Photo credit: Lincoln University Picture Collection, Inman E. Page Library, Jefferson City)In founding documents held by the HBCU Library Alliance, specific criteria for the university states the following:
"But two conditions were made to the gifts: that the school should be established in Missouri, and that it should be open to colored people. The fundamental idea was indeed that it should be for their special benefit; but special does not necessarily mean exclusive, while in this case it means precisely the contrary."
In 1879, Lincoln Institute deeded the property to the state, making the school an official state institution. It focused on teacher training in the beginning, but added industrial and agricultural courses to its curriculum in 1890, once Lincoln became a Land Grant institution. Lincoln Institute officially became Lincoln University in 1921.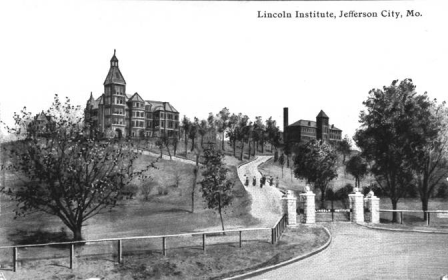 Panoramic view of Lincoln Institute, 1900. (Photo credit: Lincoln University Picture Collection, Inman E. Page Library, Jefferson City)Today, Lincoln University enrolls nearly 3,100 students per year. Crystal McIntyre, Region 7's Lead-Based Paint Program coordinator, attended Lincoln and received a bachelor's degree in broadcast journalism.
"Attending Lincoln University was an opportunity of a lifetime for someone like me, who didn't have good examples of higher education pursuance," McIntyre said. "At Lincoln, I received a quality education, wrapped in personal attention, while campus life gave me that home away from home feeling, being surrounded by others who looked like me."
A driving force behind HBCUs is the need to offer quality education to students who may face extra obstacles as they work toward their goals. Like any good university, HBCU professors and staff offer students encouragement and help them make informed decisions, but HBCUs are unique because the cultural perspective of staff and professors closely resembles the students they serve.
Harris-Stowe State University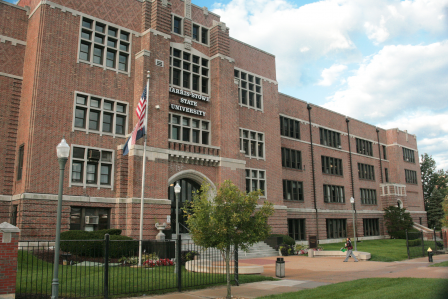 Harris-Stowe State University Administration Building. (Photo credit: Harris-Stowe State University)In 1954, Harris Teachers College and Stowe Teachers College merged to form what is now known as Harris-Stowe State University. By joining forces, these two institutions bridged a divisive gap in the history of educating teachers in St. Louis. The partnership of these schools, one for White students and the other for Black students, nurtured dialogue between groups historically and legally separated.
St. Louis Public Schools opened Harris College in 1857 as a Whites only teacher's college. It was named after William Torrey Harris, former superintendent of St. Louis Public Schools and a U.S. commissioner of education. Harris College became an accredited four-year university in 1920. Following its accreditation, the university became eligible to grant a Bachelor of Arts in education to students.
Sumner Normal School, later known as Stowe Teachers College, opened in 1890 as an extension of Sumner High School. Sumner renamed itself after Harriet Beecher Stowe in 1929, becoming known as Stowe Teachers College. The college was opened to prepare Black teachers to educate elementary school children.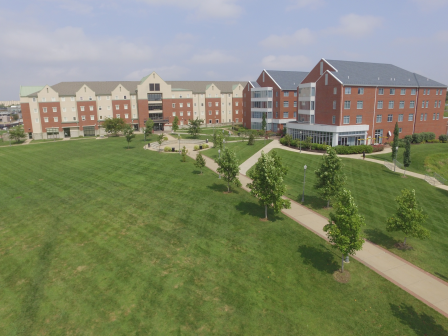 Harris-Stowe State University campus (Photo credit: Harris-Stowe State University)Over the course of the late 20th century, the college underwent numerous name changes. In 1977, after petitions by Stowe alumni and members of the St. Louis Community, the St. Louis Board of Education added the name "Stowe," becoming Harris-Stowe College. Two years later, the college became a state institution, and "State" was added to the name.
Harris-Stowe State College expanded its course and degree offerings over the years, becoming the first to offer a Bachelor of Science in urban education. This degree aimed to prepare teachers for the unique challenges that accompany teaching in urban settings and inner city schools. In the 1990s, the college added degrees programs including criminal justice and business administration. The college officially became a university in 2005 and is now known as Harris-Stowe State University.
What Region 7 Has to Say
The Higher Education Act of 1965 coined the term "HBCU" in reference to colleges that were established prior to 1964 for the benefit of African Americans. Though the principal mission of HBCUs was to educate Black Americans, they accept, enroll and graduate students of all races and ethnicities in the United States. Not only do HBCUs provide a unique cultural experience, they also serve as a home away from home to their students.
EPA Region 7 employees know the importance of HBCUs in American society. While Lincoln University and Harris-Stowe State University are in Region 7, our colleagues have had the privilege to attend HBCUs among the 99 others across the country. When asked about their experiences, they provided the following details about life at an HBCU: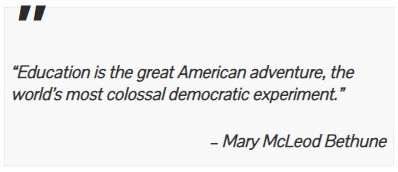 "My HBCU is the University of Arkansas at Pine Bluff. I can truly describe my time there as profoundly memorable and life-changing. I truly felt an intense sense of belonging and gained from my experience a deeper awareness of my history, culture and being. It was an added honor to see African Americans excel on so many different levels academically. I reflect fondly on those days and still feel enormous pride when I encounter a fellow alum or see that 'Golden Lions' banner wave." – Antoinette Singletary, budget officer, Mission Support Division
"I chose Texas Southern University because it was a chance to gain education and experience in a diverse environment. I grew up in a small town in Texas. I was one of two African American students in my graduating class. Attending TSU was a chance to experience life in a completely different way. My HBCU experience better prepared me for life beyond college. The values and principles learned from my sorority experience, and life in general on campus at an HBCU, better prepared me spiritually, academically and socially. I value my experience and would not trade it for anything." – Krystal Stotts, on-scene coordinator, Superfund and Emergency Management Division
"Attending an HBCU was the best decision of my life. Coming from a high school that lacked diversity, it was during my time at Prairie View A&M University where I was afforded my first opportunity to have a person of color as an instructor and to understand that greatness lies within me and nothing less was expected. Prairie View produces productive people." – Lachala Kemp, Community Partnership Section chief, Air and Radiation Division
"The reason why I chose to spend my college years at an HBCU – Virginia State University in Petersburg, Virginia – is because it felt like a once-in-a-lifetime opportunity to be surrounded by the culture and rich diversity of the African diaspora with varying socio-economic backgrounds. As an immigrant from another country who attended a predominately White middle and high school, I wanted to find that sense of identity, an environment designed to uplift our community and a sense of home. It was also to gain an education that would allow me to achieve success and financial security in an environment sans discrimination." – Heather Collins, environmental protection specialist, Water Division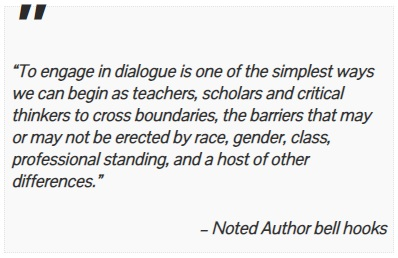 "Attending Clark Atlanta University provided me the golden opportunity to gain a quality education and connect with other highly motivated African Americans. As a first-generation college student, the network was very important to me and I created friendships that continue to this day." – DeAndre Singletary, Land, Chemical and Redevelopment Division director
"I count it an honor to be among the many HBCU graduates across the country who are actively and competitively striving for professional success. It is with great pride that I think about so many celebrated African Americans in every field who are also HBCU graduates. I smile at my connection to them – from Dr. Martin Luther King Jr., Thurgood Marshall, and Barbara Jordan to Doug Williams and Wilma Rudolph to the Tuskegee Airmen and Katherine Johnson. The sense of courage in the face of adversity and a lack of fear of being "the first" was part of what brought me to an HBCU. Having graduated high school as one of four Blacks in a class of 400, I knew I lacked confidence and self-awareness. Attending Prairie View A&M University of Texas meant I wasn't odd because I spoke well or was sharp as a student and didn't fit stereotypes. My features weren't something stared and puzzled at, but embraced. In addition to getting an education from a university that graduates more Black engineers than any other school in the country, I also gained a sense of self that is unshakable." – Althea Moses, Environmental Justice Program manager
"I'm so glad I attended Howard University in D.C. for my doctorate. I chose the school because it was the number 3 ranked intercultural communication Ph.D. program in the country; and my favorite intercultural communication researcher and author was a professor there. More importantly, though, I experienced a culture that welcomed and challenged me. It was not the typical hypercompetitive academic environment one would expect at the doctoral level. Instead, the professors inspired a supportive and cooperative culture. In turn, we embraced their approach and became a prolific cohort in collaboratively researching, writing, presenting and publishing. I'll always remember the experiences that my professors and colleagues shared with me at Howard University. It was the best place to prepare me to accomplish my life's work in intercultural communication." – Curtis D. Carey, Ph.D., Public Affairs director