EPA Region 7 Works with Community to Prevent Childhood Lead Poisoning in St. Joseph, Missouri
– EPA Region 7 Feature –
By Alyssa Cole, Office of Public Affairs
Nestled alongside the Missouri River in northwest Missouri is St. Joseph, home to nearly 76,000 people. The city and EPA partnered on an outreach campaign that began in 2017 to protect children from lead poisoning.
The initiative was prompted by a 2016 Reuters articleExitthat reported blood lead levels of children in St. Joseph were higher than those in Flint, Michigan.
"In 2017, blood test levels showed 15% of children in St. Joseph had elevated levels of lead in their blood," said Jamie Green, who oversees the Toxics Program, including lead, in EPA Region 7.
Advocating for Children's Health
Dr. Cynthia Brownfield, a St. Joseph pediatrician, explained that elevated lead levels in children are prevalent in the city. "It's common for me to see levels in the teens," she said. Her daughter was 2 years old when they moved to St. Joseph, and at a doctor's visit a few months later, they discovered that her blood lead level was 23 micrograms per deciliter (μg/dL). Brownfield emphasized the importance of yearly well-checks with a pediatrician, because diagnosing lead poisoning symptoms in infants and toddlers is difficult.
"In older children, symptoms include irritability, learning disabilities, speech and language delays, headaches, and abdominal pain," Brownfield said. "But the single most effective way to detect lead poisoning in children ages 2 and under are wellness exams."
According to Althea Moses, Region 7's Environmental Justice (EJ) program manager, unlike Flint, the source of lead contamination in St. Joseph comes from the large inventory of old houses. Moses serves as Region 7's Communities Section chief, managing environmental justice, children's health, and environmental education programs. "Ninety percent of homes in St. Joseph were built before 1978," she said. "But most of the lead poisoning cases came from one particular ZIP code."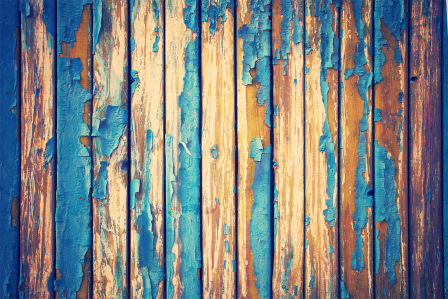 Not only is this ZIP code home to a racially diverse population, but many families rent instead of own. Lead-based paint peeling off the inside and outside of homes causes lead dust to permeate the surrounding air and soil, and many families do not have the resources to repaint their homes or pay for lead abatement.
According to Moses, "The simple act of a child pulling themselves up onto a windowsill to look outside can cause them to inhale lead dust from chipping paint." Having worked with the community before, Moses knows that the best way to reach affected families is through collaboration with community partners. "The people in St. Joe have a powerful sense of community and pride."
St. Joseph Mayor McMurray, one of the key leaders in the joint lead poisoning prevention campaign, was newly appointed by EPA Administrator Andrew Wheeler to the Local Government Advisory Committee (LGAC) in February 2020. The 31-member LGAC provides advice to EPA on developing stronger partnerships with local governments and building their capacity to deliver environmental services and programs.
Partnering with Community Champions
Many organizations in St. Joseph host annual events, including a Juneteenth Celebration, Halloween parties, and Tiny Tots Town at Christmas. By partnering with the St. Joseph chapter of the NAACP and the Bartlett Center, EPA was able to reach families most affected by lead poisoning at those events.
"At the day care center, I have seen specific behaviors as a result of lead poisoning, but these behaviors could be mistaken for disobedience by caregivers," said Marchel Turner, director of the Bartlett Center, which offers day care and other services to families and children in the community.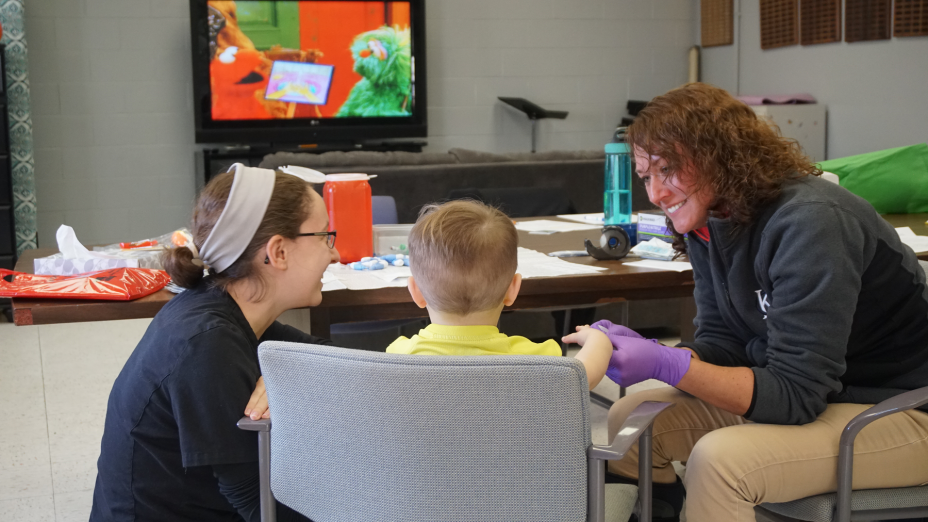 During a children's Halloween party in 2019, EPA partnered with the Bartlett Center and the city of St. JosephExitto offer blood lead level testing. During the event, Turner emphasized the importance of educating caregivers about lead poisoning, its preventable nature, and its deleterious consequences if left unattended.
"By partnering with the Bartlett Center at their Halloween party and other local events the EJ team reached 75 families," said Anna-Marie Romero, children's environmental health coordinator on the Region 7 EJ team.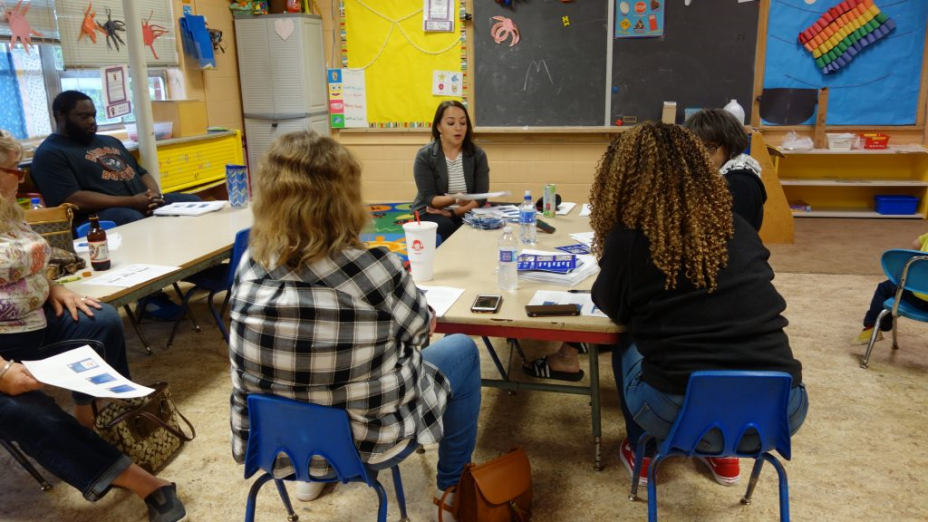 In addition to providing free blood lead screening, the EJ team gave families cleaning supplies and educational materials. Romero has also partnered with the city to offer lead poisoning prevention courses to caregivers at day cares across St. Joseph. These ongoing courses provide continuing education credit to professional caregivers.
Green explained that the families were initially surprised that EPA was there, but they appreciated the programs and events the agency hosted with community partners.
Looking to the Future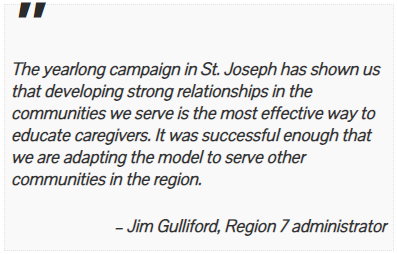 "Lead is a real danger to children in high-risk areas, and with our state and community partners, we work hard to prevent exposure," said Jim Gulliford, EPA Region 7 administrator. "The yearlong campaign in St. Joseph has shown us that developing strong relationships in the communities we serve is the most effective way to educate caregivers. It was successful enough that we are adapting the model to serve other communities in the region."
Since the lead poisoning prevention campaign began in 2017, EPA has continued its community partnerships. In collaboration with the health departments of St. Joseph and Kansas City, Missouri, the EJ team has facilitated biweekly meetings since September 2019 to allocate lead abatement grant funds from the U.S. Department of Housing and Urban Development (HUD) to homes most effected in St. Joseph.
Though the COVID-19 pandemic has slowed progress in 2020, the EJ team continues to reach children and families in St. Joseph, whether by alleviating obstacles or providing lead outreach materials to families in need.