Madison County Mines National Priorities List (NPL) Superfund Site, Madison County, Missouri - Fact Sheet, June 2019
EPA to Host Public Availability Session
INTRODUCTION
The U.S. Environmental Protection Agency (EPA) Region 7 will host a Public Availability Session to discuss activities at the county-wide Madison County Mines National Priorities List (NPL) Superfund Site (site) in Madison County, Missouri. EPA will provide an overall site update with a focus on activities at Operable Unit 2 (OU-2), which consists of the Anschutz Subsite, also known as the Former Madison Mine. EPA and state representatives will be available to answer questions after an EPA presentation.
The session will be held:
Tuesday, June 11, 2019
6:30 to 8:30 p.m.
Black River Electric Cooperative
2600 Highway 67
Fredericktown, MO 63645
REASONABLE ACCOMODATIONS
EPA Region 7 is committed to providing reasonable accommodations to individuals with disabilities. To request a reasonable accommodation at the Public Availability Session, contact Jonathan Cooper by email at cooper.jonathan@epa.gov or toll-free at 1-800-223-0425. Speech or hearing impaired individuals should email or call using the local relay service.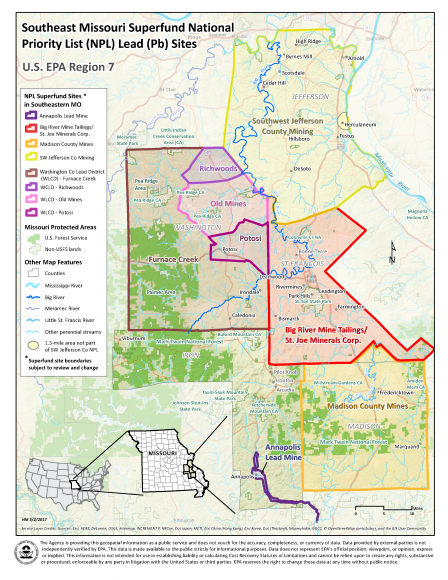 Figure 1: Southeast Missouri Superfund NPL Lead Sites - click to enlargeBACKGROUND
The site is part of the Old Lead Belt in southeastern Missouri and was one of the world's largest lead mining districts. (See Figure 1 at right.) Mining began in the early 1700s and produced more than 9 million tons of lead. Extensive lead mining, milling and smelting activities contaminated soil, sediment, surface water and groundwater with elevated levels of heavy metals, primarily lead, prompting the need for state and EPA involvement. Contaminated materials have been transported and used as soil and fill at residences, as soil amendment and road base, and used in yards, driveways, parking areas and playgrounds throughout Madison County.
LEAD HEALTH RISKS AND TESTING FOR CHILDREN
Lead is a toxic metal that is harmful if inhaled or swallowed; it is the main contaminant of concern at the site. Lead is classified by EPA as a probable human carcinogen and is a cumulative toxicant.
Lead exposure can pose serious health risks, particularly for young children (7 years old and younger), pregnant women, and nursing mothers. Pregnant women and nursing mothers should avoid exposure to lead to protect their children. (See ABOUT LEAD HEALTH RISKS AND TESTING below.)
WHAT IS THE CURRENT SITE STATUS?     
To protect human health and the environment from the dangers of lead, EPA has remediated (cleaned up) over 750,000 cubic yards of contaminated soil and approximately 87 acres of mine waste since 2000. Around 10 million to 15 million cubic yards of mine waste were generated in Madison County, and seven of 13 mine waste piles have been remediated. The county-wide site is separated into seven Operable Units (OUs):
OU-1: Northern Madison County

OU-2: Former Anschutz Subsite/Madison Mine
OU-3: Residential properties and child high-use areas (described below)
OU-4: Conrad Tailings
OU-5: Catherine Mines/Skaggs Tailings Pile/Little St. Francois River (LSFR) Pile and Mill
OU-6: Silver Mines
OU-7: LSFR Watershed and Floodplain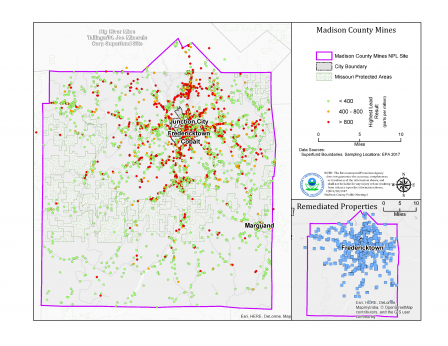 Figure 2: Madison County Mines NPL Site Map - click to enlargeEPA has sampled (tested) over 5,000 residential yards for lead contamination and over 2,080 residential properties have been cleaned up since work began. (See Figure 2 at right.) Residential properties are defined as and include residential yards; public use areas; child high-use areas (childcare facilities, parks, and playgrounds); associated unimproved roadways/alleys; right of ways; and stormwater drainages. Many more properties are eligible for remediation. In addition, private drinking water wells have been tested for elevated lead levels; the county and EPA routinely test domestic wells for metals contamination.
NEW REMOVAL ACTION UPDATE FOR OU2      
EPA recently announced a settlement agreement with Missouri Mining Investments, LLC (MMI) that requires MMI to perform a removal action at their property in OU-2 – the Former Anschutz Mine, also known as the Madison Mine. Under EPA oversight, MMI will conduct additional site characterization; develop a more detailed plan to consolidate and cover mine waste and contaminated soil; and remove contaminated sediments from the Metallurgical Pond and other surface water ponds and streams on MMI's OU-2 property. Under this agreement, effective on Feb. 28, 2019, MMI has already begun implementing the Supplemental Investigation Work Plan and must submit a draft report to EPA by Aug. 28, 2019.
ABOUT LEAD HEALTH RISKS AND TESTING
Lead exposure can cause a range of adverse health effects, including behavioral disorders, learning disabilities and seizures, putting young children at the greatest risk because their brains and nervous systems are still developing. Children 7 years old and younger are most at risk from developing health effects from exposure to lead. It is important that children in this age range be tested annually, because lead-poisoned children do not always look or act sick. The only way to know if your child has elevated blood-lead levels is to have his or her blood tested. Your doctor can do a simple blood test to check your child, or you, for lead exposure. Talk to your child's doctor, general physician, or your local health agency – the Madison County Health Department (MCHD) – about a simple blood test for your child. MCHD offers free lead testing for children at 806 W. College, Fredericktown, MO 63645; contact them by phone at 573-783-2747.
EPA is asking residential property owners for access to conduct free lead contamination testing. If your property has been tested and is eligible for remediation [400 parts per million (ppm) lead or higher], EPA's contractor will perform the cleanup for free. If your residential property has not been tested for lead contamination, talk with EPA or the Madison County Health Department (MCHD) about testing your yard or private well. Sampling and cleanup is performed at no cost to property owners.
ADMINISTRATIVE RECORD
EPA Region 7 has compiled an Administrative Record (AR) file for this action at OU-2, which contains technical documents with respect to EPA response actions at this site. EPA has assessed the ability of the public to access the AR file through an internet-based repository and has determined that the local community has this ability. The AR files for this site are available on EPA's website (under Site Documents and Data).
FOR ADDITIONAL LEAD AND SITE INFORMATION
EPA CONTACT INFORMATION
Questions or requests for site information can be submitted to:
Kurt Limesand
Remedial Project Manager
U.S. EPA Region 7
11201 Renner Boulevard
Lenexa, KS 66219
Phone: 913-551-7184
Toll-free: 1-800-223-0425
Email: 
limesand.kurt@epa.gov
Brad Eaton
Remedial Project Manager
U.S. EPA Region 7
11201 Renner Boulevard
Lenexa, KS 66219
Phone: 913-551-7265
Toll-free: 1-800-223-0425
Email: 
eaton.brad@epa.gov
Elizabeth Kramer
Community Engagement Specialist
U.S. EPA Region 7
11201 Renner Boulevard
Lenexa, KS 66219
Phone: 913-551-7186
Toll-free: 1-800-223-0425
Email: 
kramer.elizabeth@epa.gov