Southwest Jefferson County Mining National Priority List (NPL) Superfund Site, Jefferson County, Missouri - Fact Sheet, August 2017
EPA Conducting Remedial Action – Residential Soils
OVERVIEW OF RESIDENTIAL SOIL CLEANUPS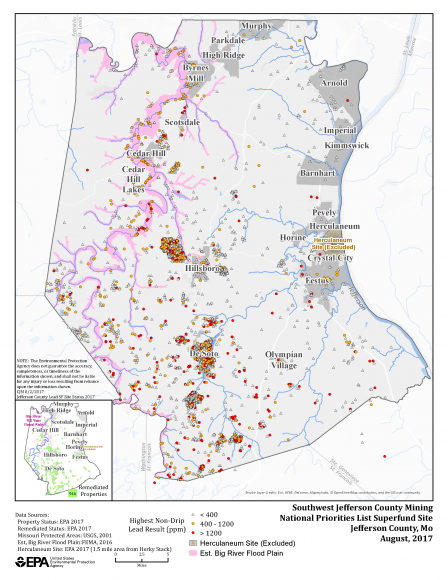 SOUTHWEST JEFFERSON COUNTY MINING NPL SITE MAP (click to enlarge)The U.S. Environmental Protection Agency (EPA) Region 7 is remediating (cleaning up) lead-contaminated soil in residential yards within the Southwest Jefferson County Mining National Priorities List (NPL) Superfund Site. The county map (at right) shows over 3,000 residential properties that have been tested for lead contamination. Over 946 residential properties have been cleaned up since cleanup work began in 2007.
If your property has not been tested, and you would like to have your soil and/or groundwater analyzed, please contact one of the EPA contacts listed below. EPA requests that property owners grant access to the EPA contractor to test residential properties for possible lead contamination. This is at no cost to the property owner.
HOW WOULD EPA CLEAN UP MY PROPERTY?
If your residential property qualifies for cleanup, EPA will include an access agreement with your sampling results letter. By signing and returning the access agreement, you are taking the first step in the process to allow the EPA contractor to clean up the affected areas of your yard.
Before the work can begin, the EPA contractor will schedule a time to meet with you, review the affected areas of the yard, answer any questions, and address any concerns. The contractor will have a checklist of items to discuss with you, including locating private utilities installed by you at the property and determining the best way to move equipment in and out. The EPA contractor will ask the owner to sign the checklist and give them final permission to start the work. Once utilities are located, the cleanup can begin within a few weeks, weather permitting.
The cleanup generally includes excavating up to one foot of soil from the areas that qualify for cleanup. The contractor will then replace these areas with clean soil, return the grade to the original contours, and restore the lawn. You are responsible for watering the growing lawn, which may result in additional cost to you on your water bill. This is the only expense you will bear throughout the process.
The EPA contractor is only permitted to restore the property to its original condition, and is required to repair or replace any items damaged during the cleanup process. The contractor is not allowed to make improvements to the property. Once the restoration work is complete and the yard is established, the contractor will request a final meeting with you to review and sign a final checklist to confirm satisfactory completion.
WHY IS LEAD CONTAMINATION A CONCERN?
Lead is classified by EPA as a probable human carcinogen and is a cumulative toxicant. It is a toxic metal that is harmful if inhaled or swallowed. Lead exposure can pose serious health risks, particularly for young children, pregnant women, and nursing mothers. Children are more sensitive to lead than adults, and can develop lifelong disabilities and problems from lead exposure. Children 7 years old and younger are most at risk from developing health effects from exposure to lead. It is important that children in this age range be tested annually, because lead-poisoned children do not always look or act sick.
Talk to your pediatrician, general physician, or local health agency about what you can do and about testing your child. Your doctor can do a simple blood test to check you or your child for lead exposure. Pregnant women and nursing mothers should also avoid exposure to lead to protect their children.
For more information on free blood lead testing for children  please contact:
Jefferson County Health Department, Main Office
405 Main Street
Hillsboro, MO 63050
Phone: 636-797-3737
ADDITIONAL SITE AND LEAD INFORMATION
EPA CONTACT INFORMATION
Questions and requests for information about this remedial action can be directed to:
Greg Bach
Remedial Project Manager
Superfund Division
EPA Region 7
Phone: 913-551-7291
Toll-free: 1-800-223-0425
Elizabeth Kramer
Community Engagement Specialist
Enforcement Coordination Office
EPA Region 7
Phone: 913-551-7186
Toll-free: 1-800-223-0425