Hurd Field Porous Pavement Education Project
On this page:
---
Background/Location
Rainwater and snow melt runs off the surface of traditional pavement and carries pollutants to our water ways. Porous pavement lets water infiltrate into the soil through gaps in all the layers to the groundwater. It also filters pollutants from stormwater and helps protect the water quality of Mill Brook. Since optimum performance of porous pavement depends on these air spaces, sand should not be used in the winter. Porous pavement must be vacuumed (not swept) clean to avoid clogging. Watch the video below to learn more about the porous pavement project on Hurd Field.
---
Benefits of Porous Pavement
Reduces the volume and velocity of runoff
Improves water quality by capturing the water and filtering it
Replenishes groundwater
Reduces impacts of flooding during storm events
Eliminates the need for sanding and reduces the need for road salt in winter months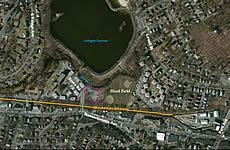 View a larger aerial photo of the Hurd Field Parking Lot, Arlington, MA.
---
Hurd Field Porous Pavement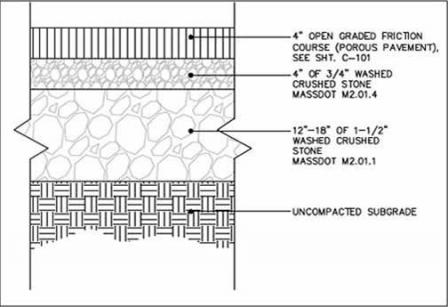 View a larger version of this image.

See the final draft design of the parking lot.
---
Photo Gallery
Click on thumbnails to view
larger versions of images.
---
Additional Resources on Porous Pavement
Learn more about Low Impact Development and community projects by checking out EPA's Soak Up the Rain Campaign web site.
University of New Hampshire's Stormwater Center Exit is a resource for information on porous pavement and other low-impact development methods.
Local land use officials addressing the relationship of land use to natural resource protection can learn more about low-impact development for stormwater management through The University of Connecticut's Nonpoint Education for Municipal Officials (NEMO) program. Exit