How the National Estuary Programs Address Stormwater
Stormwater runoff is generated when precipitation from rain and snowmelt events moves across the landscape without percolating into the ground. As the runoff flows over the land or impervious surfaces (e.g., paved streets, parking lots and building rooftops), it can accumulate:
debris;
chemicals;
sediment; and
other pollutants.
If the runoff is untreated, it can degrade water quality.
NEP Approach/Success Stories
On this page:
---
Buzzards Bay National Estuary Program
Stormwater contributes to nutrient and pathogen impairment in Buzzards Bay (located in Massachusetts). Bacterial contamination from stormwater discharges are a major reason for closure of many of the 6,000 acres of year-round shellfish growing areas in Buzzards Bay.
The NEP and five municipalities (Dartmouth, Acushnet, Fairhaven, Mattapoisett, and Wareham) partnered together to create the Buzzards Bay Stormwater Collaborative. The Stormwater Collaborative was established as a coordinated program to inventory stormwater networks and monitor discharges to impaired surface waters in Buzzards Bay. The long-term goal of this initiative is to help municipal governments and residents reduce environmental and human health risks associated with stormwater discharges to shellfish beds, swimming beaches, and other impaired priority waters.
The NEP created a discharge report for each municipality, including stormwater quality data, dry weather inspection information, maps based on collected stormwater infrastructure GIS data, identification of possible illicit connections, and recommended priorities for municipal action to manage these stormwater discharges. These findings were also made available to the public and government officials on the Stormwater Collaborative Interactive Map. ExitParticipating municipalities will use this information to make informed decisions about actions they can take to improve water quality.
The Buzzards Bay Stormwater Collaborative expanded to include a new partnership with the Massachusetts Maritime Academy (MMA). This new initiative will add three additional municipalities (Westport, Marion, and Bourne) to the collaborative. Under the agreement, MMA will provide staff support and co-op students who will work with Buzzards Bay municipalities and the Buzzards Bay NEP on monitoring and mapping tasks.
---
Buzzards Bay National Estuary Program
The Buzzards Bay National Estuary Program (located in Massachusetts) assists communities in meeting their stormwater challenges.
In one initiative, the Program provided summer jobs to students interested in GIS mapping techniques. The students surveyed roadways and shorelines in the Buzzards Bay study area to map the stormwater infrastructure. Fire departments received this information to help them respond to hazardous material spills. The map data also were used to create an Atlas of Stormwater Discharges in the Buzzards Bay Watershed.
The atlas and companion CD include maps of more than 2,600 stormwater discharges and more than 12,000 catch basins in Buzzards Bay. The Program distributed these materials to municipal boards and local libraries. Moreover, boards receiving the document and poster-sized maps included the following:
boards of selectmen
departments of public works
boards of health
conservation commissions
The Program also developed "Unified" regulations to ensure consistency among planning boards, conservation commissions and boards of health in addressing stormwater issues.
The principle behind these regulations is that no new construction should create any new direct untreated stormwater discharges that degrade water quality or living resources, and that stormwater must be treated on site. A rainfall of 1-1/4 inches or greater occurs in the Buzzards Bay area, on average, every four months.
The Program adopted the standard of treating the first 1-1/4 inch rainfall on impervious surfaces within a watershed. This rule captures, on average, 90 percent of the rainfall volume that falls in a given year. The Program also offers technical assistance in implementing these stormwater regulations.
---
Casco Bay Estuary Partnership (CBEP)
The CBEP (located in Maine) works to advance an innovative strategy to clean up stormwater pollution in areas developed before widespread use of effective stormwater management techniques.
Long Creek is an urban stream near Portland, Maine, with a variety of water quality problems. The Long Creek watershed is home to one of the largest retail and commercial centers in Maine (the Maine Mall). Nearly one-third of the watershed is covered with impervious surfaces such as:
roads
parking lots
rooftops
The Maine Department of Environmental Protection identified stormwater runoff as the source of the water quality problems, and the Conservation Law Foundation threatened legal action if these problems were not addressed. Business and land owners in the watershed faced new legal obligations to clean up the creek, which could have run to $10,000 per impervious acre per year.
The CBEP played a central role in parlaying those new legal obligations into a voluntary, community-based and collaborative approach to the restoration of Long Creek. At the heart of the program is a sustainable funding mechanism through which private property owners address their permit obligations by collectively financing stormwater management throughout the watershed.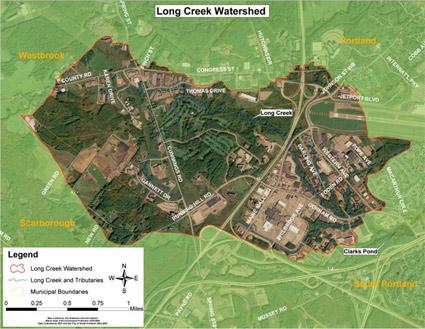 The Casco Bay NEP was instrumental in getting landowners to work together rather than separately. The collective approach, based on a 10-year, $14 million watershed restoration plan, allowed participants to:
target the most cost-effective projects first;
defer less valuable projects;
benefit from economies of scale; and
qualify for low-interest State Revolving Fund (SRF) loans.
With this approach, costs to landowners dropped by about two thirds.
The Long Creek Watershed Management District (LCWMD) consists of owners of more than 115 properties in the watershed who signed the "Participating Landowner Agreement." This demonstrates that a collaborative approach to stormwater management can be attractive to the business community.
Further, LCWMD installed more than $2 million worth of water quality improvement structures. An accelerated construction schedule was made possible by State Revolving Fund loans, to be repaid over 20 years by fees paid by participating landowners.
Efforts also included constructing a stormwater best management practice (BMP) maintenance and inspection database. The database assists LCWMD staff and landowners with upkeep.
Street sweeping and catch basin cleanouts in the Long Creek watershed in one year alone reduced sediment delivery to surface waters by many tens of tons. Improved stormwater control devices installed at several locations in the watershed further increase sediment capture. Information on BMPs for landscape and winter maintenance helps reduce soil erosion and limit overuse of salt and sand in the winter, further reducing delivery of sediment to the Creek.
The CBEP supports efforts in Long Creek in a variety of ways, including:
loaning water quality monitoring equipment;
providing meeting space for LCWMD-related meetings; and
facilitating collaboration between LCWMD and area scientists.
Additionally, CBEP recently provided funding to analyze water samples collected in Long Creek to determine nitrogen concentrations.
The Long Creek water quality monitoring program is the most comprehensive urban watershed monitoring effort in Maine, and is among the most sophisticated in New England. Landowners appreciate both the efficiency and quality of the program, while enjoying significant economies of scale.
---
Delaware Center for the Inland Bays (CIB) Estuary Program
The CIB and partners constructed wet-swale bioretention areas and a series of infiltration pits along South Pennsylvania Avenue. These retrofits are estimated to have reduced 48 lbs. of nitrogen and 7 lbs. of phosphorus to date.
---
Coastal and Heartland National Estuary Partnership (CHNEP)
Throughout the CHNEP watershed (located in Florida), partners have implemented a variety of effective urban stormwater management projects:
The Southwest FL Regional Planning Council hosted a Managing Wet Weather with Green Infrastructure Workshop in 2009.
The South FL Water Management District adopted updated stormwater regulations.
The City of Fort Myers improved stormwater management, filtration and habitat along Billy's Creek and in its downtown redevelopment.
The City of Punta Gorda incorporated improved stormwater treatment during its recovery from Hurricane Charlie.
The Cities of Bonita Springs and Fort Myers beach included extensive filter marches with recent roadway improvement projects, including additional catch basins.
The City of Sanibel conducted hydrologic restoration along the Sanibel River, acquired conservation lands, and combined their Water Resources Divisions of stormwater, wastewater and water supply, resulting in a project that uses vacated spray fields for stormwater treatment.
---
Lower Columbia River Estuary Partnership
The Lower Columbia River Estuary Partnership (located in Oregon) is engaged in various efforts to reduce stormwater run-off.
For example, the Lower Columbia River Estuary Partnership secured grants to initiate Schoolyard Stormwater Projects at five schools. Three of the projects are complete.
The Lower Columbia River Estuary Partnership engaged corporate partners to design stormwater facilities and outdoor classrooms, and coordinated all permitting and construction. The projects engaged students and contractors in project construction and ongoing maintenance activities. Moreover, the projects integrated multiple stormwater focused class visits and field trips with service learning projects in each school's schoolyard.
In 2003, the Lower Columbia River Estuary Partnership developed a web-based field guide to highlight local examples of effective, innovative stormwater management techniques. The web pages include local examples, with methods and contact info, as well as 24 stormwater management technique fact sheets developed by the City of Portland.
Additionally, the Lower Columbia River Estuary Partnership provided stormwater management assistance to help two communities meet federal Phase II stormwater requirements.
---
Morro Bay National Estuary Program (Morro Bay NEP)
The Morro Bay NEP played a primary role in funding two "how-to" guides for local residents: a Low Impact Development (LID) guide and a greywater construction and use guide. Part of an ongoing series, these guides explain how to install rainwater gardens, greywater systems and other LID practices. In addition, Morro Bay NEP provided funding to bring guest speakers to the area to discuss water conservation and rainwater harvesting.
The National Pollution Discharge Elimination System (NPDES) guidelines under the Clean Water Act mandate the City of Morro Bay to manage non-point source pollution entering Morro Bay through the storm drain system. To help implement the management program, the Morro Bay NEP partially funded the creation of a Morro Bay GIS storm drain atlas. The Morro Bay NEP also is working with the City of Morro Bay to update their TMDL Wasteload Allocation Attainment Plan, which:
identifies the sources of bacteria;
lays out best management practices (BMPs) to address them; and
describes monitoring efforts to track their success.
Morro Bay NEP staff consulted with the city's effort to create an interpretive sign covering marine debris and runoff that is focused on tourists and residents. Two of the signs were installed in late 2010.
In 2007, the program teamed up with the City of Morro Bay and a local Eagle Scout candidate to mark more than 300 storm drains with "no dumping" plaques.
Further, the Morro Bay NEP worked with the City of Morro Bay, Los Osos Community Services District, and County of San Luis Obispo to help them implement the education and outreach components of the Stormwater Management Plans. Here, the Morro Bay NEP assisted by:
consulting on the efforts;
funding projects through its grants program; and
participating in the county's Central Coast Partners for Water Quality.
Additionally, the Morro Bay NEP funds an annual newspaper ad and television PSA campaign. The campaign's message is that big improvements in water quality can come from small changes in behavior, such as the following:
Picking up after pets
Avoiding over fertilizing lawns and residential landscaping
Repairing automotive oil leaks
---
Puget Sound Partnership
Innovative Stormwater Management: Transitioning the Region to LID
Stormwater runoff causes many serious problems in Puget Sound – in fact, it may be the most serious undermanaged threat to the health and vitality of the sound.
Studies show that the source of many toxic chemicals found in the sound are delivered via surface runoff. National Oceanic and Atmospheric Administration (NOAA) researchers document very high mortality rates of salmon within hours of entering urban streams — due to stormwater runoff.
More and more of the sound's productive shellfish rearing and harvest areas are closed due to stormwater runoff. High stormwater flows cause flooding and damage fish and wildlife habitat, contributing to iconic salmon species being threatened with extinction.
The Puget Sound NEP (Puget Sound Partnership) recognizes the limitations of conventional stormwater management techniques in protecting water resources from the many effects of stormwater runoff. That is why the partnership and its predecessors have worked with regional partners since 2000 to transition the region to the use of low impact development (LID) practices. And it is happening. Today, the Puget Sound region is a hotbed of LID activity.