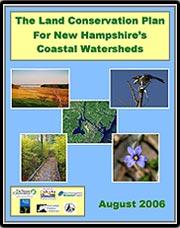 The overarching goal of this land conservation plan is to focus conservation on those lands and waters that are most important for conserving living resources - native plants, animals and natural communities - and water quality in the coastal watersheds.
The Land Conservation Plan for New Hampshire's Coastal Watersheds prioritizes coastal watershed areas and offers regional strategies for maintaining diverse wildlife habitat, abundant wetlands, clean water, productive forests and outstanding recreational opportunities into the future. It was created with public input from a range of stakeholders including citizens, scientists, conservation organizations and natural resource agencies. Our hope is that the plan will serve as a valuable guide, tool and information resource for landowners, communities, land trusts, and public agencies that are interested in land conservation.
You may need a PDF reader to view some of the files on this page. See EPA's About PDF page to learn more.