News Releases from
Region 02
EPA Recognizes New Jersey Food Recovery Challenge Award Winners Making Significant Progress Reducing Food Waste
NEW YORK  – Today, the U.S. Environmental Protection Agency (EPA) recognizes the exceptional accomplishments of two New Jersey organizations participating in EPA's Food Recovery Challenge. Ravitz Family Markets and Raritan Valley Community College applied innovative approaches and engaged in a variety of practical cost-effective actions and best practices to prevent and reduce food waste.
"Food Recovery Challenge participants are leaders in showing how preventing food waste and diverting excess wholesome food to people is an environmental win and a cost-saving business decision," said EPA Administrator Andrew Wheeler. "Their accomplishments serve as excellent examples to other companies, governments, organizations and communities."
"The Food Recovery Challenge recognizes outstanding accomplishments in food waste prevention and diversion, sustainability, and environmental stewardship," said EPA Regional Administrator Pete Lopez. "These sustainability-focused organizations are increasing awareness about food waste issues and, especially in times of crisis, setting the standard for others to pursue the goal of not wasting food and feeding people, not landfills."
Food is a valuable resource. Efforts to reduce food waste and ensure excess food doesn't go to waste are needed now more than ever. The innovation these businesses are showcasing can serve as an example as the nation works together to address the COVID-19 public health emergency. Over 1,000 businesses, governments and organizations participated in EPA's Food Recovery Challenge in 2019. Participants prevented or diverted over 815,000 tons of food from entering landfills or incinerators, saving participants up to $42.3 million in avoided landfill tipping fees.
This year's winners used innovative best practices to prevent and reduce food waste, such as:
Expanding composting infrastructure to more than double yearly food waste composted,
Creatively working with food banks and organizations to donate food that would otherwise be wasted,
Repurposing wholesome food into new dishes instead of letting it go to waste, and
Initiating programs that encourage composting and reducing food waste in the workplace.
Ravitz Family Markets (Cherry Hill, NJ)
With six stores in southern New Jersey, Ravitz Family Markets has participated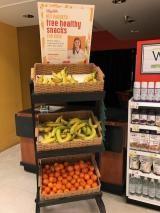 in the Food Recovery Challenge since 2011 and works to reduce its food waste through a combination of source reduction, donation, and composting. All Ravitz store locations offer kids free pieces of overripe fruit, preventing food waste through donation. In 2018, Ravitz Family Markets' stores diverted a total of 621 tons of food waste from landfills; 269 tons of waste was donated to people and animals and 352 tons of waste was composted.
"I remember a time when everything, even cardboard, went into the trash. Nobody would do that now, and it's the same way now with food waste," said Ken Brahl, Senior Director of Labor Relations at Ravitz Family Markets. "We either give it to food bank or compost it. Employees are trained on this philosophy now from day one, and it is a part of our store culture." 
Raritan Valley Community College (RVCC) (North Branch, NJ)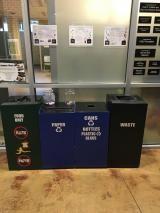 In 2018, RVCC diverted over 7 tons of organic waste (90 percent food, 10 percent paper) from across campus and 1.63 tons of fat, oil, and grease from their kitchen. The college's Student Life department coordinated the collection and compost of campus food waste, which was hauled to an industrial composting facility and a farm in Pennsylvania. Additionally, the school designed educational signs to teach students how to sort food waste.
"RVCC is proud of its environmental sustainability record," said Sue Dorward, RVCC's Sustainability & Energy Coordinator. "Our students want to be environmentally friendly, but many are not aware of how best to do this. Effective communication is really important."
Background
Food waste is the single largest type of waste thrown away each year in our daily trash. In 2017, more than 40 million tons of food waste was generated. Food waste adversely impacts the economy, our communities and the environment by wasting the resources used to grow and transport food. At the same time, approximately 11 percent of America's households had difficulty providing enough food for all of their family members in 2018. Hungry people in need would benefit from the redirection of nutritious, wholesome food that would have otherwise been thrown away. The strategies used by Food Recovery Challenge organizations, plus those implemented by individuals, communities and public-private partnerships help to lessen these impacts and bring the United States closer to meeting the national goal to reduce food waste by 50 percent by the year 2030.
Two award winners this year, MGM Resorts International and Sprouts Farmers Market, are also U.S. Food Loss and Waste 2030 Champions, a group of businesses and organizations who have publicly committed to reduce food loss and waste by 50 percent in their own operations by the year 2030.
For more information on the Food Recovery Challenge national and regional award winners, visit: https://19january2021snapshot.epa.gov/sustainable-management-food/food-recovery-challenge-results-and-award-winners
For more information on the national food loss and waste reduction goal, visit:
https://19january2021snapshot.epa.gov/sustainable-management-food/call-action-stakeholders-united-states-food-loss-waste-2030-reduction
For more information on the U.S. Food Loss and Waste 2030 Champions, visit: https://19january2021snapshot.epa.gov/sustainable-management-food/united-states-food-loss-and-waste-2030-champions
Follow EPA Region 2 on Twitter and visit our Facebook page.
20-026                                                                          # # #