GenOn (formerly Mirant) Kendall Station Final NPDES Permit
You may need a PDF reader to view some of the files on this page. See EPA's About PDF page to learn more.
Final Permit
EPA has modified GenOn (formerly Mirant) Kendall Station's National Pollutant Discharge Elimination System (NPDES) permit. This NPDES permit, issued under the Clean Water Act, authorizes Kendall Station's discharges to, and withdrawals from, the Charles River. The permit modification reflects Mirant's proposal of a significant facility upgrade that, in combination with a new steam pipeline to be built across the Longfellow Bridge in the next few years, will enable Kendall Station to sell up to twice as much steam into Boston as is currently possible. These changes will result in major environmental benefits, including a reduction in Kendall Station's thermal discharge and cooling water withdrawals of about 95%. Furthermore, these changes may also result in indirect air quality benefits as local steam generation shifts to Kendall Station while other steam generation sources with relatively higher air emissions run less often. Additional air quality benefits may accrue as customers with access to the additional steam source opt to replace older, less efficient boilers with relatively high air emissions with locally generated steam.
The final NPDES permit that was issued in 2006 addressed adverse impacts to the balanced indigenous fish population due to Kendall Station's withdrawal of cooling water (which kills fish, fish eggs, and fish larvae) and its discharge of heated water (which has the potential to make large parts of the Lower Charles River Basin unsuitable for fish passage or habitat). However, this permit was appealed by Mirant, the Conservation Law Foundation (CLF), and the Charles River Watershed Association (CRWA). While the appeal has been pending and settlement negotiations have been ongoing, the 2006 permit has not gone into effect.
This final permit modification will significantly enhance protection of the Charles River for many years by dramatically reducing Kendall Station's thermal discharge to, and water withdrawals from, the Charles River. The permit modification, which EPA developed after discussions with Mirant, CLF, CRWA, and the Massachusetts Department of Environmental Protection, requires Kendall Station to:
Reduce its cooling water and discharge flow by 95%.
Monitor river temperatures whenever a predictive model indicates that river temperatures may approach or exceed levels that will protect fish populations.
Ensure that the Station's heat discharge does not warm the river basin above protective levels.
Implement a "failsafe" condition under which the Station will curtail operations if there are several consecutive days of high temperatures.
Final Permit Modification (PDF) (31 pp, 156 K)
Draft Permit Modification (PDF) (62 pp, 1.3 MB)
News Release: Modified Discharge Permit for Kendall Station Power Plant in Cambridge, Mass. Significantly Advances Protections for Charles River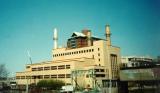 View a larger version of this image.Background: EPA and the Massachusetts Department of Environmental Protection have issued a final National Pollutant Discharge Elimination System (NPDES) permit for the Mirant Kendall Station (MKS) power plant in Cambridge, Massachusetts to meet the requirements of the Clean Water Act. This final permit seeks to address potential adverse impacts to sustainable fish populations, aesthetics, and recreation due to heat, excessive algae growth, reduced water clarity and the intake of cooling water. This permit is an important component of continuing broader public and private efforts to restore the health of the Charles River Basin and Boston Harbor. press release »
Major Permit Conditions: This permit includes the following new protective requirements and conditions:
Zone of Passage and Habitat: A seasonal safe "zone of passage and habitat", which covers roughly fifty percent of the Lower Basin, has been created along the Boston side of the Charles River in order to protect fish populations and aquatic habitat. Two species of river herring, alewife and blueback herring, use the Lower Charles River Basin for their annual adult migration and spawning run. The Charles River supports one of the largest river herring runs in Massachusetts Bay.
In-stream Temperatures: Maximum seasonal allowable in-stream river temperatures have been established within the zone of passage and habitat. Critical river temperature permit limits range from 61 degrees Fahrenheit during early spring for yellow perch up to 81 and 83 degrees Fahrenheit during the summer for river herring. In addition, river temperatures in this safety zone cannot increase by more than 5 degrees Fahrenheit above upstream ambient river temperatures during a 24-hour average period. If real-time monitoring indicates that any of these temperature limits are exceeded, the power plant will need to modify its operations to reduce thermal discharges to the river.
Discharge Temperature and Location: An annual average of 70 MGD of non-contact cooling water can be discharged at temperatures up to 105° F from the present discharge pipes as long as these in-stream temperatures are not exceeded.
Barrier Net: A fine-mesh barrier net system or other similar protective device must be installed in front of the facility's cooling water intake structure to limit the number of fish that are trapped or pulled into the power plant when river cooling water is pumped into the facility.
Real-time Monitoring: Continuous water quality monitoring will be required in the Lower River Basin. This monitoring will provide real-time temperature measurements at eight strategic upstream and downstream river locations. The real-time discharge monitoring information will be made available to EPA and MassDEP to ensure continued permit compliance and immediate protection of the Charles River.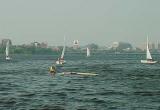 View a larger version of this image.Public Comment: EPA accepted public comment on the draft permit between June 14, 2004 and October 14, 2004. A public hearing was held on September 13, 2004. EPA received numerous written and oral comments on the draft permit. EPA greatly appreciates the time, effort, information and expertise that commenters have contributed to the development of this permit. Summaries of these comments and EPA's responses to comments have been complied into a document listed below. "Responses to Comments: Public Review of Mirant Kendall Station".
Contact
George Papadopoulos (papadopoulos.george@epa.gov)
USEPA
5 Post Office Square - Suite 100
Mailcode OEP 06-1
Boston, MA 02109-3912
Phone: (617) 918-1579
Fax: (617) 918-1505
For more detailed information: The documents contained on this page are PDF'd (portable document format) copies of the originals. These documents include the final permit and supporting documents, the Responses to Public Comments, and documents related to the draft permit.
Mirant Kendall Station (MKS) Documents Related to Final Permit - 2008
Responses to Comments: Public Review of Mirant Kendall Station
List of Figures and Tables
Mirant Kendall Station (MKS) Documents Related to the Draft Permit