Regulated MS4 in Massachusetts Communities
You may need a PDF reader to view some of the files on this page. See EPA's About PDF page to learn more.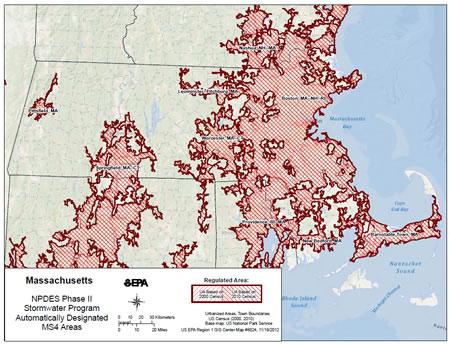 Massachusetts Phase II Automatically Designated Area (PDF)(1 pg, 2.1 MB, About PDF)
All MS4s operated within the regulated area are subject to the Phase II MS4 Program
Visit MassDEP's website to search surface water quality maps related to 305(b)/303(d) waters in Massachusetts.
*EPA is taking comments on the Notice of Intent (NOI) documents posted on this website for 30 days from the date of posting, as indicated below (unless otherwise noted). Submit comments to EPA at the following email address: stormwater.reports@epa.gov or at the address below and indicate the NOI you are commenting on.*
Stormwater and Construction Permits Section
Attention Newton Tedder
U.S. Environmental Protection Agency, Region 1
5 Post Office Square, Suite 100
Mail Code OEP06-4
---
Traditional MS4s
Community-Specific Information
* Information in grey-scale not yet available
---
Non-Traditional MS4s
---
You may also request copies of these documents by contacting Glenda Velez (velez.glenda@epa.gov or 617.918.1677).