Regulated MS4 in New Hampshire Communities
You may need a PDF reader to view some of the files on this page. See EPA's About PDF page to learn more.
Information on the Permit covering New Hampshire communities can be found here.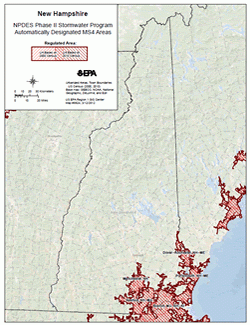 New Hampshire Phase II Automatically Designated Area (PDF) (1 pg, 812 K, About PDF)
Community-Specific Information
Click On:
"Regulated Area Map" to view a community-specific map showing the geographic extent of draft permit coverage according to Urbanized Area delineated by the 2010 Census
Waiver Request to view a towns waiver request letter (if submitted, see this Fact Sheet (PDF)

(4 pp, 295 K)

for more information on waivers from the MS4 permit requirements)
EPA Waiver Response to view EPA waiver response letter (if waiver request submitted)
"NOI" to view an Operator's NOI (once available) in PDF format
"Proposed Permittee Specific TMDL Requirements" to view proposed permittee specific requirements available for public review and comment until the date indicated. See the specific document for information related to the comment period and instructions for submitting comments to EPA.
"Reports" to view an Operator's annual reports (once available) in PDF format
* Information shown in greyscale not yet available.
---
Traditional MS4s
---
Non-Traditional MS4s
New Hampshire Department of Transportation
University of New Hampshire
Veteran Affairs Medical Center-Manchester
---
You may also request copies of these documents by contacting Glenda Velez (velez.glenda@epa.gov or 617.918.1677).