Combined Sewer Overflows in the Great Lakes Basin-Indiana


There are 152 NPDES permits which authorize discharges from combined sewer overflows (CSOs) to the Great Lakes Basin. Select the state in the right-side box for the list of CSO permits in the Great Lakes Basin in that state.
There are 19 NPDES permits for CSO discharges in the Great Lakes Basin in Indiana. The table below provides information about those permittees and, where available, links to their CSO website and Annual Notice describing the CSO discharges that occurred in 2018.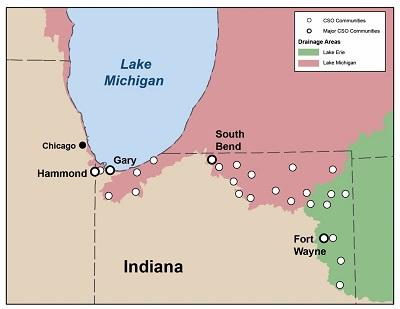 The following links exit the site Exit
Municipal Operator of CSO
NPDES Permit Number
Great Lake Discharged To
Water Body Directly Discharged Into
Website
Annual CSO Notice
Auburn
IN0020672
Lake Erie
Cedar Creek
Auburn website
Auburn annual notice
(2 pp, 139 K, About PDF)
Berne
IN0021369
Lake Erie
Habegger Ditch, Spruger Ditch
Berne website
 
Butler
IN0022462
Lake Erie
Big Run
Butler website
 
Chesterton
IN0022578
Lake Michigan
East Arm Little Calument River
 
 
Crown Point
IN0025763
Lake Michigan
Main Beaver Dam Ditch
Crown Point website
 
East Chicago
IN0022829
Lake Michigan
Indiana Harbor Canal, Grand Calument River
East Chicago website
 
Elkhart
IN0025674
Lake Michigan
Elkhart River, St. Joseph River, Christina Creek
Elkhart website
Elkhart annual notice
(10 pp, 160 K, About PDF)
Fort Wayne
IN0032191
Lake Erie
Maumee River, St. Mary's River, Spy Run Creek, St. Joseph River, UNT
Fort Wayne website
Fort Wayne annual notice
(676 pp, 65.8 MB, About PDF)
Gary
IN0022977
Lake Michigan
Grand Calumet River, Little Calumet River
Gary website
Gary annual notice
(16 pp, 2.6 MB, About PDF)
Hammond
IN0023060
Lake Michigan
Grand Calumet River, East Arm Little Calumet River
Hammond website
Hammond annual notice
LaPorte Municipal
IN0025577
Lake Michigan
Travis Ditch
LaPorte website
 
Lowell
IN0023621
Lake Erie
Cedar Creek
Lowell website
 
Michigan City
IN0023752
Lake Michigan
Trail Creek
Michigan City website
Michigan City annual notice
(4 pp, 117 K, About PDF)
Mishawaka
IN0025640
Lake Michigan
St. Joseph River, Eller Ditch
Mishawaka website
Mishawaka annual notice
(12 pp, 821 K, About PDF)
Nappanee
IN0021466
Lake Michigan
Berlin Court Ditch, Armey Ditch
Nappanee website
Nappanee annual notice
(101 pp, 16.8 MB, About PDF)
South Bend
IN0024520
Lake Michigan
St. Joseph River
South Bend website
South Bend annual notice
(6 pp, 308 K, About PDF)
Valparaiso
IN0024660
Lake Michigan
Salt Creek
Valparaiso website
Valparaiso annual notice
(6 pp, 40 K, About PDF)
Wakarusa
IN0024775
Lake Michigan
Werntz Ditch
 
Wakarusa annual notice
(8 pp, 342 K, About PDF)
Waterloo
IN0020711
Lake Erie
Cedar Creek
Waterloo website
Waterloo annual notice
EPA's Enforcement and Compliance History Online (ECHO) database has additional information on NPDES discharges, including CSO discharges for some facilities.