Combined Sewer Overflows in the Great Lakes Basin-New York
 
There are 152 NPDES permits which authorize discharges from combined sewer overflows (CSOs) to the Great Lakes Basin. Select the state in the right-side box for the list of CSO permits in the Great Lakes Basin in that state.
There are 17 NPDES permits for CSO discharges in the Great Lakes Basin in New York. The table below provides information about those permittees and, where available, links to their CSO website and Annual Notice describing the CSO discharges that occurred in 2018. The New York Department of Environmental Conservation also compiles historical sewage discharge data from its NY-Alert system in the Sewage Discharge Reports. Thes reports are available for download on New York Department of Environmental Conservation's Sewage Discharge Notifications websiteExit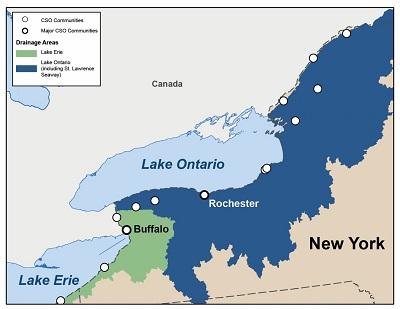 The following links exit the site Exit
Municipal Operator of CSO
NPDES Permit Number
Great Lake Discharged To
Water Body Directly Discharged Into
Website
Annual CSO Notice
Auburn STP
NY0021903
Lake Ontario
Owasco Outlet
Auburn website
 
Boonville WWTP
NY0020494
Lake Ontario
Mill Creek
 
 
Buffalo Sewer Authority
NY0028410
Lake Erie
Niagra River, Buffalo River, Scajaquada Creek, Black Rock Canal, Cazenovia Creek
 
 
Canastota WPCF
NY0029807
Lake Ontario
Canastota Creek
Canastota website
 
Dunkirk WWTP
NY0027961
Lake Erie
Lake Erie
 
 
Frank E. VanLare STP (Rochester)
NY0028339
Lake Ontario
Genesee River, Irondequoit Bay
 
 
Gouverneur STP
NY0020117
St. Lawrence Seaway
Oswegatchie River
Gouverneur website
 
Lockport WWTP
NY0027057
Lake Ontario
Barge Canal and Eighteen Mile Creek
Lockport website
 
Massena WWTP
NY0031194
St. Lawrence Seaway
Grasse and Raquette Rivers
Massena website
 
Medina WWTP
NY0021873
Lake Ontario
Barge Canal and Oak Orchard Creek
Medina website
 
Niagra Falls WWTP
NY0026336
Lake Erie
Niagra River
 
 
North Tonawanda WWTP
NY0026280
Lake Ontario
Niagara River
 
 
Ogdensburg WWTP
NY0029831
St. Lawrence Seaway
St. Lawrence River
Ogdensburg website
Ogdensburg annual notice
(28 pp, 732 K, About PDF)
Oswego
NY0029106, 
NY0029114
Lake Ontario
Oswego River
Oswego website
Oswego annual notice
(3 pp, 202 K, About PDF)
Syracuse Metro WWTP
NY0027081
Lake Ontario
Harbor Brook
 
 
Watertown WPCP
NY0025984
Lake Ontario
Black River
 
 
EPA's Enforcement and Compliance History Online (ECHO) database has additional information on NPDES discharges, including CSO discharges for some facilities.