Harmful Algal Blooms
Harmful algal blooms are a major environmental problem in all 50 states. Red tides, blue-green algae, and cyanobacteria are examples of harmful algal blooms that can have severe impacts on human health, aquatic ecosystems, and the economy.
Algal blooms can be toxic. Keep people and pets away from water that is green, scummy or smells bad. 
On this page:
---
Learn about harmful algal blooms
What are harmful algal blooms?
Harmful algal blooms are overgrowths of algae in water. Some produce dangerous toxins in fresh or marine water but even nontoxic blooms hurt the environment and local economies.
What are the effects of harmful algal blooms?
Harmful algal blooms can:
Produce extremely dangerous toxins that can sicken or kill people and animals

Create dead zones in the water

Raise treatment costs for drinking water

Hurt industries that depend on clean water
Learn more about these and other effects.
Did you know?
Climate change might lead to stronger and more frequent algal blooms.
Find out how.
What causes harmful algal blooms?
Harmful algal blooms need:
Sunlight

Slow-moving water

Nutrients (nitrogen and phosphorus)
Nutrient pollution from human activities makes the problem worse, leading to more severe blooms that occur more often.
Learn where nutrient pollution comes from.
What you can do to help
The following links exit the site Exit
Volunteer to monitor waterbodies for algal blooms
The following organizations help identify toxic algae outbreaks:
Report suspected algal blooms to your state
State departments of health or environment are the best sources for local information about harmful algal blooms.
Find your state's contact information.
Help prevent nutrient pollution
Simple actions around your home and yard can make a big difference
---
Multimedia
Infographics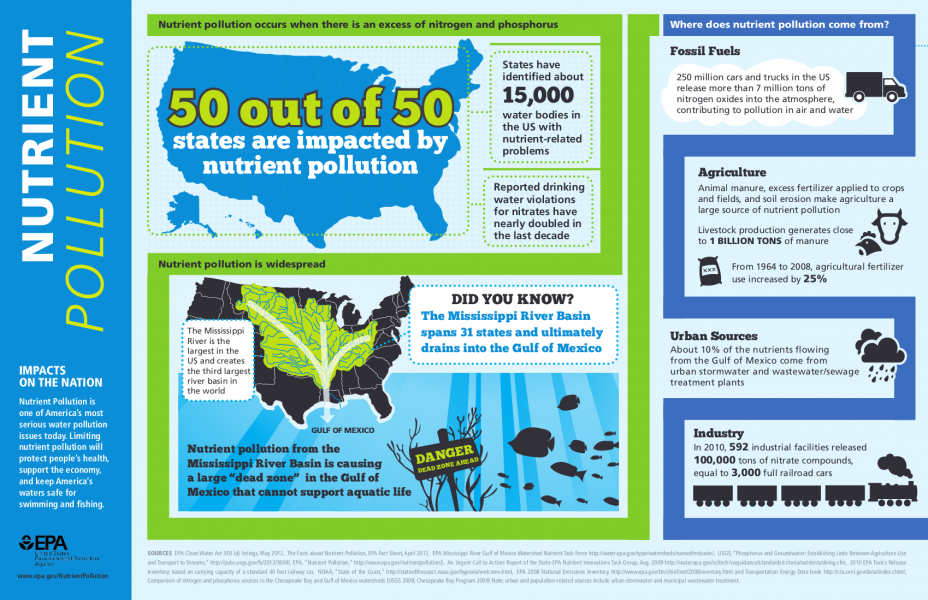 Click to see full size.
---
Partner resources
The following links exit the site Exit
National resources
State resources