Niagara County Radiation Removal Sites
EPA Performs Field Activities at Three Niagara County Sites
The United States Environmental Protection Agency (EPA) has recently completed a four year removal of radioactive waste at 9512, 9524, 9540, and 9626 Niagara Falls Boulevard (a bowling alley and an adjacent building supply store parking lot) and is currently involved in remediating two other Niagara County properties where radioactive slag fill material was found in subsurface soils. Those properties include:
5401 Robert Avenue – Holy Trinity Cemetery – two vacant parcels of land, Lewiston, NY
Residential property apron to driveway – Upper Mountain Road, Lewiston, NY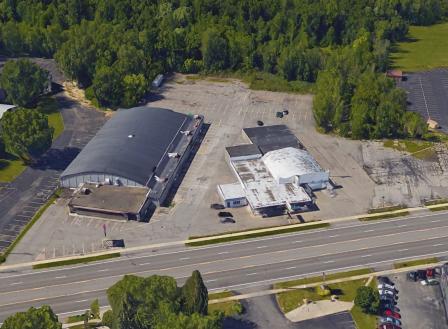 Niagara Falls Boulevard Site, Niagara Falls, NYIn the 1960s, industrial ore processing facilities in the Niagara Falls region produced a gravel-like, waste by-product commonly referred to as "slag." As a waste product, the "slag" contained radiological elements and was used as sub-base material prior to the installation of asphalt parking areas. The radioactive contamination at these sites was originally identified from an aerial survey performed by the U.S. Department of Energy. Follow-up surveys were conducted by both Federal and State agencies.
After a referral was made by New York State, radiological scans and multimedia sampling for both soil and air at the Niagara Falls Boulevard site were conducted by EPA in 2015. Results from the assessment identified areas of elevated radiological activity in the parking lots adjoining the two businesses, an office space, two warehouses, two storage areas and a wooded area behind the properties. EPA determined that the site did not meet the minimum criteria to be placed on EPA's National Priorities List; however, it was determined it was eligible for a response action under the EPA removal program.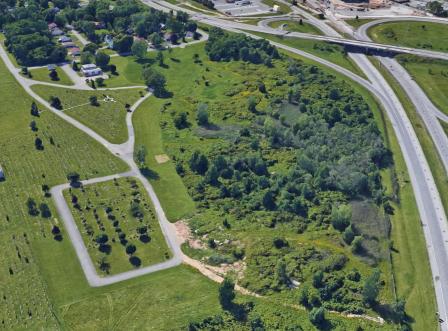 Holy Trinity Cemetery Site, Lewiston, NYEPA initiated a phased removal to excavate and safely dispose of 28,000 tons of low-level radiological waste material from the two parking lot areas, to an approved disposal facility in Michigan. Backfilling the parking lots and applying a finish coat of asphalt completed that part of the work. In addition, areas inside the building supply store, including floors in an office space, two warehouses, and two storage rooms were excavated to restore the site.
At the cemetery property, a permanent chain link fence was built around the perimeter of the area adjacent to Robert Avenue and a high visibility fence was constructed around the vacant land near the I-190. A radon mitigation system was installed at one residential property on Robert Avenue and the removal of contamination from a driveway at one property and a garage floor at another property are scheduled for the Spring of 2021.
Excavation work at the Upper Mountain Road residential location is anticipated to be completed by December 2020.