What EPA is Doing to Address Ocean and Coastal Acidification
EPA is working to reduce two categories of pollution that cause acidification: carbon dioxide emissions and excess nutrients. Furthermore, EPA is collaborating with federal and non-federal partners to monitor ocean and coastal acidification.
On this Page:
---
EPA Action to Reduce Pollution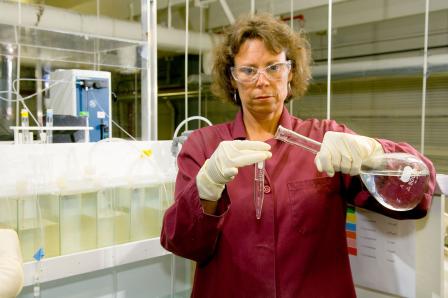 EPA is working to address pollutants that are causing ocean and coastal acidification. These pollutants include carbon dioxide emissions, acid-rain forming emissions and nutrients. Initiatives to reduce ocean acidification-causing carbon dioxide emissions are part of EPA's larger efforts to address climate change:
Similar EPA initiatives exist to tackle acid rain and nutrient pollution issues that drive coastal acidification:
Interagency Working Group on Ocean Acidification
Part of the US Government's Executive Branch called the Subcommittee on Ocean Science and Technology administers the Interagency Working Group on Ocean Acidification. This interagency working group addresses the congressional mandate of the Federal Ocean Acidification Research and Monitoring Act of 2009. As a member of the interagency working group, EPA coordinates with other federal agencies to study ocean and coastal acidification. EPA's research focuses on four main areas:
Understanding the potential effects
EPA is working to improve laboratory experiments to better match real-world ecology. This kind of work explores how seawater enriched with dissolved carbon dioxide and nutrients affects food chains. Another line of work examines how marine organisms respond to acidification, including the combined effects of acidification and oxygen depletion caused by nutrient pollution and how plankton communities may change.
 
Monitoring impacts to ocean chemistry and biology  
EPA collaborates with NOAA to observe how chemical and biological conditions change over time within Narragansett Bay (RI). Such measurements reveal the Bay's ecology to scientists, including ecological responses to recent reductions in nutrient pollution. Part of this work focuses on shellfish to see how they are responding to acidification.

One key to EPA achieving its monitoring goals is through its collaborations with the National Estuary Program (NEP). The NEP is deploying cutting-edge monitoring systems in vital estuaries around the United States. These complex instruments can detect pH and dissolved carbon dioxide in seawater, giving scientists new insights into acidification in nearshore waters. To date, EPA has sponsored the deployment of systems in NEP study areas in San Francisco Bay (CA), Santa Monica Bay (CA), Tampa Bay (FL), Massachusetts Bay (MA), Casco Bay (ME), Barnegat Bay (NJ), Long Island Sound (NY), Corpus Cristi Bay (TX) and Tillamook (OR).

In addition to research work on bays and estuaries, EPA is measuring acidification in the Mid-Atlantic ocean waters offshore of Chesapeake Bay and Delaware Bay, and have produced guidelines for monitoring acidification in coastal environments.
 
Using computer modeling to predict changes in the ocean carbon cycle and impacts to marine organisms and ecosystems
EPA is collaborating with states to study the interactions between nutrients and coastal acidification, as well as collaborating with universities to study the impact on shellfish. Also, EPA is incorporating acidification parameters into existing computer models that predict water quality and shellfish habitat quality.
 
Assessing social and economic impacts and developing strategies to conserve marine organisms and ecosystems
EPA has developed a computer model that predicts coral health. Resource managers, conservationists, and biologists are using the coral health model to predict how climate change and ocean acidification impact coral reefs. A separate computer model combines elements of biology and economics to predict how acidification's effect on shellfish will impact the economy due to declining production by the fishing and aquaculture industries.
Besides EPA, 13 other federal agencies comprise the Interagency Working Group on Ocean Acidification. Among those agencies, those with web resources that deal with ocean acidification are listed below.
National Aeronautics and Space Administration
National Oceanic and Atmospheric Administration
United States Geological Survey
Additional Ocean and Coastal Acidification Web Resources
The following links exit the site Exit
Alaska Ocean Acidification Network
California Current Acidification Network
Gulf of Mexico Coastal Acidification Network
Northeast Coastal Acidification Network
Mid-Atlantic Coastal Acidification Network
Southeast Coastal Ocean Acidification Network
Woods Hole Oceanographic Institution