Water in Oklahoma
Illinois River Watershed
The Illinois River is a multijurisdictional tributary of the Arkansas River, approximately 100 miles (160) km) long, between the States of Arkansas and Oklahoma. The Illinois River begins in the Ozark Mountains in the northwest corner of Arkansas (Washington County) and flows west into northeast Oklahoma. Once the Illinois River enters Oklahoma, it then flows southwest and south through the mountains of eastern Oklahoma into Tenkiller Ferry Lake. Nutrient pollution is one of America's most widespread, costly and challenging environmental problems, and is caused by excess nitrogen and phosphorus in the air and water. Phosphorus levels in the Illinois River can be caused by various types of city and industrial discharges as well as nonpoint source run-off. The downstream impacts to Lake Tenkiller may include 'algal blooms' and low dissolved oxygen concentrations in the lake.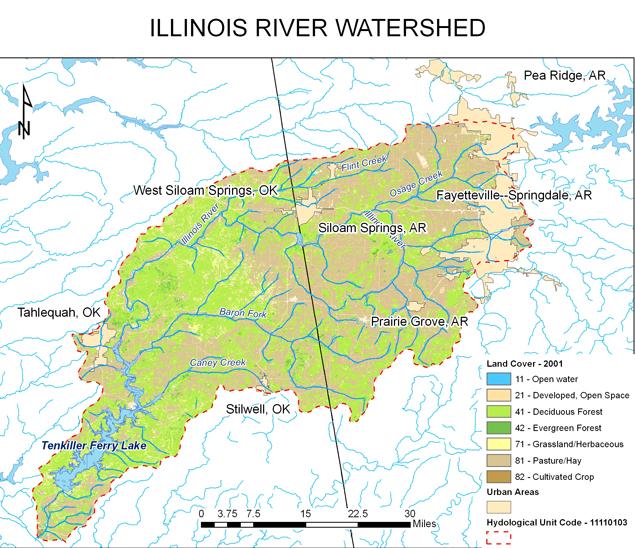 ---
Project Updates
EPA Completes Illinois River Watershed Models Press Release, April 16, 2018
Our next step is for EPA Region 6 to provide our finalized models, a summary of baseline conditions and documentation which can be used to develop Total Maximum Daily Loads or Watershed-based Plans to Arkansas and Oklahoma Agencies and the Cherokee Nation. The State agencies have agreed to collect and evaluate comments from external stakeholders (e.g., Municipalities, Agriculture industry) the water quality models as part of their on-going outreach efforts. The states also intend to host informational meetings to describe the models, discuss potential next steps, and receive comments from all stakeholders.
Posting Models
Calibrated Models
The U.S. Environmental Protection Agency (EPA) has completed the Illinois River Watershed Basin and Lake Tenkiller models and released them to the partnering agencies for use. The EPA partnered with Arkansas, Oklahoma and the Cherokee Nation to develop science-based water quality models. Partner agencies can now use the models to evaluate options as they continue to reduce phosphorus loadings from sources in northeast Oklahoma and northwest Arkansas.
Calibrated HSPF watershed model (1 pg, 124 MB) .  The calibrated EFDC lake model(1 pg, 12 MB) .
Baseline Watershed Model Run
In an effort to take into account the various changes in the watershed over the temporal model domain, a Technical Workgroup made up of members from Arkansas, Oklahoma, Cherokee Nation and the EPA developed a baseline model run to evaluate scenarios. The baseline run utilizes the following data:
2009 Litter Application Rates
2011 National Land Cover Data
2015 DMR flows and Permit Limits
2015 Point Sources
Meteorological data from 1992 – 2009
  baseline watershed model(1 pg, 985 MB)
Model Executables
Model executables are required to run the input files and obtain the associated output.
The model executables can be downloaded at the following sites.
BASINS/HSPF: https://19january2021snapshot.epa.gov/ceam/better-assessment-science-integrating-point-and-non-point-sources-basins
EFDC/EFDC Explorer: https://www.eemodelingsystem.com/ Exit

Watershed and Lake Calibration/Validation Modeling
The calibration/validation modeling is complete for both Illinois River and Lake Tenkiller. The purpose of the calibration/validation modeling is to ensure a scientifically sound modeling system is developed to represent the entire Illinois River Watershed. Calibration modeling was performed using data obtained from the time period of 2001 to 2009, whereas data obtained from the 1992 to 2000 period of record was used for validation purposes. Calibration and validation of the Illinois River Watershed models was achieved by considering qualitative and quantitative measures, involving both graphical comparisons and statistical tests.
---
Information and Reports 
Technical Memorandum-Procedures and Methodologies for the Sensitivity and Uncertainty Analyses for Illinois River Watershed and Tenkiller Ferry Lake, Oklahoma describes the model sensitivity analysis and uncertainty analysis performed for Illinois River Watershed HSPF model and Tenkiller Ferry Lake EFDC model.
Final SA UA Technical Memo_08_07_2015
The Response to Statement of Findings explains the findings from the two peer reviewers based on their evaluation of the final reports developed by U.S. EPA contractors for the Agency's Illinois River Watershed (IRW) TMDL Modeling Program.
Response to Statement of Findings- Final_8_4_2015
The Final Watershed Lake Model Main Report contains the Final Setup, Calibration, and Validation for Illinois River Watershed Nutrient Model and Tenkiller Ferry Lake EFDC Water Quality Model.
Final-Watershed Lake Model_Main Report 08_07_15
Appendices to the Final Watershed Lake Model Main Report
IRW_Report_Appendices_8_7_15
---
Project Manager
Taimur A. Shaikh, Ph.D
Water Quality Division
EPA Region 6
214-665-7181