Recent International Developments under the Montreal Protocol
While the Montreal Protocol on Substances that Deplete the Ozone Layer successfully phased out ozone-depleting substances (ODS) and put the ozone layer on the path to a full recovery, it led to a shift towards hydrofluorocarbons (HFCs). Like the ODS they replaced, HFCs are potent greenhouse gases that can be hundreds to thousands of times more potent than carbon dioxide (CO2) in contributing to climate change. Though they represent a small fraction of the current total of all greenhouse gases, their emissions are projected to increase nearly twentyfold in the coming decades, mostly due to increased demand for refrigeration and air conditioning, particularly in developing countries. If HFC growth continues on the current trajectory, the increase in HFC emissions is projected to offset much of the climate benefit achieved by phasing out ODS.
Amendment to Address HFCs under the Montreal Protocol
On October 15, 2016, with the United States' leadership, 197 countries adopted an amendment to phase down HFCs under the Montreal Protocol in Kigali, Rwanda. Under the amendment, countries committed to cut the production and consumption of HFCs by more than 80 percent over the next 30 years. The ambitious phase down schedule will avoid more than 80 billion metric tons of carbon dioxide equivalent emissions by 2050—avoiding up to 0.5° Celsius warming by the end of the century—while continuing to protect the ozone layer. Under the amendment, developed countries will reduce HFC consumption beginning in 2019. Most developing countries will freeze consumption in 2024, with a small number of developing countries with unique circumstances freezing consumption in 2028. The plan also provides financing to certain countries, to help them transition to climate-friendly alternatives. Key elements of the Kigali Amendment include:
Innovative and flexible structure;
Ambitious phasedown schedule;
Incentive for early action;
Broad participation;
Enforcement and accountability; and
Multiple opportunities to increase ambition.
See the Frequently Asked Questions Exit relating to the Kigali Amendment.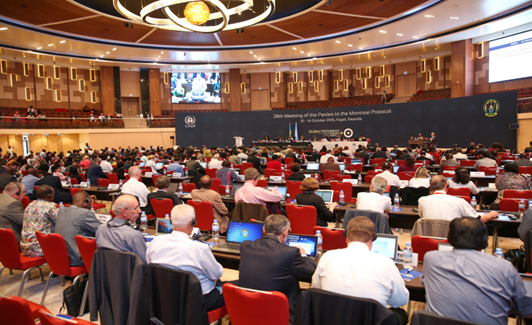 Photo credit: IISD Reporting Services (2016), http://www.iisd.ca/ozone/resumed-oewg38-mop28/
U.S. Leadership and International Cooperation Leading Up to the Kigali Amendment
The Kigali amendment to phase down HFCs was the result of years of negotiation by parties to the Montreal Protocol, with numerous HFC amendment proposals Exit submitted by North America (United States, Canada, and Mexico), Island States (the Federated States of Micronesia and Mauritius), India, and the European Union (28 Member States).