July—August 2020 Newsletter

Preparing for and Recovering from
Natural Disasters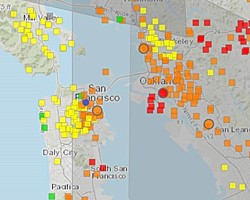 AirNow's Fire and Smoke MapWildfires, earthquakes, droughts, extreme heat – one or more of these disasters affects the Pacific Southwest every year. EPA often plays a role in responding to natural disasters. The agency also continually develops resources and data to support local organizations and communities in preparing for and recovering from disasters.
---
A PFAS Challenge
EPA is partnering with the Department of Defense, the Environmental Council of States, the Environmental Research Institute of the States, and others on a technical challenge to address per- and polyfluoroalkyl substances (PFAS). The challenge asks participants to submit plans for a non-thermal way of destroying PFAS in concentrated film forming foam, while creating the least amount of potentially harmful byproducts.
---
Partnering with Universities on Environmental Research
EPA has awarded nearly $800,000 in research funding to both the University of Nevada at Reno and the University of California at Riverside. The University of Nevada's research team will focus on improving chemical safety. The University of California's research team will focus on meeting air quality challenges.
Enforcement Update
Protecting Water Quality
EPA has reached a settlement with Pacific Seafood-Eureka LLC requiring the company to pay a $74,500 penalty after an inspection found it was discharging wastewater in violation of local and federal standards into the City of Eureka's sewer system and Humboldt Bay's Eureka Slough. Unpermitted and untreated discharges of pollutants to the bay can harm aquatic life and water quality.