March—April 2019 Pacific Southwest Newsletter
March—April 2019

Serving Arizona, California, Hawaii, Nevada, Pacific Islands, 148 Tribal Nations
Urban Land Revitalization Success Stories
EPA's Brownfields program provides funding and technical assistance to communities, states and tribes to assess, clean up, and sustainably reuse contaminated properties. Reusing cleaned-up sites protects public health and the environment by preventing sprawl and preserving green space, as illustrated in three recent success stories in Bakersfield, Pittsburg and San Francisco, Calif. The funding also brings job-training and career opportunities to communities.
---
Winning on Reducing Food Waste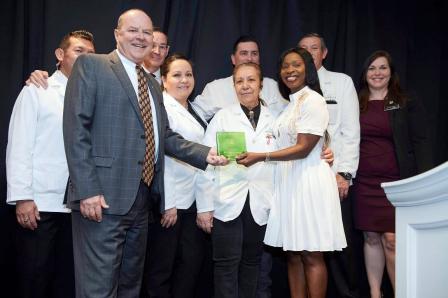 Regional Administrator Mike Stoker presents award to MGM Resorts International - Bellagio Hotel and Casino staff. (Click image to enlarge)EPA has honored MGM Resorts International - Bellagio Hotel and Casino in Las Vegas, Nevada, with a National Food Recovery Challenge Award. The resort had the greatest percentage food waste reduction of Challenge Hospitality Sector participants. The Bellagio Hotel and Casino is one of 14 National Food Recovery Challenge Award recipients and is the only recipient in Nevada.
---
Cleaning Up a Superfund Site in Santa Barbara County
EPA recently hosted an open house in the town of Casmalia so that community members could meet EPA representatives and learn more about EPA's final remedy for the Casmalia Resources Superfund site. The final remedy includes removal of contaminated liquids and soils, engineered capping of waste disposal areas, design and construction of upgraded groundwater collection and treatment systems, and ongoing monitoring and maintenance to ensure onsite containment.
Enforcement Update
Keeping Workers and Communities Safe from Hazardous Waste
EPA recently reached a settlement with Tesla over hazardous waste violations at its Fremont, Calif., factory. It requires Tesla to pay a $31,000 penalty and take specific steps to properly manage hazardous wastes at its factory. It also requires Tesla to purchase $55,000 in emergency response equipment for the City of Fremont Fire Department, improving the department's ability to respond to hazardous waste incidents.