May—June 2018 Pacific Southwest Newsletter
May—June 2018

Serving Arizona, California, Hawaii, Nevada, Pacific Islands, 148 Tribal Nations
A Volcanic Eruption in Hawaii
EPA has been monitoring and analyzing public health threats from the Kilauea volcanic eruption's gas emissions. EPA's work is part of the Federal Emergency Management Agency's response to the eruption on the Big Island of Hawaii. EPA has also collaborated with the Hawaii County Civil Defense Agency and the Hawaii State Department of Health to develop an online Toxic Gas Air Monitoring Viewer to provide the public with information about air quality and potential health impacts.
---
Mike Stoker Appointed Regional Administrator
Mike Stoker was sworn in on May 29 as Regional Administrator of EPA's Pacific Southwest office, which implements and enforces federal environmental laws in Arizona, California, Nevada, Hawaii, the Pacific islands, and 148 tribal nations. Prior to joining EPA, Mr. Stoker was an attorney specializing in agriculture, labor, land use and environmental law. Mr. Stoker has also served as a member of Santa Barbara County's Board of Supervisors, chairman of the California Agricultural Labor Relations Board, and California deputy secretary of state.
---
Agencies Complete Northern California Wildfires Cleanup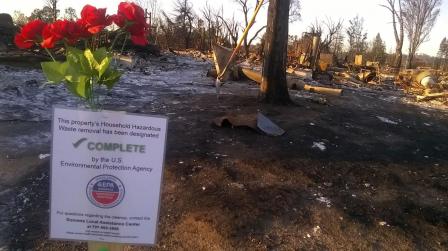 As part of the federal response to the 2017 northern California wildfires, EPA conducted asbestos removal at burned properties in Sonoma, Napa, Lake and Mendocino counties. In Sonoma and Napa Counties, EPA also surveyed and collected household hazardous waste.
---
A Student Takes on Microplastics Pollution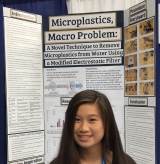 Click to enlargeMelanie Quan is the winner of EPA's Patrick H. Hurd Sustainability Award. She is a freshman at Las Lomas High School in Walnut Creek, Calif., and she was selected from among 1,793 student scientists and engineers competing in the Intel International Science and Engineering Fair in Pittsburgh, Pa. Melanie's project explored using a remediation technique for removing microplastics from water.
Enforcement Update
Improving Waste Management at an Oil Refinery
EPA reached a settlement with Shell Oil Products over hazardous waste and risk management plan compliance at its crude oil refinery in Martinez, Calif. Shell Oil Products will pay a $142,664 civil penalty and spend an estimated $220,300 to make improvements to its oil processing facility. This action will prevent an estimated 64 tons of hazardous waste from being released to the environment every year and reduce the risk of diesel fuel spills to San Francisco Bay.