November—December 2019 Pacific Southwest Newsletter
November—December 2019

Serving Arizona, California, Hawaii, Nevada, Pacific Islands, 148 Tribal Nations
America Recycles Week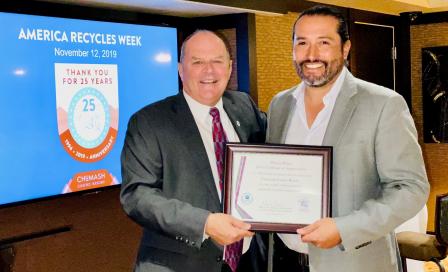 Regional Administrator Mike Stoker (left) and Chairman of the Santa Ynez Band of Chumash Indians, Kenneth KahnTo mark the 2019 commemoration of America Recycles Week, November 10-17, EPA's Pacific Southwest Regional Administrator Mike Stoker visited a Southern California tribe and two businesses to celebrate their accomplishments in landfill diversion, plastic recycling, and reducing food waste.
Learn more:
---
Reducing Diesel Emissions
EPA awarded millions of dollars in Diesel Emissions Reduction Act grants to tribal, public and private partners in California, Nevada, Arizona, Hawaii and the Pacific Islands. The grants will be combined with matching funds to retrofit and replace old, polluting diesel vehicles and equipment, including school buses, fire engines, heavy-duty trucks, tractors, and port and construction equipment. There is now a new Request for Applications open for grants to be awarded in 2020.
Learn more:
---
Job Training for Redevelopment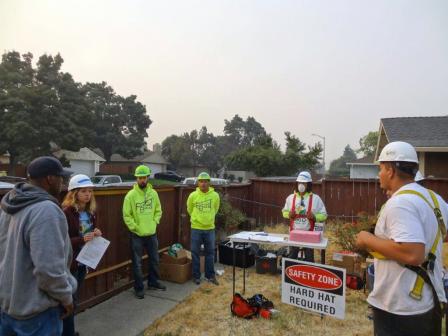 Environmental Workforce Development and Job Training with Pittsburg Power Company's Future BuildEPA's Environmental Workforce Development and Job Training program provided $200,000 to the Pittsburg Power Company's Future Build program in California. The funds will be used to train unemployed and underemployed Contra Costa County residents in construction, building trades, solar installation and hazardous waste removal.
Learn more:
Enforcement Update
Preventing Air Pollution
Kern Oil will pay a $500,000 penalty to address the refinery's failures to comply with emissions monitoring and leak reporting requirements under the Clean Air Act and toxic chemical release reporting requirements under the Emergency Planning and Community Right-to-Know Act . The oil refinery will spend an additional $200,000 to comply with the requirements of the settlement.
Learn more: