EPA Regional Polychlorinated Biphenyl (PCB) Programs
In addition to the EPA Headquarters office in Washington, DC, EPA maintains 10 regional offices to implement federal environmental programs around the country.
Each regional office coordinates with federal, state, interstate and local agencies, along with industry, academia and other private groups, to ensure that their region's needs are addressed and that federal environmental laws are upheld.
Each region has a designated PCB Coordinator to oversee the proper management of PCB issues within each region.
On this page:
---
Regional

PCB Coordinator Contact Information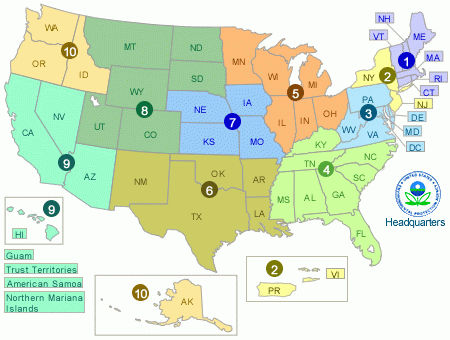 Click on the accordions or links below to display contact information for regional PCB coordinators and any regional PCB information:
Region 1 - Connecticut, Massachusetts, Maine, New Hampshire, Rhode Island, Vermont

PCB Coordinator
Regional Hotline
EPA Regional 24 hour Spill Hotline

Kim Tisa

(617) 918-1527

tisa.kimberly@epa.gov

(888) 372-7341
(617) 918-1236

Region 2 - New Jersey, New York, Puerto Rico, U.S. Virgin Islands

PCB Coordinator

Steve Ferreira

(212) 637-3759

Ferreira.Steve@epa.gov

Region 3 - Delaware, District of Columbia, Maryland, Pennsylvania, Virginia, West Virginia

PCB Coordinator
Regional Hotline

Kelly Bunker

(215) 814-2177

bunker.kelly@epa.gov

(215) 814-3255
Region 4 - Alabama, Florida, Georgia, Kentucky, Mississippi, North Carolina, South Carolina, Tennessee
Region 5 - Illinois, Indiana, Michigan, Minnesota, Ohio, Wisconsin
Region 6 - Arkansas, Louisiana, New Mexico, Oklahoma, Texas

PCB Coordinator
EPA Regional 24 hour Spill Hotline

James Sales

(214) 665-6796

sales.james@epa.gov

(214) 665-6796

After hours, please call the

National Response Center - (800) 424-8802

Region 7 - Iowa, Kansas, Missouri, Nebraska

PCB Coordinator
EPA Regional 24 hour Spill Hotline

Annah Murray, PCB Regional Coordinator

(913) 551-7895

murray.annah@epa.gov

(913) 281-0991

Ray Bosch, Attorney

(913) 551-7501

bosch.raymond@epa.gov

Marc Matthews (Enforcement)

(913) 551-7517

matthews.marc@epa.gov

Region 7 Fax (913) 551-7065

Region 8 - Colorado, Montana, North Dakota, South Dakota, Utah, Wyoming

PCB Coordinator
Regional Hotline

Natalie Cannon, PCB Regional Coordinator

303-312-6625

Cannon.Natalie@epa.gov

(800) 227-8917

Available only in Region 8 states
Region 9 - Arizona, California, Hawaii, Nevada, Pacific Islands
Region 10 - Alaska, Idaho, Oregon, Washington
Be sure to check out the EPA Headquarters contact list to learn who to contact for other PCB-related topics. 
---
Lists of Disposal and Storage Facilities for PCB Waste