Pacific Southwest PCB Success Stories: Preventing PCB Migration into Coastal Waters
Related Content: Polychlorinated Biphenyls (PCBs) | PCB Success Stories from Other Areas | Pacific Southwest PCBs Program
On this page:
UC Berkeley Richmond Field Station
Cleanup of PCB-Impacted Marsh Near San Francisco Bay
Marsh cleanup helps protect endangered California bird
The 170-acre Richmond Field Station (RFS) owned by the University of California at Berkeley is used for academic research and teaching. The site encompasses 60 acres of offshore marsh and native coastal grasslands that serve as habitat for monarch butterflies and nesting birds, including the endangered California Ridgway's Rail.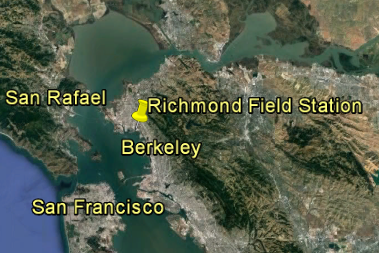 Site location in Richmond, CABetween 1877 and 1950, the California Cap Company manufactured dynamite caps for high explosives on a 30-acre portion of the site later purchased by UC Berkeley. The Cap Company plant consisted of approximately 150 buildings. On a neighboring property to the east, a former chemical manufacturing company (later Zeneca, Inc.) manufactured sulfuric acid and other chemicals between 1897 and 1960 that created pyrite cinder waste.
Testing for environmental contaminants in soil, groundwater, and sediment began at the site in 1999. The investigation revealed areas contaminated with mercury from the former dynamite cap production, as well as heavy metals associated with pyrite cinder waste. Mercury and polychlorinated biphenyls (PCBs) of unknown origin were found in Western Stege Marsh, north of a public walking trail. The highest concentration of PCBs (61,000 parts per million, or ppm) was found in a storm drain outfall to the marsh, potentially attributable to former activities of an off-site source. From 2002-2004, under the direction of the San Francisco Bay Regional Water Quality Control Board (RWQCB), 62,300 cubic yards of soil, sediment, and other material from a large portion of Western Stege Marsh was excavated and removed.
EPA Action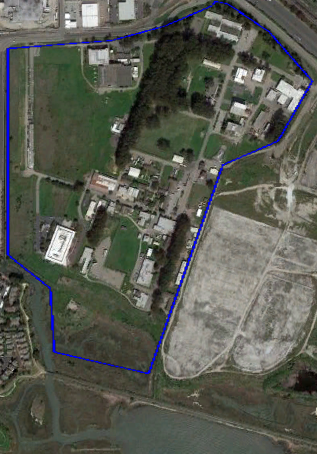 Approximate Site ConfigurationIn August 2017, UC Berkeley submitted a PCB Remedial Action Plan to EPA for cleanup of soils in locations impacted by a former small electrical transformer and maintenance facility at the site. EPA has oversight for cleanup of PCB-contaminated soil, concrete, and other materials under the Toxic Substances Control Act (TSCA). EPA expeditiously approved the plan in September 2017, providing for cleanup to 1 ppm on the condition that UC Berkeley would adopt a deed restriction prohibiting residential use. Most soils in the former transformer site and maintenance yard have been excavated for appropriate disposal.
Elsewhere on the RFS, UC Berkeley is excavating two PCB-impacted soil piles from a meadow. Soil from a PCB-impacted storm drain was placed on the meadow in the early 1990s. EPA determined that cleanup of PCBs in soil to 1 ppm would be protective of marsh wildlife exposed to stormwater runoff from the meadow. In September 2018, EPA approved UC Berkeley's plan to remove for off-site disposal approximately 1,000 cubic yards of PCB-impacted soil from the meadow. In addition, EPA required removal of any sediment within existing storm drains affected by the site, along with storm drain flushing and placement of straw sediment filters at the inlets to prevent further impacts to the marsh.
UC Berkeley's monitoring of the remediated portion of Western Stege Marsh following the 2004 cleanup shows that it is progressing towards functioning as a typical San Francisco Bay tidal salt marsh. In 2018, EPA requested UC Berkeley to conduct an initial survey of Ridgway Rails in the marsh. The survey identified multiple nests.
UC Berkeley tested soils for PCB content in the remaining portion of Western Stege Marsh in 2018, indicating elevated concentrations up to 41 ppm. EPA is coordinating with the U.S. Fish and Wildlife Service, San Francisco Bay RWQCB, California Department of Toxic Substances Control, California Department of Fish and Wildlife, and San Francisco Bay Conservation Development Commission to evaluate cleanup alternatives. UC Berkeley plans to conduct additional surveys of Ridgway Rails in the marsh to inform cleanup decisions.
Union Pacific Railroad Site (UPRR)
PCB Cleanup Planned at UPRR Site and Adjacent Arroyo Viejo Creek
Cleanup plans for PCB-impacted creek will help protect wildlife and San Francisco Bay
A small parcel owned by Union Pacific Railroad (UPRR) lies near Oakland Coliseum within a mile of San Francisco Bay. The UPRR site is immediately adjacent to Arroyo Viejo Creek, which drains into the bay. The site served as a rail station depot from 1895 to 1933 and was used as an auto salvage yard beginning in the late 1950s. The site has been vacant since 1992.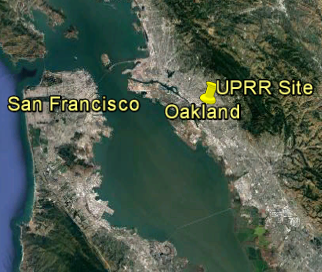 Site location in Oakland, CAIn 1998, EPA's contractor, Tetra Tech, assessed the UPRR site for contaminants in soil and groundwater. Tetra Tech's report revealed elevated levels of polychlorinated biphenyls (PCBs) and volatile organic compounds (VOCs).
In 2002, the California Department of Toxic Substances Control (DTSC) issued a remedial action order to UPRR. Over a span of several years, further on-site investigations identified PCB-impacted shallow groundwater and soils (up to 3,300 mg/kg), along with VOCs, heavy metals, and petroleum hydrocarbons. DTSC oversaw development of a workplan to address contamination at the site.
EPA Action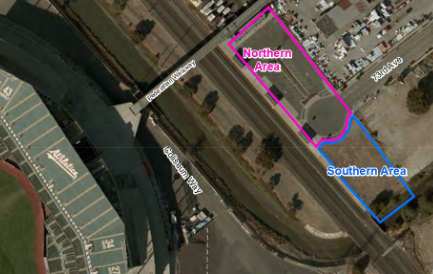 Site ConfigurationDTSC reached out to EPA about the site in 2013. EPA has oversight for cleanup of PCB-contaminated soil, concrete, and other materials under the Toxic Substances Control Act (TSCA). While DTSC took the lead on coordinating with UPRR to address PCB contamination within the site's chain link fenced area, EPA observed that PCBs may have moved from the site into adjacent Arroyo Viejo Creek sediment. EPA coordinated with UPRR to install bales along the fenced perimeter to prevent contaminated soils from migrating into the creek before the rainy season. EPA also requested that UPRR collect and test soil samples for PCBs beyond the fence line. These tests revealed PCBs in sediment along the toe of the creek bank adjacent to the property, prompting UPRR to further investigate creek sediments upgradient, adjacent, and downgradient of the site in 2014. PCBs were found in creek sediments in several locations.
In June 2015, the San Francisco Bay Regional Water Quality Control Board ("Water Board"), which oversees cleanup of contaminants in Bay Area waterways, required UPRR to further identify PCB impacts to Arroyo Viejo Creek. UPRR's 2016 analysis included over 190 creek bank and sediment samples and provided evidence that multiple sources or activities have contributed PCB loadings to the creek.
In September 2018, EPA approved a workplan by UPRR to address on-site sources of PCB contamination. One of the conditions of EPA's approval is that a land use covenant be adopted restricting future use of the site to industrial purposes. The UPRR workplan provides for excavation and removal of some PCB-impacted soils, treating groundwater to reduce VOCs (to reduce the mobility of PCBs), and installing a 6-inch asphalt cap.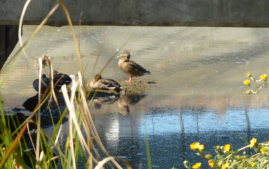 Ducks in Arroyo Viejo CreekIn January 2019, UPRR submitted to the Water Board an interim workplan to remove PCB-impacted sediments in the concrete-lined bottom and side bank of Arroyo Viejo Creek adjacent to the UPRR site. The cleanup will likely take place in 2020. The Water Board is coordinating with UPRR and other property owners on PCB cleanup actions needed for other impacted sections of Arroyo Viejo Creek. EPA will need to approve these actions. Cleanup of PCBs in creek sediments is needed to protect wildlife using the creek, such as ducks and other birds, as well as to prevent PCBs from migrating into San Francisco Bay.
---