Pacific Southwest PCB Success Stories: Redevelopment in Northern California
Related Content: Polychlorinated Biphenyls (PCBs) | PCB Success Stories from Other Areas | Pacific Southwest PCBs Program
On this page:
Emery Station West
PCB Cleanup Facilitates New Commercial Development
Site of former Westinghouse facility converted to $100+ million laboratory/office tower
Westinghouse Electric Company operated a maintenance and repair facility in Emeryville, California from 1924 to 1982 that included servicing electrical equipment containing polychlorinated biphenyls (PCBs). After closure, soil tests revealed contamination as high as 37,000 parts per million PCBs. Westinghouse consolidated the PCB contamination on-site under an impermeable cap that served as a parking lot.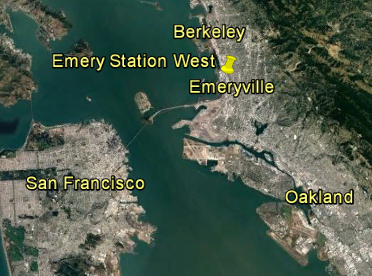 Site location in Emeryville, CA (click to enlarge)Now, developers have turned the 1.6-acre lot dubbed Emery Station West into a nine-story laboratory/office tower facilitated by a PCB cleanup overseen by EPA in coordination with the California Environmental Protection Agency's Department of Toxic Substances Control (DTSC). The foundation of the new building has become a new cap and a slurry wall for groundwater control remains for continued protection of human health and the environment.
EPA Action
In 2010, EPA approved a PCB remediation plan to remove the existing parking lot and underlying cap, followed by excavation and off-site disposal of approximately 21,900 tons of PCB-impacted soil. Early in the process, EPA worked with the developer to modify the building design to reduce unnecessary excavation and transport of contaminated soil through the community. This modification avoided removing an additional 41,250 tons of PCB-impacted soil and reduced the overall cost of remediation by $9.7 million.
Remediation and building construction was completed in 2018. Since PCBs remain in soils underneath the building foundation, a land use restriction will be placed on the capped area to ensure it remains intact in perpetuity.
Benefits to the City of Emeryville
Bus bays and parking connecting passengers to Capitol Corridor commuter rail and Amtrak
50+ remediation jobs and hundreds of construction jobs for two years, plus business to local suppliers
260,000 square feet of commercial space
Human Health and Environmental Protections
Removal of soil most heavily contaminated with PCBs
On-site cap and slurry wall to limit movement of contaminated groundwater off-site
Use of green remediation concepts on construction equipment and vehicles, including limited idling time, use of cleaner fuels, and add-on control devices such as diesel oxidation catalysts and particulate filters
Avoidance of greater than 9.5 million tons of CO2e and greater than 10 million pounds of particulate emissions from haul trucks that would have been needed to transport an additional 41,250 tons of PCB-contaminated soil to a hazardous waste disposal facility.
Former GE Transformer Site
PCB Cleanup Readies Site for New Warehouse Storage
Former transformer manufacturing site to host greater than 530,000 square feet of new warehouse space
From 1924 to 1975, General Electric (GE) manufactured transformers on a 24-acre parcel in Oakland, California, to north of the Oakland Coliseum. During this time, polychlorinated biphenyls (PCBs) were commonly used as coolants and lubricants in electrical equipment, including transformers. GE used several chemicals in its transformer-manufacturing operations, such as pyranol, a dielectric fluid containing PCBs, as well as cleaning solvents containing volatile organic compounds (VOCs). In 1979, EPA prohibited the manufacture of new electrical equipment containing PCBs due to evidence of adverse health impacts from exposure. The GE site was later used for electrical equipment maintenance and repair and temporary storage, until all use discontinued in 2005.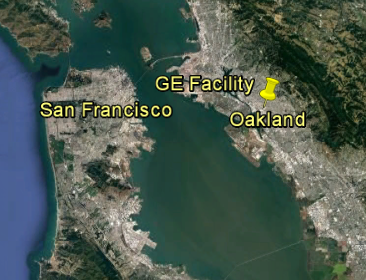 Site location in City of OaklandIn December 1980, the California Regional Water Quality Control Board (RWQCB) issued a Cleanup and Abatement Order in coordination with EPA and the predecessor entity to California's Department of Toxic Substances Control (DTSC). Numerous environmental investigations since 1980 found PCBs and VOCs in both soil and groundwater. Test results from hundreds of samples revealed PCBs widely distributed in shallow soils, with the highest concentration at 13,000 parts per million in a hotspot area.
EPA Action
EPA has oversight for cleanup of PCBs under the Toxic Substances Control Act (TSCA) while the state has oversight of other contaminants. Remedial actions at the GE site over the years have included installing a groundwater extraction and oil removal system, excavating soils containing PCBs at the site and at impacted neighboring properties, implementing surface water runoff controls, capping contaminated soil, and, in 1993, placing a deed restriction on the property. The deed restriction prohibits surface disturbance without DTSC approval and use of site groundwater for potable water. In 2015, an extraction and treatment system was installed at the GE site to clean groundwater on an ongoing basis. Monitoring wells at the property boundary will be used to test groundwater for PCBs and VOCs in order verify the effectiveness of the treatment.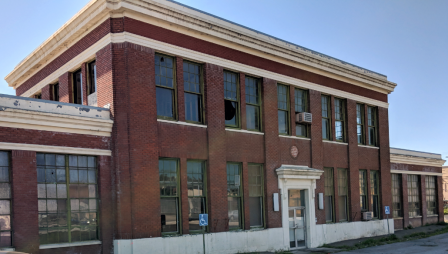 Historic on-site Building (click to enlarge)
Photo Credit: BridgeEPA and DTSC approved a GE plan to cap the entire 24-acre parcel, which GE installed. As a condition of EPA's approval, any redevelopment involving disturbance of the cap requires EPA's review and approval to ensure long term protection of human health and the environment.
In 2018, GE and Bridge Acquisitions, LLC, (Bridge Development Partners, "Bridge") reached an agreement whereby Bridge would acquire and redevelop the site to beneficial reuse. Bridge specializes in the redevelopment of complex urban industrial projects. It proposes to further cleanup and build a new industrial facility on the site. EPA and DTSC will oversee the environmental cleanup during the redevelopment project.
Project Benefits
Estimated 534,000 square feet of new warehouse space
Estimated $50+ million construction value
Hundreds of new short-term and long-term jobs created
Preservation and integration of an historic building facade to honor the area's history
Leadership in Energy and Environmental Design (LEED) Certified Project with improved landscaping and street lighting to increase safety
Former Raychem Site
PCB Cleanup Precedes $177 Million Facebook West Campus Building
Former chemical plant and manufacturing facility site hosts Facebook's West Campus LEED-Gold certified building with 9-acre green roof
Beginning in the mid-1960s, Raychem, later acquired by Tyco Electronics Corporation (Tyco), operated a manufacturing facility on an 81-acre site in Menlo Park adjacent to saltwater evaporation ponds bordering San Francisco Bay. The site was used to make products for the aerospace, automotive, construction, electronics, electrical power, and telecommunications industries. From 1968 to 1978, Raychem operated a chemical plant that manufactured polymers, antioxidants, paints, adhesives, epoxies, mastics, polychlorinated biphenyls (PCBs), coatings, and gels. From 1983 to 1988, Raychem stored and treated hazardous wastes generated on-site under a Resource Conservation and Recovery Act (RCRA) permit issued by the State of California. Environmental investigations initiated in the early 1980s revealed that the site was heavily contaminated with PCBs and had elevated concentrations of other pollutants, including volatile organic compounds, metals, petroleum hydrocarbons, dioxins, and dibenzofurans.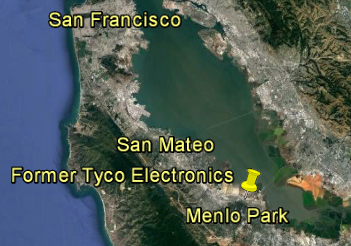 Site Location in City of Menlo ParkBetween 2000 and 2007, the California Department of Toxic Substances Control (DTSC) served as the lead regulatory agency overseeing hazardous waste cleanup at the site, which involved removing 5,000 cubic yards of PCB-contaminated soil and 2,780 cubic yards of other chemically-impacted soil. DTSC and Tyco adopted a land use covenant in 2007 that legally restricted the site's use to commercial/industrial purposes due to risks from remaining contamination. For example, PCBs in deep soils up to a concentration of 2,600 mg/kg were left in place under an earthen cap with the area fenced off. The covenant also prohibited use of groundwater beneath the site for drinking water.
EPA Action
In 2010, Giant Properties Inc. purchased a 22-acre parcel on the eastern side of the property and, in 2012, entered into agreements with EPA and DTSC to amend the site's land use covenant to enable additional cleanup and redevelopment of the parcel as an office complex. This was the first phase of a larger $1 billion Facebook Campus West expansion for the entire 81-acre site. In September 2012, Giant Properties submitted a remedial action plan to EPA proposing to excavate and remove for off-site disposal PCB-contaminated soil exceeding 0.74 mg/kg, a risk-based level suitable for commercial redevelopment. EPA reviewed and expeditiously approved the plan in October. EPA also engaged Giant Properties to explore practical ways to reduce the environmental footprint of the cleanup.
In 2012-2013, over 25,000 tons of PCB-impacted soil were removed down to a 30-foot depth. Conversations with EPA led Giant Properties to utilize a train instead of dump trucks to transport the soil for disposal in a landfill. Train transport uses 80-90% less fuel per ton than trucks. EPA estimates that transport of the contaminated soil by train instead of truck avoided approximately 180 tons of carbon dioxide emissions. Groundwater sampling conducted under DTSC oversight shows that contaminated water beneath the site is contained. Groundwater monitoring will be ongoing into the future.
In March 2015, a newly-constructed 433,000 square-foot building designed by Frank Gehry was opened on the 22-acre parcel as the first of two Facebook West Campus buildings.
Project Benefits
Office space for 2,800 employees
Annual revenue to the city of $300,000 per year for 20 years, along with funding of other city services in exchange for development rights for the entire site
A LEED Gold-Certified building that:

uses 50,000 square feet of stainless steel as a sustainable building material
has a 9-acre green roof with a half-mile walking loop and more than 400 trees, increasing the building's energy efficiency, capturing and re-using rainwater, and providing habitat for wildlife
---