Pacific Southwest PCB Success Stories: Redevelopment in Southern California
Related Content: Polychlorinated Biphenyls (PCBs) | PCB Success Stories from Other Areas | Pacific Southwest PCBs Program
On this page:
Former Unocal Fertilizer Plant Site
Site Cleanup Enables New Workforce Housing & Public Amenities
Site of former nitrate and fertilizer plant hosts residential apartments, executive golf course, and public walking trail along old railroad line
From 1954 to 1991, Union Oil Company of California (Unocal) operated a 52-acre nitrate and fertilizer plant in the City of Brea, Calif. Situated on a 116-acre site, the plant annually produced 150,000 tons of ammonia and 85,000 tons of urea. After the plant closed, facility structures were demolished and nitrate-contaminated soils excavated to a depth up to 15 feet and treated to reduce nitrate concentrations under the supervision of the Orange County Health Care Agency (OCHCA) and the Santa Ana Regional Water Quality Control Board (SARWQCB). The northern portion of the property was redeveloped into a golf course and the southern portion into a shopping plaza in the early 2000s. The site also had a former Union Pacific Rail line and a concrete-lined stormwater channel running through it.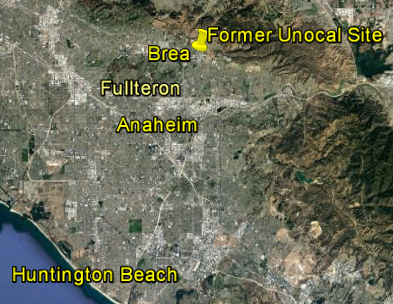 Site location in Brea, Orange County, CaliforniaIn 1997, the SARWQCB oversaw installation of groundwater monitoring wells and a groundwater remediation system to reduce dissolved nitrate concentrations underneath the site.
In 2005, Chevron purchased Unocal. Chevron's Unocal subsidiary, Birch Kraemer, LLC, led the remediation and redevelopment efforts at the site.
In 2010, the City of Brea approved a plan to add residential housing units on portions of the golf course as part of a new master-planned community. The city was also interested in transforming the former railroad into a publicly accessible walking and biking trail. This required addressing soil containing nitrates in the vicinity of the former Unocal plant -- a source of groundwater contamination -- and arsenic-contaminated soil along the railroad.
EPA Action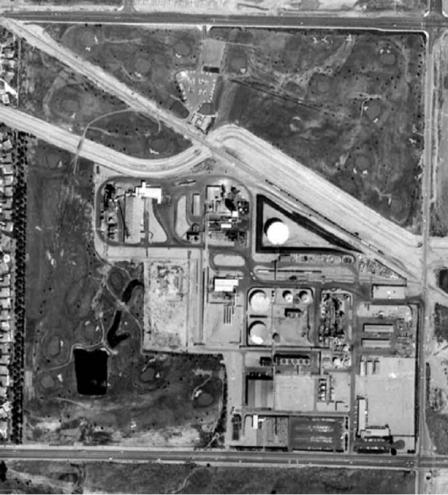 1977 Aerial View of Former PlantIn 2011, polychlorinated biphenyls (PCBs) were also detected in site soils, so Birch Kraemer, LLC, submitted a plan to EPA to address the PCBs. EPA has oversight for cleanup of PCB remediation waste under the Toxic Substances Control Act (TSCA). Sampling revealed PCBs in soils at varying depths south of the stormwater channel, with the highest subsequently measured concentration of 3,400 mg/kg. PCBs were spread across approximately 45 acres of the southern golf course, most likely from grading of the property in the early 2000s. EPA and Birch Kraemer, LLC worked closely with the OCHCA to ensure that soil excavation requirements in the plan took into consideration not only PCBs, but also nitrate and arsenic in soils at the site.
In 2013-2014, under OCHCA and EPA oversight, Birch Kraemer, LLC, excavated approximately 185,000 yds3 of impacted soil from the area south of the stormwater channel. PCB and nitrate-impacted soils were re-located to an on-site 4-acre, 50-foot deep consolidation area. This area was capped by a liner and 5 feet of clean soil and now lies underneath the golf course parking lot. Birch Kraemer, LLC, estimates that EPA's approval of the on-site consolidation area saved approximately $13 million in disposal and off-site transportations costs and shortened the cleanup timeline by nine months.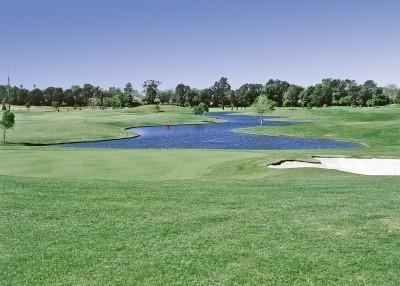 Golf Course ViewBirch Kraemer, LLC, reconfigured the site's golf course to include clean soil as the top layer beneath the grass turf. The golf course re-opened in 2015. Ownership is planned to be transferred by Birch Kraemer, LLC, to the city.
The golf course property will remain under EPA's purview. A Land Use Covenant (LUC) restricts future uses of the property to prevent potential exposure to minor impacts left in place following site remediation.
In 2014, EPA approved a soil cleanup plan by Birch Kraemer, LLC, to remove PCB-impacted soils from two residential yards bordering the west end of the site. PCB-contaminated soil found next to the stormwater channel was also removed to avoid the potential for transport of PCB-containing sediment into local waterways.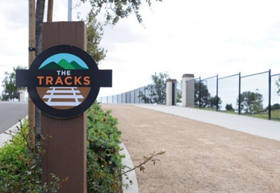 On-site segment of "The Tracks at Brea"
Source: Lou Ponsi, April 2017 Orange County Register article.Birch Kraemer, LLC, excavated 19,200 yds3 of arsenic-contaminated soil along the abandoned rail line for off-site disposal, and converted it to a pedestrian and bicycle trail. This aligned with the city's initiative to construct a 4.5-mile publicly-accessible trail along the length of the former railroad across multiple properties. At other sites, EPA Brownfields grants totaling $2 million have funded soil assessment, cleanup, and reuse planning efforts for various other segments of "The Tracks at Brea" project.
Groundwater remediation beneath the site is continuing, and by 2017, groundwater sampling determined that nitrate concentrations had been reduced by an average of 74%.
Several new residential workforce apartments built to Leadership in Energy and Environmental Design (LEED) for Homes Platinum certification have been constructed on the site, with additional residential units northeast of the shopping plaza. The site's close proximity to retail and community services helps meet the city's Smart Growth goals for walkable neighborhoods.
Benefits1 to the City of Brea
247 residential units
$4.5 million community center
18-hole golf course with a 2,500 ft2 clubhouse
$2.74 million annually in local income
35 long-term jobs
Annual tax revenue of $507,000
Human Health and Environmental Protections
Soils impacted by PCBs, nitrate, and arsenic were remediated to enable safe use by residents and the public. Nitrate concentrations in groundwater have been substantially reduced
On-site capping of impacted soil saved over 2 million gallons of diesel fuel from heavy equipment and trucks, avoiding an estimated 25,000 pounds of particulate matter (PM) emissions and 25,500 tons of carbon dioxide equivalent (CO2e) emissions
A segment of abandoned railroad line has been redeveloped to a pedestrian and bicycle path which, when fully completed, may eliminate more than 14,000 vehicle trips annually
1. Source for economic and job benefitsExit
Former ITT Cannon Site
PCB Cleanup Cleared Path for $96M Miller Light Industrial Park
Former interconnect products manufacturing plant converted to 500,000 ft2 of new light industrial space
For decades, ITT Cannon and its predecessors manufactured interconnection products for a broad portfolio of markets on a 25-acre site in an industrial area of Santa Ana, California. Activities at the facility included machining of metal parts, degreasing, plating, and molding of rubber and plastic components. Die-cast operations were conducted using oils containing polychlorinated biphenyls (PCBs) from 1959 through 1982, when ITT switched to non-PCB fluids/oils. Die-cast operations ceased in 2012 and the facility closed in 2016. Shea Properties purchased the site in July 2018, and has redeveloped the parcel into a light industrial business park.
ITT has conducted ongoing remediation and monitoring to address volatile organic compounds (VOCs) in groundwater beneath the site, under the supervision of the Santa Ana Regional Water Quality Control Board (SARWQCB). The SARWQCB is also working with ITT to mitigate risk of vapor intrusion from VOCs beneath the buildings as a protective measure for building occupants.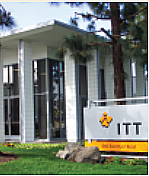 Former Use - Credit: ITTSampling for PCB contamination between 2011-2016 found high concentrations in the soil and concrete underneath the former DieCast Building. PCBs migrated into soils as deep as 25 feet below surface, with concentrations up to 22,000 mg/kg at shallower depths. Lower levels of PCBs were also found on adjacent pavements but have not been detected in downgradient groundwater wells. Testing of on-site building surfaces identified PCBs in the paint and caulk from historic PCB use in product manufacturing.
EPA Action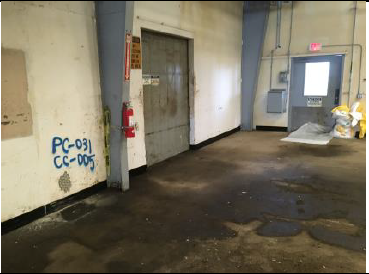 Former Die Cast Building Floor
Photo Credit: ERM, PCB Sampling Report, June 2016ITT submitted a PCB work plan for the site to EPA in September 2016. EPA has oversight for cleanup of PCB remediation waste under the Toxic Substances Control Act (TSCA). The work plan provided for demolition of the Die Cast Building, an engineered cap over the building's footprint, and off-site disposal of adjacent PCB-impacted soils, concrete, and building materials with PCB concentrations above 1 mg/kg. ITT had evaluated the alternative of excavating and removing PCB-contaminated soil underneath the Die Cast Building, but found this would provide no practical reduction in exposure risk. EPA approved ITT's work plan in November 2016.
Over 24,600 tons of PCB-impacted soil, concrete, and building debris exceeding the cleanup goal was removed and disposed of off-site. ITT constructed a 23,200 ft2 asphalt cap on the former Die Cast Building footprint, and will prepare a land use covenant and deed restriction on the capped area to ensure it remains intact in perpetuity. The deed restriction will also prohibit use of groundwater at the site.
Benefits to the City of Santa Ana
500,000 ft2 in nine buildings providing new light industrial space
150 construction jobs and potentially 500-750 permanent jobs
Estimated annual tax revenue of $1.1 million
Human Health and Environmental Protections
Containment of PCB-contaminated soils underneath the former Die Cast Building
Removal and proper disposal of PCB-contaminated building materials, shallow soils, and paved surfaces
Engineered cap on former Die Cast Building footprint saved over 670,800 gallons of diesel fuel and avoided 8,200 lbs of particulate pollution and 8,400 tons of CO2- equivalent emissions from heavy equipment and trucks that would otherwise have been needed to excavate and transport PCB-contaminated soil to a hazardous waste disposal facility.
Former Rocketdyne Site
Site Cleanup Supports $3 Billion Urban Village Redevelopment Project
Former space shuttle engine manufacturing site to host urban village with 6 million ft2 of residential & commercial space near public transit
A 47-acre site currently owned by United Technologies Corporation (UTC) was first used in 1955 to manufacture rocket engines . Following closure of the facility in 2014, the site is slated for mixed residential/commercial development as part of Los Angeles' Warner Center 2035 Plan for Canoga Park.
Environmental investigations and remediation activities have been conducted at the site since 1984. Site sampling identified soils containing volatile organic compounds (VOCs), metals, and polychlorinated biphenyls (PCBs), which could pose a health risk for future occupants if not cleaned up. UTC remediated some of the contaminated soil in 2007 and used bioremediation to treat groundwater VOC contaminants, such as trichloroethylene and tetrachloroethylene, under Los Angeles Regional Water Quality Control Board (LARWQCB) oversight. While UTC's efforts to date have substantially reduced groundwater VOC concentrations, additional treatment in 2019 and beyond is needed to meet the cleanup goal.
EPA Action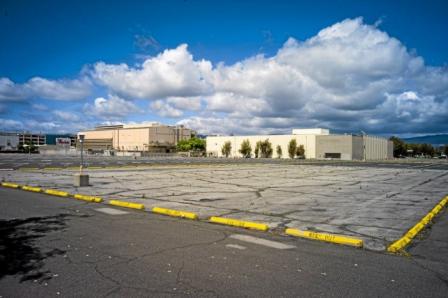 Former Use
David Crane, Los Angeles Daily NewsIn July 2016, UTC approached EPA with a cleanup and disposal plan for PCB-contaminated concrete, later amended in July 2017 to include PCB-contaminated soils. EPA has oversight for cleanup of PCB remediation waste under the Toxic Substances Control Act (TSCA). After technical review of UTC's data, and its sampling and amended plan for removal and disposal of soil and concrete with greater than 0.12 mg/kg of PCBs, EPA expedited review of the plan and approved it within one week.The approved PCB remediation goal is even more protective than EPA's risk-based regional screening level of 0.24 mg/kg for unrestricted residential use.
Demolition at the site, which included lead and asbestos abatement, began in August 2016 and was completed in September 2017.
Post-Demolition Aerial View
Photo Credit: UTCApproximately 8,900 tons of soil with contaminants above site-specific risk-based levels has been removed and disposed of off-site under a plan approved by the LARWQCB.
A Land Use Covenant will be developed with engineering controls to address potential risk from soil vapor intrusion exposure, and to restrict any future groundwater use at the site.
Construction is expected to begin in 2020, and will include 4,000 residential units, high-rise buildings with office/retail space, an assisted living facility, hotel, and 5-acre community park. The site's close proximity to public transit in an area that is now a focus for urban growth makes it an ideal location for walkable, transit-oriented development, consistent with the city's and residents' vision .
Anticipated Benefits to the City of Los Angeles
Over 6 million square feet of new residential and commercial space
8,000 construction and long-term jobs
Estimated tax revenue of $30+ million
Human Health and Environmental Protections
Removal of PCB-contaminated soil and concrete
Removal of VOCs and heavy metals in the soil and groundwater
High-density redevelopment (which facilitates reduced vehicle use and air pollution) in a region that does not meet national ambient air quality standards for ozone and fine particulate pollution
A redevelopment plan that incorporates LEED Silver green building standards, including water-efficient landscaping features that collect and infiltrate stormwater, and canopy trees
---