Pacific Southwest PCB Success Stories: Renovation/Reuse Projects
Related Content: Polychlorinated Biphenyls (PCBs) | PCB Success Stories from Other Areas | Pacific Southwest PCBs Program
On this page:
USS Iowa Museum Ship
EPA Reduces PCB Exposure Risk on Historic Battleship
Historic World War II battleship converted to a museum with over 240,000 annual visitors
Known as "The Battleship of Presidents," the USS Iowa is a museum ship berthed at the Port of Los Angeles. Almost 900 feet long, this ship was conceived in the late 1930s as the first of four 45,000-ton battleships.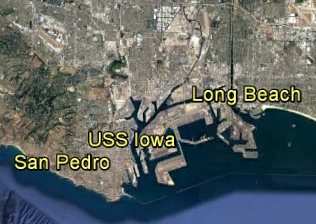 Ship location, Port of Los AngelesIn use for almost 50 years, it was labeled the "World's Greatest Naval Ship" because of its specialized capabilities - big guns, heavy armor, fast speed, longevity and modernization flexibility - allowing the ship to keep pace with naval technology. In 1943, the USS Iowa carried President Franklin Roosevelt across the Atlantic to meet with British Prime Minister Winston Churchill and Soviet Premier Joseph Stalin in Tehran. Controlling exposure to PCBs has facilitated preserving this ship's unique history as a popular museum attraction with guided tours daily.
EPA Action
EPA has oversight for cleanup of PCB (polychlorinated biphenyls)-contaminated soil, concrete, and other materials under the Toxic Substances Control Act (TSCA). Typical of historic ships, some materials onboard (electric cable insulation, gaskets, and equipment oil) contain PCBs. EPA banned the manufacture of PCBs and restricted their use in 1979 except for certain limited applications.
In 2011, EPA worked with the U.S. Navy and the Pacific Battleship Center to develop a plan to properly assess and mitigate PCB contamination prior to the museum's opening. Over 100 samples of air, paint, oil, and caulk were collected and analyzed. PCBs were found in several places, including gun turrets and engine rooms. The Pacific Battleship Center has ensured that areas on the ship with PCB levels posing a potential risk to human health are restricted from public access. EPA continues to oversee PCB-related activities carried out by the Pacific Battleship Center, including annual air sampling to evaluate air quality on the ship. The Pacific Battleship Center is planning a $19 million expansion and renovation to the USS Iowa museum to be completed by 2030, which may warrant EPA input to ensure public health protection with regard to PCB-impacted areas of the ship.
Project Benefits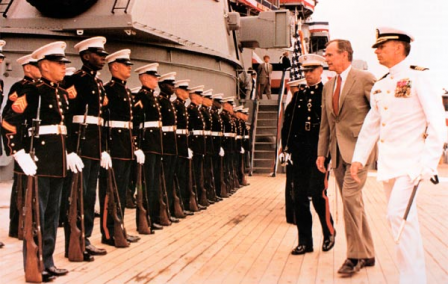 President George H. W. Bush on USS Iowa.
Photo Credit: Pacific Battleship Center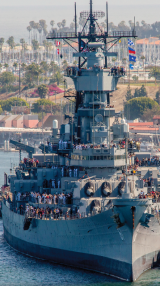 Photo Credit: Pacific Battleship CenterThe USS Iowa museum was opened to the public on July 7th, 2012 and is being operated by fifty-two Pacific Battleship Center employees. Reuse of the USS Iowa as a museum has been a significant economic benefit to the local community, estimated to have provided at least $11,332,539 in total economic impact to the region in 2013. The Pacific Battleship Center spends its approximately $2.8 million annual budget each year on goods and services. The museum sells tickets to approximately 240,000 visitors annually and hosted over 14,000 students on school trips in 2017. The reuse of the USS Iowa ship as a museum also preserves a unique part of American history for future generations.
Historic Building Renovation Includes PCB Cleanup
Sacramento Municipal Utility District (SMUD) Headquarters
1959 historic building renovation to LEED-Gold certification
Sacramento Municipal Utility District (SMUD) Headquarters, a 130,000-square foot office building, was constructed in 1959 in Sacramento, Calif. The building is listed on the National Register of Historic Places and considered a prime example of International Style architecture. A few years ago, SMUD set a plan in motion to completely renovate the building and pursue LEED (Leadership in Energy and Environmental Design) Gold certification, a multi-million dollar project.
Site location in City of SacramentoThe building was tested for polychlorinated biphenyls (PCBs) during 2014-2016 pre-renovation inspections. PCBs were found in both interior and exterior building materials and adjacent soils. The building also contained other hazardous wastes requiring remediation, such as asbestos and lead paint.
Beginning around 1950, many building materials (such as sealants, caulk, paint, and mastics) were made with PCBs, until EPA banned their manufacture in 1979. If these materials are found to contain PCB concentrations greater than 50 parts per million (ppm), they must be removed and disposed of in accordance with the Toxic Substances Control Act (TSCA).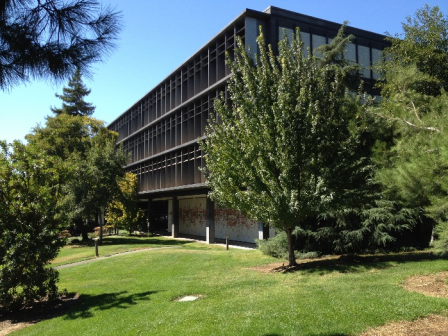 Pre-Renovation Photo
Photo Credit: Wcaroll3 via Wikimedia CommonsPre-1979 building materials made with PCBs often leach PCBs into adjoining surfaces, such as wood, concrete, or masonry. These adjoining materials can be removed and disposed of in accordance with TSCA when a building is renovated or demolished or left in place if adequately encapsulated and/or cleaned. PCB-contaminated soil, gravel, and pavement, as well as material remediated-in-place, is subject to EPA oversight and approval.
EPA Action
In September 2016, SMUD submitted a risk-based PCB remedial action plan to EPA for approval. The plan identified sealants and mastics manufactured with PCBs, as well as substrates and media (e.g., concrete, window seals, roofing substrates, insulation, ceiling tiles, soils, storm water) into which PCBs had migrated.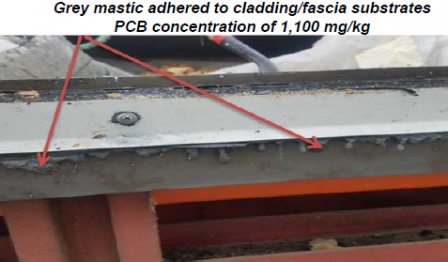 PCB-containing sealant on building roof
Source: Final Second Amendment to the Polychlorinated Biphenyl Notification and Remedial Plan, July 2018In November 2016, EPA conditionally approved the PCB remediation elements of SMUD's plan, which set an upper limit of 0.24 parts per million (ppm) for PCB concentrations. The plan called for disposal of several materials and soil with PCB concentrations exceeding this limit, encapsulating subfloor concrete with an epoxy coating, and decontaminating surfaces to less than five micrograms per hundred square centimeters after removal of building materials manufactured with PCBs. EPA's approval is contingent upon adoption of a restrictive land use covenant for remediated PCB-impacted surfaces left in place, to prevent building occupants from being exposed to PCBs in the future.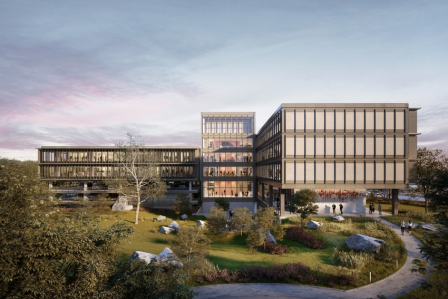 Building Rehabilitation Rendering
Source: Dreyfuss & Blackford ArchitectureIn 2018, SMUD found PCBs in additional parts of the building, including roof cladding, an elevator shaft, and a concrete structure. In September 2018, EPA approved an amended plan submitted by SMUD that provided for remediation-in-place of the newly-discovered contaminated materials. SMUD has completed the in-place remediation work. Continued EPA oversight ensures that follow-up operations and maintenance activities will provide adequate protection for the building's future occupants.
Human Health and Environmental Protections
Removal and proper disposal of PCB-contaminated building materials and soils, on-site encapsulation, and/or surface decontamination
A rehabilitation plan that incorporates LEED Gold green building standards, including electric vehicle parking stations, expanded tree canopy, and efficient landscape irrigation
---