EPA proposed and finalized a reinterpretation of its position regarding Polychlorinated Biphenyl (PCB) contaminated building materials. The reinterpretation is specifically addressing the definitions of bulk product waste (e.g., PCB contaminated caulk or paint) and remediation waste (e.g., PCB contaminated masonry or concrete). This distinction is important as it determines the appropriate cleanup requirements and disposal options. The reinterpretation allows building material (i.e., substrate) "coated or serviced" with PCB bulk product waste (e.g., caulk, paint, mastics, sealants) at the time of disposal to be managed as a PCB bulk product waste, even if the PCBs have migrated from the overlying bulk product waste into the substrate. The below diagram highlights these changes to the definitions.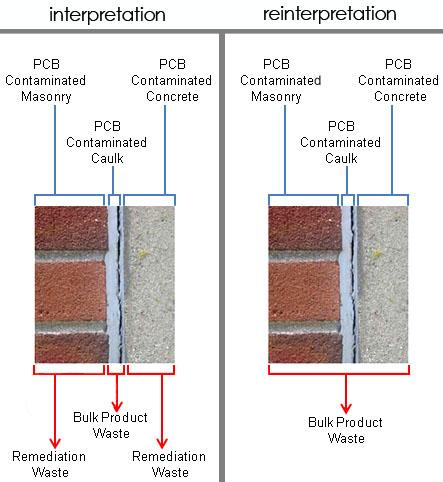 The reinterpretation impacts the highlighted segments of the following documents:
You may need a PDF reader to view some of the files on this page. See EPA's About PDF page to learn more.