Requirements for Monitoring Pesticide Handlers
Employers must monitor pesticide handlers when they are handling certain types of pesticides.
Pesticides with Skull and Crossbones
At least once every two hours, someone must check on – by sight or by voice communication – any handler who is handling a pesticide that has a skull and crossbones symbol on its label.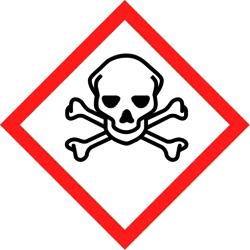 Fumigants in Greenhouses
Someone must maintain constant visual or voice contact with any handler who is applying or otherwise handling a fumigant in a greenhouse. This includes handlers who enter the greenhouse during fumigation to operate ventilation systems, adjust tarps or other coverings used in the fumigation, or check air concentration levels.
The person monitoring the fumigant handler must be trained as a pesticide handler and have immediate access to the personal protective equipment required for applicators by the fumigant labeling.