Best Port-wide Planning Practices to Improve Air Quality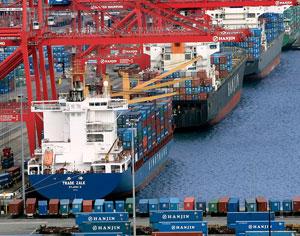 Port-wide planning practices can improve air quality at ports and in near-port communities
Port-wide planning helps to inform strategic clean air investments at ports. These activities include identifying emissions sources, developing plans to reduce emissions, raising funds and getting community input on emissions reduction activities. Below are best practices for port-wide planning to promote improved air quality. 
On this page:
Clean Air Best Practices: Appropriateness and Effectiveness
This webpage is one in a series of webpages that provide information on best practices at ports to reduce diesel pollution and associated health impacts. While the examples in these webpages are not exhaustive, they are intended to highlight some of the more effective strategies that have been adopted by U.S. ports.  The appropriateness and effectiveness of these strategies will vary for different ports based on many factors including type of operation, fleet makeup, local air quality and pollutant exposure, and community and port priorities. These webpages will be updated over time as new clean air practices emerge and information evolves.
You may need a PDF reader to view some of the files on this page. See EPA's About PDF page to learn more.There are several links on this page that exit the site Exit
---
A mobile source emissions inventory is a quantification of all air emissions of selected pollutants that are emitted within a designated area by mobile sources for a given time period. Most emissions from mobile source port-related activity come from diesel engines. Emissions from diesel engines, especially particulate matter, nitrogen oxides, and air toxics, can contribute to significant health problems.
An emission inventory can help port operators identify and quantify the air emissions impacts of current port operations to understand overall emissions from the port and the relative contributions of different mobile source sectors. Emissions inventories can help to assess the impacts of port expansion, fleet changes, or increased activity and provide a baseline that can be used to inform emission reduction strategies. They can also be used to track performance over time. Below are some helpful notes to consider when developing emissions inventories:
Emissions inventories should be based on Port Emissions Inventory Guidance: Methodologies for Estimating Port-Related and Goods Movement Mobile Source Emissions (PDF)

(233 pp, 5 MB, EPA-420-B-20-046, September 2020)

. See Section 2 of for further details on developing an inventory.
It is good practice to publish emissions inventories online as a resource for communities and other stakeholders. Updating inventories periodically to evaluate the impact of emissions reduction activities and to capture changing trends in emissions sources is a good practice as well.
While comprehensive port-wide inventories provide the most information, port operators can prioritize and choose to focus first on equipment they own, specific terminals, specific mobile source sectors, or specific fleets of interest. Port operators can expand inventories to other fleets or mobile source sectors over time to create a more comprehensive assessment of emissions sources and reduction opportunities.
Port equipment-only inventories are also a useful tool in lieu of or as part of emissions inventories. Equipment inventories entail documenting the vehicle or engine type and model year for all relevant mobile sources. An equipment inventory could help a port make certain fleet-or sector-level decisions. Such an inventory would be a first step towards developing a complete emissions inventory.
Technical Resources
Real-World Examples
Enhance community-port collaboration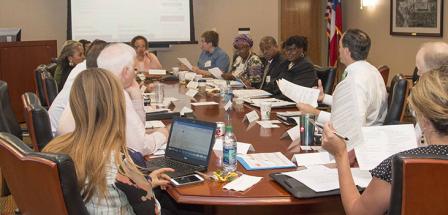 Near-port communities and port operators have unique challenges and shared interests related to air quality that can benefit from joint problem solving. Community-port collaboration is important to address environmental justice concerns1 and improve quality of life for near-port communities and port workers. Collaboration with community partners can also help ports achieve better infrastructure project outcomes, increase resilience, and manage risk. Some specific actions that support collaborative efforts to improve air quality include:
Providing a clear point of contact (phone number or email on website) for community issues and complaints specific to or inclusive of air quality.
Providing a forum for public comments (e.g., commissioners or board meetings where public input is part of the agenda).
Establishing or enhancing a policy or process to engage local residents and get their input on port operations and projects that impact air quality (e.g., a standing citizens advisory committee). This can include a collaborative problem-solving process or other approaches described in EPA's Community-Port Collaboration Toolkit to identify key issues and potential solutions.
Provide information on current and future projects that have potential air quality impacts (especially adverse impacts) on the surrounding community's health and wellbeing in an easy-to-access, centralized location online (e.g., project schedule, measures to minimize community impacts, and upcoming stakeholder meetings).
In addition to collaborative planning efforts to reduce emissions from diesel vehicles and equipment, communities and ports can work together to identify other ways to minimize exposure to air pollution, including:
Evaluating whether physical barriers between port activities and adjacent communities should be installed (e.g., man-made solid barriers such as sound walls or fences, vegetative barriers such as trees and bushes). If properly designed, these barriers may help to reduce air pollution levels in the community. Sound walls can also reduce noise and vegetative barriers can improve aesthetics.
Evaluating whether residences and other buildings can be constructed or upgraded to reduce air pollution exposures following construction best practices such as installing improved air filtration units within the buildings.
Technical Resources
EPA's Community-Port Collaboration website provides resources for port operators and near-port communities on effective collaboration and contains the Community-Port Collaboration Toolkit, case studies and lessons learned on projects conducted in four communities using the Toolkit, and related training modules.
Other resources for establishing vegetation barriers and reducing roadside pollution exposure are noted below.
Real-World Examples
Below are a few examples of port efforts to engage local residents and get their input on operations and projects that impact air quality and beyond.
Develop a plan to reduce emissions
Creating a clean air plan is an important step for port operators to take and can be informed by scenario analysis and other research to identify viable best practices to effectively reduce emissions at the port. Through a clean air plan, port operators can demonstrate to communities and other stakeholders a commitment to take action. Port operators can also use the clean air plan as a foundation to inform funding priorities and track progress over time. Below are some helpful notes to consider when developing clean air plans:
A clean air plan should describe specific actions port operators are taking or are planning to undertake to reduce emissions from mobile sources (e.g., equipment upgrades, use of cleaner fuels, operational improvements). For best practices to reduce emissions in each of the mobile source sectors operating at ports, see:

Ocean going vessels (coming soon)
Harbor craft (coming soon)
Cargo handling equipment (coming soon)
Rail (coming soon)

Ideally, the clean air plan should specify emissions reduction targets and implementation dates for specific criteria air pollutants and/or greenhouse gases. These targets can be in percentage (e.g., 5%) or absolute (e.g., 500 tons) terms. Targets can reflect total emissions or emissions rates per unit of activity (e.g., per ton or TEU of cargo handled, number of passengers served, etc.).
It is also good practice to publish the plan online as a resource for communities and other stakeholders and to periodically report on progress. Updating the plan and targets over time to reflect changing trends in emissions sources and advances in emissions reduction strategies is a good practice as well.
Public outreach with the community, environmental groups, businesses, equipment developers and other stakeholders is important to assure that a plan is well-informed and will have broad support during implementation.
While a comprehensive port-wide emissions reduction plan is ideal, port operators can prioritize and choose to focus first on equipment they own, specific terminals, specific mobile source sectors, or specific fleets of interest. Port operators can expand to other fleets or mobile source sectors over time to create a more comprehensive plan.
Technical Resources
Real-World Examples
Apply for funding to implement clean air strategies
Many federal, state and local agencies as well as private entities offer funding that can support clean air activities at ports, including emissions reduction projects and planning efforts. Some examples of funding opportunities available include:
Go to the Ports Initiative funding opportunities page for information on additional federal, state, local and port authority funding opportunities that can support efforts to reduce emissions and improve air quality at ports.
Technical Resources
Real-World Examples
---
1Environmental justice concerns include issues that have resulted in some minority, low-income, or tribal and indigenous communities being more adversely, disproportionately and/or historically impacted by environmental issues and problems than other communities because of geography, poverty, income levels and similar types of factors.