Drayage Truck Replacements Improve Air Quality in the Mid-Atlantic
On this page:
The ports of Philadelphia, Wilmington, Baltimore, and Virginia in the Mid-Atlantic region (EPA Region 3) have implemented programs to replace aging drayage (or dray) trucks through Diesel Emission Reduction Act (DERA) grant funding. Dray trucks play a critical role in transporting cargo from ships to other modes of transportation and warehouses. However, dray trucks often can release significant emissions as they make frequent trips throughout the port and idle while awaiting cargo. Since 2008, the ports have improved air quality by collectively replacing over 270 dray trucks. Key lessons learned, considerations for future programs and more information on these programs can be found below as well as in the accompanying case study.  
For detailed information on the truck replacement programs go to the case study: Drayage Truck Replacement Programs Improve Air Quality in the Mid-Atlantic (PDF)   (11 pp, 2 MB, February 2020, EPA-420-F-20-006, About PDF).
Incentives for Drayage Truck Replacement Programs
Funding
When EPA first distributed funds in 2008 through the DERA National Grant Program, local stakeholders in the Mid-Atlantic (EPA Region 3) welcomed the opportunity to implement large-scale vehicle replacement projects. In response to the feedback by truck operators concerning cost to purchase trucks, EPA increased funding incentives from 25 to 50 percent of the cost of a truck replacement over time. 
Interest
Communities with environmental justice concerns near the Ports of Philadelphia, Wilmington and Baltimore were adversely impacted by emissions from port-related activities. EPA encouragement and local demand for improved air quality led nonprofits and state agencies to set up mechanisms to help interested groups apply for the DERA grants. Throughout the region, the Mid-Atlantic Regional Air Management Association (MARAMA), Maryland Environmental Services (MES), the Clean Air Council, EcoLogix Group, and the Virginia Department of Environmental Quality (DEQ) worked with ports and truck operators to publicize the grant opportunity and administer funding.
Ease of Participation 
To address concerns about the time and staff capacity needed to fill out the grant application, grant project coordinators simplified the process and now provide technical assistance and support to potential applicants. MES created an online portal to help truck drivers easily fill out the grant application, streamline paperwork, and address frequently asked questions. Truck operators have largely reacted positively to these changes.
Improved Air Quality
Throughout the Mid-Atlantic region, completed dray truck replacement projects have prevented nearly 3,000 tons of pollutants from entering the air each year. Furthermore, by taking old trucks out of service and ending their useful life, the dray truck replacement programs will collectively prevent the emission of over 23,000 tons of pollutants that can contribute to significant health problems (see table below).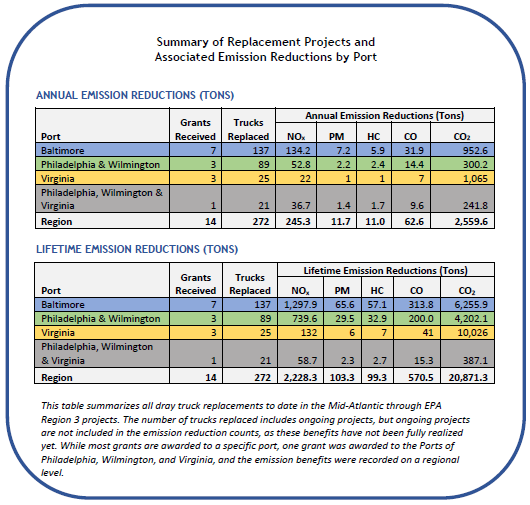 Lessons Learned
Throughout the region, grant project coordinators have identified three key lessons learned for ensuring successful dray truck replacement programs: engaging stakeholders and responding to local concerns, fostering relationships and clearly communicating with scrap yards, and working with vendors to make sure replacement trucks and their diesel particulate filters (DPFs) have been properly maintained.
Stakeholder Outreach
The Port of Virginia's Green Operator Program exemplifies the importance of garnering support and buy-in from port operators and stakeholders and surrounding communities at the beginning of a project. From the onset, local trucking associations were active in the area and had good relationships with the port authority.
In 2008, the Clean Air Council began working on a replacement program in Philadelphia. Although the port authority and the port terminal owners engaged in talks with EPA and the Clean Air Council, some challenges arose, and the program was unable to progress. Ultimately, the grant project coordinators determined that the most efficient way to move forward was to work with truck drivers directly.
Scrappage Requirements
For the grant project coordinators, having a good relationship with scrap yards is essential to running a successful program. After truck operators are approved to receive a new truck, they must scrap their old vehicle before they can purchase a new one. EPA has strict requirements for verifying scrappage, which can take time for scrap yard operators to learn and follow.
Diesel Particulate Filters
Grant project coordinators encountered unforeseen issues with DPFs in dray trucks throughout the region. DPFs were first widely installed on new trucks starting in the 2007 model year, and truck operators found the 2007-2013 replacement dray trucks were experiencing premature DPF plugging. For proper operation, periodic DPF maintenance (cleaning) is required, and the engine duty cycle needs to meet time and temperature requirements (minimum time at elevated exhaust temperature), achieved through extended high load and highway driving that burns off soot for DPF regeneration. Additionally, if an engine needs service, a DPF can temporarily hide an engine problem, but eventually the DPF will experience plugging or other problems as well. In these grant projects, EPA Region 3 learned the shorter trip dray truck duty cycles did not meet the time and temperature requirements for DPF regeneration, which was causing DPFs to clog and the engine to go into a reduced power mode. Clogged filters led to trucks routinely breaking down after purchase. To address the DPF issues, MARAMA asked truck vendors to provide an initial cleaning of DPFs on second-hand trucks being repurposed as dray trucks before releasing them to the grant recipient. Additionally, MARAMA encouraged warranties included in the grant funding to minimize the amount of work time grant recipients lost to repairing faulty new DPF systems. The DPF issue is becoming increasingly less prevalent as truck drivers opt for newer trucks.
Looking Forward
While the EPA Region 3 dray truck replacement programs have successfully replaced older trucks with newer ones, funding and new technology could influence the programs' longevity along with improved education to vehicle operators regarding effective maintenance practices.
DERA grant funds support drayage truck projects through both the DERA program's national competitive program as well as its state-level program. Replacement programs are popular among many truck operators, and the number of interested applicants and eligible trucks exceeds the funding available in each grant cycle. Additionally, newer, less conventional technologies also pose a potential funding concern: alternative fuel and zero-emission vehicles are more expensive than standard diesel engines. If the cost of each replacement vehicle increases, fewer replacements would occur with the same amount of money. EPA Region 3 grant project coordinators have found that few zero-emission and alternative fuel vehicles are feasible or cost-effective options for drayage trucks as of 2020. 
Although there are other drayage truck funding opportunities, such as Volkswagen (VW) Settlement funds, each state has its own plan on how to determine how to spend the funds. Throughout the region, DERA grant project coordinators and VW Settlement state administrators could find opportunities for collaboration.