Georgia Ports Authority Reduces Diesel Emissions, Improves Efficiency, and Saves Costs
The Georgia Ports Authority (GPA) has implemented several strategies to improve efficiency, reduce costs, and the level of diesel emissions at the Port of Savannah. These include infrastructure improvement to enhance operations as well as changes to equipment.
On this page:
---
Port Overview
The Port of Savannah is composed of 18 different terminals and is located about 18 miles inland on the Savannah River. All but two of the terminals are private handling a variety of products, ranging from woodchips, liquid natural gas, paper goods, to petroleum and other products. The GPA operates the remaining two terminals, Garden City Terminal and Ocean Terminal. As an owner-operator of the two terminals, the GPA owns all the cargo handling equipment, and it controls all container moves on the terminal except the move to load or unload a ship, which is performed by International Longshoremen's Association members.
Garden City terminal is adjacent to its namesake, Garden City, and is one of the larger container terminals in the United States. Over 4 million Twenty-foot Equivalent Unit (TEU) containers were moved through Garden City terminal in 2017. A commuter road separates the city from the port while providing access to the Garden City terminal gates. Garden City terminal has 9,700 feet of contiguous dock space served by 30 ship to shore (STS) cranes, with another 6 STS cranes on order. The terminal also contains 146 rubber-tired gantry cranes (RTGs). Two Class I railroads, Norfolk-Southern and CSX, and a short line railroad with 12 switcher locomotives serve the terminal.
Ocean Terminal is primarily a break bulk terminal with approximately 5,800 feet of contiguous dock space. Vehicles, heavy duty non-road equipment, and other types of break bulk cargo pass through this terminal. Multiple residential communities as well as several private terminals are near Ocean Terminal.
Overview of Projects
Several projects have been completed or are underway at the GPA's terminals at the Port of Savannah. Projects have been funded by the GPA, the Federal Highway Administration (FHWA), the Georgia Department of Transportation (GDOT), and the EPA.
These projects have focused on making improvements in four primary areas:
Air quality and other environmental gains at the port and surrounding areas;

Time and cost saving efficiencies;

Congestion reduction in and around the port; and

Engagement and collaboration with surrounding communities.
Types of projects generally fall into these areas: truck replacement, switch to alternative fuels, infrastructure and/or operations enhancements, and community-port collaboration.
Drayage Truck Replacement
Overview
Drayage truck fleets are a frequently identified source of diesel emissions in and around ports. Drayage trucks are often older trucks that are no longer used for long hauls. They typically produce substantially more diesel emissions.
The GPA received a Diesel Emission Reduction Act (DERA) grant in 2013 to replace 30 older drayage trucks with 2011 or newer trucks. To be eligible for replacement, the truck must have visited the terminal at least 150 times a year; the GPA verified the number of truck visits through its gate management system. The GPA requires the replacement trucks to be inspected for drivability and fitness before they are purchased. After a slow start to the program, the GPA reached out to drayage truck owners to provide them with information about the program. The program has since been very successful, and the GPA has received additional DERA funds to continue the program.
Outcomes
According to EPA's Diesel Emission Quantifier, the completed portion of the DERA funded replacements has resulted in the reduction of approximately 1,200 tons of nitrogen oxides (NOx) over the remaining lifetime of the replacement trucks. Additionally, the replacement trucks have reduced lifetime Particulate Matter 2.5 (PM2.5) emissions by 56 tons, hydrocarbon emissions by 62 tons, and carbon monoxide (CO) emissions by 409 tons.
Lessons Learned
Outreach to truckers about the details of the program was very important. One of the most successful, yet easiest, steps GPA took was placing signs about the program on approaches to the terminals, especially the main container terminal of Garden City.
Another finding was the need to follow changing patterns of business. The GPA found that over time more and more drayage operations are conducted by multi-truck companies versus individual owner operators. Patterns changed as additional warehousing and distribution centers were built near the terminals. Many drivers pick up loads from the port, drive to a warehousing and distribution center, and park for the night. Then the next day the load is hauled to Atlanta or another destination 4-5 hours away so that the emission controls can operate in the necessary heat and time range.
Next Steps
The Georgia Ports Authority is in the process of completing additional drayage truck replacements using DERA funding, and anticipates it will replace approximately another 100 trucks.
Replacement of Diesel with Electric and Propane
Several projects involved converting diesel-powered equipment to alternative fuel- (specifically electric- and propane) powered equipment.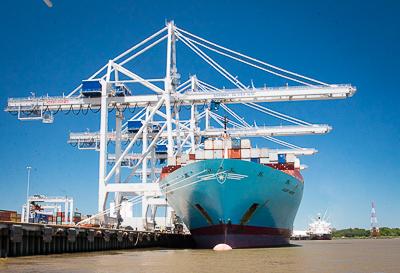 GPA Ship to Shore Electric CranesShip to Shore Crane Electrification:  The conversion of STS cranes from diesel to electric greatly reduces both the diesel fuel used by the terminal and the associated emissions. In addition, some of the STS cranes have a regenerative braking feature that can generate 18 minutes of electricity for every hour of operation.
Conversion of Refrigerated Racks from Diesel Power to Electric:  This initial project at Garden City Terminal provided 336 electrified slots in container stacks for refrigerated containers, which eliminated the need for at least 10 diesel generators. The terminal now contains 104 racks with a total of 2,496 electrified slots. In July 2018, the terminal received approval to build another 15 racks, providing an additional 360 container slots.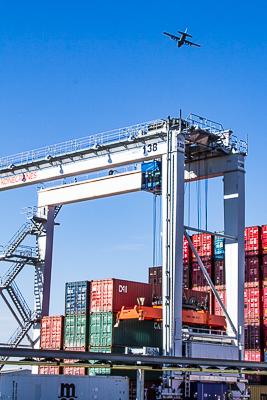 Electric Rubber-Tired Gantry at GPAConverting Rubber-Tired Gantry Cranes from Diesel to Electric:  The terminal is in the process of converting its RTGs from diesel to electric. Nineteen of the RTGs have been converted to electric. Electric power is supplied via a bus bar system that runs the length of the container stacks. Diesel power is only used when transiting from one container stack to another.
Forklifts:  Eighty-six diesel powered forklifts of 15,500-pound capacity or smaller were converted and are now fueled by propane.
Infrastructure Improvements to Enhance Operations
Automated Traffic Assist Management System:  This terminal operating system includes the use of optical character readers, radio frequency identification (RFID) tags (an electronic tag placed on the truck to relay identifying information to an electronic reader by radio waves), and GPS technologies to direct the truck driver to the proper place in the port thereby reducing the amount of time a truck is in the terminal by 15 minutes. This increased efficiency reduces fuel costs and helps lower air emissions due to reduced truck idling.
Jimmie Deloach Parkway Extension:  FHWA and GDOT constructed this highway to provide truckers with direct access to the terminal gates without having to drive on commuter roads or other surface streets near neighborhoods. The dedicated highway to the port increases safety, and reduces noise, congestion, and air emissions from trucks on commuter roads.
Cross-Terminal Drive:  This road traverses the terminal, thereby reducing the time needed for a truck to transit the terminal and access the container stacks. The reduced transit time lowers fuel costs and truck emissions.
Inland Ports:  GPA helped establish two inland ports near Cordele in Southern Georgia, and northwest in Murray Country near the Tennessee border. Trains, rather than trucks, take containers from the Port of Savannah to these two intermodal inland ports which has decreased congestion on the road. Once at the inland port, the containers are transferred to trucks for delivery to their destination. Both inland ports are positioned to remove truck traffic from  I-75, a major route for truck and passenger vehicle traffic. These ports reflect a cooperative effort between the GPA, local governments, and the CSX Railroad with State of Georgia assistance. The GPA anticipates developing several more inland ports and announced a third location in Gainesville, GA.
Community-Port Collaboration
The GPA also worked with EPA and the Harambee House/Citizens for Environmental Justice as part of the
EPA port capacity building pilot program
with a focus on improving air quality for near-port communities. This pilot program was designed to help build relationships between the port and the surrounding communities. Meetings with community and port stakeholders were held that involved facilitated stakeholder dialogues and training sessions on port operations, effective community engagement, and leadership skills-building. Participants expanded their familiarity with EPA's capacity building toolkit as it was utilized for process guidance and reference throughout the pilot.
Ongoing Project
Mason Mega-Rail:  This project will enable the doubling of rail capacity to 1 million containers per year while reducing local impact and traffic congestion near the Garden City terminal. It will greatly reduce the rail-induced long traffic delays on the adjacent Georgia 21 commuter route that can occur when up to mile long trains are being assembled. Residents in the neighborhood will benefit from the closure of six grade crossings and a reduction in blockages at 14 others by relocating Norfolk Southern track onto port property. Switching operations will be moved out of the community and onto port property.