Massport Air Emission Reduction Efforts and Community Enhancement Projects
Port Authority Overview
The Massachusetts Port Authority (Massport)Exit, created in 1956, is a self-sustaining public authority of the Commonwealth of Massachusetts. Massport owns and operates several major maritime terminals within the Port of Boston (including the Conley Container Terminal and Black Falcon Cruise Terminal), and other maritime and real estate properties in South Boston, East Boston and Charlestown. The Port of Boston is the region's major seaport and a center of domestic and international shipping and commerce that handles more than 13 million metric tons of containerized and bulk cargo per year. Massport has made enhancements to the near-port community as well as significant reductions in air emissions through the efforts outlined below.
Truck Replacement Program
Since 2011, the Massport Clean Truck Program at the Conley Terminal has made significant reductions in diesel engine related air emissions in the community of South Boston. Reductions in oxides of nitrogen (NOx) and particulate matter (PM) are particularly significant in the areas surrounding Conley Terminal since the area is classified by USEPA as non-attainment for ground level ozone (for which NOx is a precursor) and a National Air Toxics Assessment (NATA) priority for reduction of PM. Through the implementation of the Clean Truck Program to replace older drayage trucks with newer ones, Massport has helped to significantly improve air quality in the parks and neighborhoods surrounding Conley Terminal.
Outreach
Massport started the program by reaching out to as many of the Conley Terminal truck owners as possible to educate them about environmental and public health impacts associated with truck emissions, tell them about this potential funding opportunity to replace their trucks, and identify specific trucks and truck owners to include as partners in the grant application.  In October 2010, an informational meeting was held with representatives from the Conley trucking community to gauge interest and solicit input for the project.  Using surveys, interviews, gate counts, and phone and e-mail correspondence, Massport determined that truck replacement was favored by truck owners and presented a lower administrative and technical support burden to Massport staff, and so decided to target the terminal's 20 oldest trucks.
Funding and Overcoming Challenges
In January 2011, Massport submitted an application to the EPA for $500,000 to replace 15 to 26 year-old trucks with new 2007 emission compliant trucks.  In June, the Massport Board voted to move ahead with the Clean Truck Program with or without federal funding and provided $1 million in support.
Massport was awarded a Diesel Emission Reduction Act (DERA) Grant of $500,000 for this project in September 2011. Due to decreases in container volume handled by Conley Terminal and difficulties obtaining replacement trucks, the project had to evolve slightly from the original proposal in order to keep the program moving and completed within the DERA grant period of performance.  The decrease in container volume caused many truck owners to either drop out of the project or to postpone the replacement of their trucks.  As such, the rate of truck replacements lagged behind projections, forcing Massport to request an extension to the period of performance. 
Another issue Massport faced was that the success of other DERA funded truck replacement programs had led to an extremely high interest in used trucks meeting the 2007 emission requirements, causing a scarcity of potential replacement trucks. To address this issue, Massport changed the original list of trucks for replacement to a prioritized list showing all eligible trucks and encouraged truck owners to actively seek out used trucks for purchase. Truck replacement was still prioritized based on emission reductions and service to Conley Terminal, but was conducted on a first come first serve basis to anyone determined to be eligible for the program, rather than just the oldest 20 trucks. By increasing the list of eligible trucks for replacement, Massport increased the number of people actively searching for such trucks and was able to overcome the scarcity.  Additionally, some owners decided to buy 2010 compliant trucks, rather than 2007 compliant trucks.  Six truck owners purchased brand new trucks and one owner purchased a used 2010 compliant truck.  Not only did this help solve Massport's problem, it also helped to increase emission reductions even more than originally anticipated.
The 2011 DERA-funded project was completed in April 2014, but the program was further funded through DERA later in the same year and then again in 2016.  In 2014, Massport leveraged the DERA grant to fund the Truck Replacement Program with a further $1,000,000. This funding allowed for the replacement of an additional 40 drayage trucks serving Conley Terminal. In 2016, Massport was awarded $800,000 under the DERA program to assist in the replacement of 26 additional dray trucks serving Conley Terminal.  The program is currently on schedule with nearly half of the trucks replaced so far.     
Outcomes for Massport Drayage Truck Replacement Program Annual Emission Reductions (Short Tons/Year)
 

Years

PM

HC

CO

NOx

Trucks Replaced

EPA DERA Grant

2011 - 2014

1.48

1.35

9.54

30.30

20

MPA Clean Truck Program

2015 - 2016

2.56

2.39

15.48

54.25

40

EPA DERA Grant*

2016 - 2018

0.99

1.00

4.19

12.54

26

Total:

-

5.03

4.74

29.21

97.09

86

*Emission reductions are estimated based on anticipated purchase of 26 replacement trucks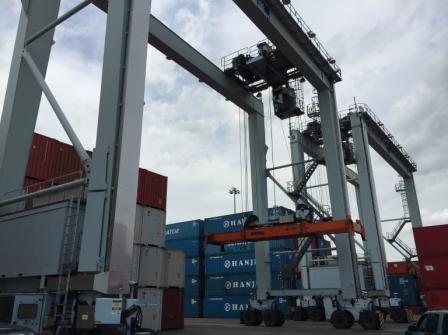 Terminal Rubber Tire Gantry Crane Repowering Project
In 2015, Massport was awarded another DERA grant - $333,000 to replace Tier 3 generator sets with EPA certified Tier 4 generator sets in 5 rubber tire gantry (RTG) cranes at the Conley Marine Terminal.  The generator sets will also be outfitted with a fuel saving system which reduces engine idle speed during down time between container moves.  The system is expected to reduce fuel consumption by 15 to 30%.  Reduced fuel use results in a reduction in overall emissions from the RTGs and an overall benefit to air quality in and around the near-port community of South Boston and beyond.
Dedicated Freight Corridor and Thomas J. Butler Memorial Park
Massport has invested $75 million to build a dedicated freight corridor that will take all trucks off East First Street and route them along a dedicated road with direct access to Summer Street, bypassing neighborhoods of South Boston.  In addition to the corridor, a 4.2-acre community open space park, Thomas J. Butler Memorial Park, will be built and maintained by Massport. The Memorial Park will serve as a significant noise and visual buffer for the adjacent residents and create a significant new amenity for the neighborhood.
Idle and Truck Trip Reductions
Truck idling: Truck emissions are directly related to the amount of time a truck spends at the terminal. Turn times have been cut by over 40% in the last ten years through efforts such as a mobile appExitthat provides terminal customers with container availability information before they even arrive at the terminal, reducing time spent at the terminal and potential issues at the terminal gate.  The app allows customers to search for containers and see, among ofther useful information, their release and availability status, any hazardous information, and whether any fees are due.  Customers can even make a a personal "Watch List" of containers to better monitor their status.  Over 41,000 hours of truck idling have been taken out of the South Boston community.
Fewer truck trips: Through better use of technology, and close coordination with port stakeholders, Massport has been able to avoid 21,000 truck trips per year into South Boston.