New York City Locomotive Repowers: Collaborative Efforts to Improve Air Quality
The New York City Economic Development Corporation (NYCEDC) and New York City Department of Small Business Services (NYC Small Business Services), in collaboration with EPA, undertook projects that began in 2011 and finalized in 2018 to reduce locomotive emissions in and around New York City with
four project partners
: 
CSX Transportation, Inc. (CSXT),
Waste Management of New York, LLC (WMNY),
New York & Atlantic Railway (NY&A), and
New York City Department of Sanitation (DSNY).
The projects consisted of repowering two locomotives owned by CSXT and NY&A. Projects were also influenced by Civics United for Railroad Environmental Solutions (CURES).
On this page:
---
Background
Exposure to air pollution associated with emissions from diesel engines (including particulate matter, nitrogen oxides, ozone, and air toxics) can contribute to significant health problems—including premature mortality, increased hospital admissions for heart and lung disease, increased cancer risk, and increased respiratory symptoms – especially for children, the elderly, outdoor workers, and other sensitive populations.1
Bronx, Queens and Kings Counties are three of the most densely populated counties in the U.S. and have asthma rates that are higher than the national average. Communities in these counties receive a disproportionate quantity of air pollution due to their proximity to regional and nearby sources including:
The East Coast's largest port and associated marine traffic;
Three major airports;
Freight and commuter rail yards operated by CSXT and NY&A;
The City's Industrial Business Zones; and
Significant highway infrastructure.
CURES advocated for the procurement of low-emission diesel freight locomotives in Queens and Brooklyn in order to address the local impacts from the locomotive operations. They engaged with elected officials and agencies including DSNY to recommend a locomotive repower (engine replacement) for the Fresh Pond Yard freight operations after exploring available technologies. Repowering to a low-emission configuration is an effective means to reduce nitrogen oxide (NOx), which benefits the New York-Northern New Jersey-Long Island Moderate Ozone Nonattainment Area and also reduces particulate matter of 2.5 microns or smaller (PM2.5).
In 2011, as part of its efforts to implement a sustainable waste export system for the City, DSNY signed a Letter of Commitment with WMNY to fund the procurement of a repowered locomotive for Fresh Pond Yard and partnered with NYCEDC and NYC Small Business Services on an EPA grant application for the project. Mayor Michael Bloomberg, the New York City Council, the Congressman and Congresswoman from the 10th and 6th Congressional Districts of New York, and state elected officials from Queens also supported this project.
Outcomes and Emission Reductions
The projects resulted in successful collaboration between multiple agencies (NYC Small Business Services and DSNY), civic organizations (CURES), businesses (WMNY, CSXT and NY&A ), and colleges and universities. Participation in public planning meetings with the New York Metropolitan Transportation Council (the Metropolitan Planning Organization for the area) resulted in the addition of an environmental goal in the Regional Transportation Plan to pursue funding to replace older diesel locomotives with newer Tier 4 or cleaner locomotives. Most importantly, the success of this project resulted in improved local and regional air quality through emission reductions described below.
CSXT Locomotive Replacement and Repower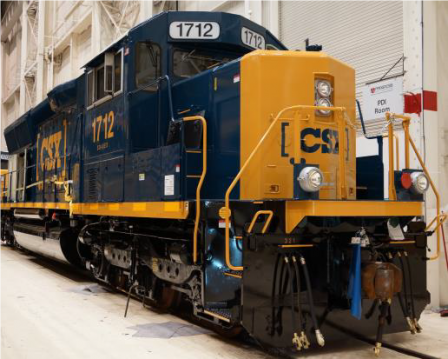 CSXT Locomotive Repowered with SELEL Technology
Photo Credit: CSX Transportation, Inc.In 2016, the CSXT project replaced one six-axle 3,000-hp Tier 0 locomotive with another locomotive, owned by CSXT, that was repowered and equipped with Single-Engine Low-Emission Locomotive (SELEL) technology. The replacement locomotive is certified to meet the EPA Tier 3 Line Haul and Tier 2 Switch emission standards. EPA provided $1 million in DERA funding and project partners provided a cost share of $959,734.
The repowered CSXT Tier 3 locomotive is used primarily for pulling interchange trains between Oak Point Yard, Bronx, NY and Fresh Pond Yard, Queens, NY.  Based on historical operating characteristics of the locomotive, CSXT expects annual emission reductions of approximately:
5.73 tons nitrogen oxide (NOx), a 33.8 percent reduction annually;
0.81 tons particulate matter (PM2.5), an 81.8 percent reduction annually;
46 tons carbon dioxide (CO2), a 6.8 percent reduction annually; and
4,803 gallons of diesel saved, a 6.8 percent reduction annually.
WMNY Locomotive Repower
The WMNY project repowered an old unregulated four-axle 1,200-hp locomotive used in switcher service with a Knoxville Locomotive Works (KLW) Near Zero Emissions Tier 4 Certified 2,300-hp mother-slug locomotive combination. WMNY partnered with NY&A to obtain the old locomotive and operate the new mother (power unit) and slug (power mate) locomotive.
WMNY's Tier-4 Mother-Slug Locomotive
Photo Credit: Waste Managment of New YorkThe mother-slug is a combination of two locomotive units operating in tandem, both of which are equipped with traction motors (which furnish the tractive power to the rail, physically moving the train along the tracks).
Only one of the locomotive bodies is equipped with a diesel engine and main generator which together provide the electric power for traction motors in both units.  This configuration allows the 2300-hp mother-slug locomotive to move more train cars than just the locomotive alone – achieving more work with the very-low emission engine. EPA provided $1 million in DERA funding and the project partners provided a cost share of $2,897,560.
The NY&A Tier 4 locomotive is being used on the Bushwick and lower Montauk branches in Brooklyn and Queens, including serving DSNY's Varick and Review Avenue truck-to-rail waste transfer station operated by WMNY. The locomotive provides service between Fresh Pond and the two branch lines as it travels through neighborhoods, including Bushwick and East Williamsburg in Brooklyn's community district 1 and Glendale, Middle Village, Ridgewood, Maspeth, Blissville and Long Island City in Queens' community districts 2 and 5. The repowered locomotive was placed into service in 2018. Based on historical operating characteristics of the locomotive, WMNY expects annual emission reductions of approximately:
19.4 tons nitrogen oxide (NOx), a 99 percent reduction annually;
0.48 tons particulate matter (PM2.5), a 99 percent reduction annually; and
26,000 gallons of diesel saved, a 40 percent reduction annually.
Lessons Learned
At the onset of the CSXT project, the project partners anticipated that a 3,000-hp conventional diesel short-haul locomotive would be repowered with one or more new engines certified at Tier 3 emission standards. However, the Single-Engine Low Emission Locomotive technology was selected by the project partners due to the load demand required to service the Oak Point Yard and deliver the weekly interchange train to the NY&A  Fresh Pond Yard in Glendale, Queens.
The WMNY project anticipated repowering a 1,200-hp diesel switch locomotive with one or more new nonroad engines configured to meet the Tier 4 emission standards. The project was delayed for a significant amount of time as the marketplace evolved to offer an appropriate locomotive. The plan was to repower the locomotive as a multi-engine generator set locomotive using multiple nonroad certified engines at the time the application was submitted. However, there were no manufacturers that met the service demands. Additionally, a Tier 4-certified single engine switcher locomotive repower was not commercially available until 2017.
Next Steps
Under the terms of the collaboration, CSXT, NY&A, and WMNY will make the locomotives available for use within the NYC area for a minimum of five years, except as required to leave the area for maintenance or service. The partners are hopeful that the successful outcomes of this project and the experience gained in the implementation of Tier 4 locomotive technology will encourage other operators to pursue switcher upgrades.
Partners Overview
NYCEDC is dedicated to promoting the growth and resilience of communities across the five boroughs of New York City (NYC). Their operating strategy includes investing in infrastructure, promoting innovation and job growth and creating an equitable and sustainable urban economy.
NYCSBS unlocks economic potential and creates economic security by promoting access to good jobs, creating stronger businesses and building thriving neighborhoods across New York City.
CXST is a Class I freight railroad operating in the Eastern United States. CSXT conducts service between the Oak Point Rail Yard in the South Bronx, and the NY&A's Fresh Point Yard in Glendale, Queens.
WMNY is a logistics company specializing in the transportation and disposal of waste. The company holds service contracts with the DSNY for the long-term export of municipal solid waste by rail at three truck-to-rail waste transfer facilities in the Bronx and Brooklyn.
NY&A is one of six railroads owned by parent company Anacostia Holdings Company.  Pursuant to contracts with WMNY, the NY&A provides freight rail service in Brooklyn, Queens and greater Long Island. NY&A provides service to WMNY's truck-to-rail waste transfer stations.
CURES is a grassroots community group formed to advocate for cleaner air around Fresh Pond Terminal in Queens. CURES has advocated for cleaner air in the   since 2009 through purchase of locomotives with lower emissions by the Metropolitan Transportation Authority Long Island Railroad.