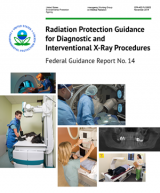 Federal Guidance Report No. 14 provides federal facilities that use diagnostic and interventional x-ray equipment with recommendations for keeping patient doses as low as reasonably achievable without compromising the quality of patient care. This guidance is an update of Federal Guidance Report No. 9, which was issued in 1976.
View Frequent Questions about Radiation Protection.
You may need a PDF reader to view some of the files on this page. See EPA's About PDF page to learn more.