Communication Resources from Other Agencies

The Centers for Disease Control and Prevention's (CDC's) Radiation Emergency Infographics
This website contains 16 infographics ranging across types of radiation emergencies to safety messages to medical countermeasures. The infographics are translated into many different languages.




The Federal Emergency Management Agency's (FEMA's) Improvised Nuclear Device Response and Recovery: Communicating in the Immediate Aftermath
This document provides pre-approved questions and answers to anticipated questions from the public and the media for after the explosion of an improvised nuclear device.

FEMA's Communicating During and After a Nuclear Power Plant Incident
This document provides pre-approved questions and answers to anticipated questions from the public and the media for an incident at a nuclear power plant.
 

Ready.gov Be Informed: Nuclear Explosion
This page has instructions on how to stay safe during and after a nuclear explosion. It links to FEMA's Be Prepared for a Nuclear Explosion information sheet, which is available in PDF form. It also includes a link to a preparedness video with hardcoded subtitles and American Sign Language (ASL) translation.
 

Department of Homeland Security's (DHS) Annex N (Radiological) to Emergency Support Function #15 External Affairs
Annex N of this document details radiological incident communications strategies and actions, and provides a resource list for other communications tools available from the federal government. It includes pre-approved social media messages that are compatible with Twitter and the Integrated Public Alert and Warning System.
During a radiological or nuclear emergency, clear and consistent messaging is important. The federal government has created several pre-scripted, focus-group tested messages to help emergency response departments, agencies, and individuals communicate radiation information and public safety measures with affected populations.
The tools (or documents) on this page complement one another, and are consistent in phrasing and word-choice. Public Information Officers (PIOs) and emergency response professionals should familiarize themselves with these documents and videos to better serve the public during any radiological or nuclear emergency.
Protective Action Guide (PAG) Manual Companion Documents
These companion documents to the EPA's Protective Action Guide (PAG) Manual will help emergency responders prepare public communication materials prior to and during a radiological emergency. These communication materials are based on the safety measures in the PAG Manual, and are designed to be used in all types of radiological emergencies. Links to the PDF documents listed below can be found at the bottom of the page.
Protective Action Area Map Templates (WORD)(10 pp, 16 MB, September 2017, EPA-420/K-17/003)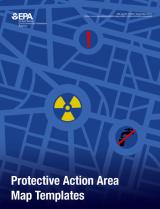 Templates for state, local, and tribal governments that need to provide evacuation, go inside, food, and/or drinking water guidance quickly to a population in a specific geographical area.
---
Protective Action Questions & Answers for Radiological and Nuclear Emergencies: A companion document to the U.S. Environmental Protection Agency Protection Action Guide (PAG) Manual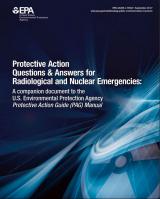 Pre-scripted radiation emergency public safety messages intended to help emergency planners prepare public communications prior to and during a radiological emergency.
---
Communicating Radiation Risks: Crisis Communications for Emergency Responders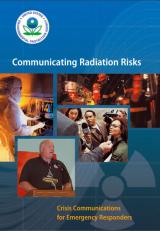 Guidance on communications techniques based on proven risk and crisis communication strategies as well as radiological scenarios and messages for use in radiological emergencies.
You may need a PDF reader to view some of the files on this page. See EPA's About PDF page to learn more.