Radiation Resources Outside of EPA
There are two forms of radiation: non-ionizing and ionizing. Non-ionizing radiation has enough energy to move atoms around in a molecule or cause them to vibrate. Power lines, cell phones and smart meters are some sources of non-ionizing radiation.
Ionizing radiation is sufficiently energetic that it can knock electrons out of atoms. Ionizing radiation can break DNA strands and cause mutations that can lead to cancer. Radioactive elements, cosmic radiation from space, and medical x-ray machines are some sources of ionizing radiation.  (See Types of Ionizing Radiation.)
EPA sets protective limits on ionizing radiation in the environment resulting from human use of radioactive elements such as uranium. (See EPA's Role in Radiation Protection.) Information about common sources of radiation regulated by other agencies is below.
On this page:
---
Radiation in the Electromagnetic Spectrum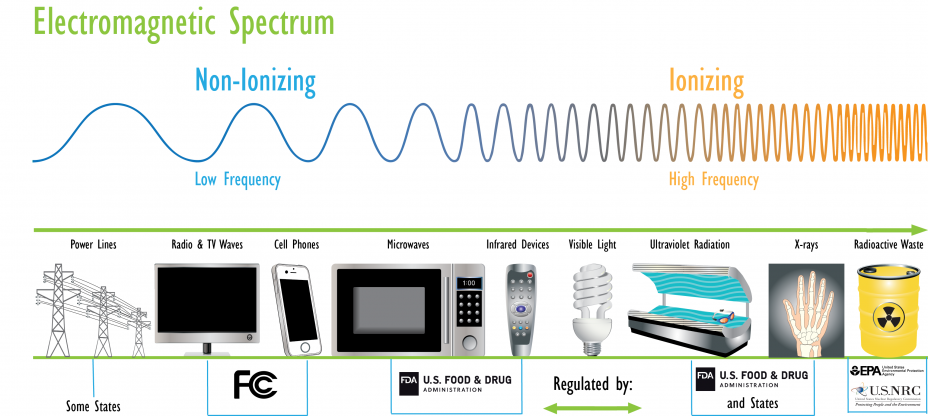 Example sources of non-ionizing radiation and the agencies that regulate them are on the left.
Example sources of ionizing radiation and the agencies that regulate them are on the right.
Power Lines
Power lines emit electric and magnetic fields (EMF), which are forms of non-ionizing radiation. There are no U.S. federal standards limiting residential or occupational exposure to EMF from power lines. For more information, see pages from the following organizations:
Electronic Devices
The U.S. Food and Drug Administration (FDA) sets standards for electronic devices that emit non-ionizing or ionizing radiation. For more information, see FDA's page:
Cell Phones
The Federal Communications Commission (FCC) sets limits on exposure to the electromagnetic radiation from cell phones and towers. For more information, see FCC's pages:
Smart Meters
Smart meters are equipped with a cellular transmitter that works using electromagnetic radiation. The FCC sets exposure limits for the electromagnetic radiation emitted by smart meters. For more information, see FCC's page:
Medical Use of Radiation
Some medical procedures use ionizing radiation to help diagnose or treat illnesses. These procedures can include x-rays, CT scans, and radiation therapy to treat cancer.
Nuclear Power Plants
Imported Goods
The U.S. Customs and Border Protection (CBP) screens imported products for harmful substances. For more information, see CBP's page: