Radiological Emergency Response: Expertise and Equipment
Report an Incident
To report a radiological emergency, please contact the interagency National Response Center at 1-800-424-8802.
To request specific EPA radiological support, please contact EPA's Emergency Operations Center at (202) 564-3850.
EPA's Radiological Emergency Response Team (RERT) is comprised of experts and specialized equipment used when responding to radiological emergencies from three locations.
On this page:
---
Radiological Emergency Response Team (RERT)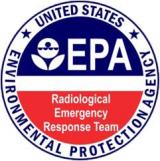 EPA has on-scene coordinators and several special teams that focus on responding to environmental emergencies, including the Radiological Emergency Response Team (RERT). The RERT provides specialized support for radiological or nuclear emergency responses.
The RERT is a multidisciplinary team of scientists, engineers, health physicists (radiation experts), communications experts and laboratory staff, whose job it is to support federal, state, local and tribal response efforts during all stages of a radiological response.
During a radiological response, the RERT provides:
Data quality assurance, assessment and interpretation.
Environmental fate and transport modeling.
Dose and risk assessment.
Protective action guidance and recommendations.
Public information support.
Cleanup and recovery planning.
National Center for Radiation Field Operations (NCRFO)
Based in Las Vegas, Nevada, NCRFO manages and coordinates the Radiological Emergency Response Team (RERT) field assets, which includes field monitoring and sampling capabilities, for preparedness, planning, and response to radiological emergencies and accidents nationwide. The RERT is an essential component of NCRFO and is key to EPA's response to radiological emergencies and accidents nationwide.
The NCRFO staff also assesses sites contaminated with radioactive material and manages all of the related radiation field resources. For both missions, NCRFO works with, and supports, the EPA's Office of Emergency Management (OEM), regional emergency response programs, the other EPA Special Teams, and other federal agencies.
National Analytical Radiation Environmental Laboratory (NAREL)
Based in Montgomery, Alabama, NAREL operates several programs that routinely conduct radiological analyses of environmental samples. These data are available to the public, and they are available to the Radiological Emergency Response Program during an emergency. Assets located at NAREL include the fixed analytical laboratory, the Mobile Environmental Radiation Laboratory (MERL), and the RadNet air and water monitoring programs.
NAREL supports the Agency's Homeland Security mission through its lead responsibility within EPA for analyzing samples collected in the field following a nuclear or radiological incident or accident. In this role, NAREL provides fixed and mobile laboratory analytical support for all areas of ORIA's emergency response program and provides expert consultation on radiation incidents to the National Response Center, as well as coordinates appropriate analytical projects with NCRFO. Staff from NAREL fill positions in the RERT to include an RERT Commander and mobile laboratory analysts and support other positions within the Incident Command structure.
NAREL plays a lead national role in environmental radiological laboratory preparedness for a nuclear incident or accident through various activities, such as the publication of guidance documents and development of rapid radiochemical methods, conducting training courses in radiochemistry and by conducting proficiency testing of commercial, state and other federal laboratories. In partnership with EPA's Office of Research and Development's National Homeland Security Research Center, NAREL has developed and validated more than 40 rapid radiochemical methods for environmental and urban matrices.
NAREL is EPA's only radiological laboratory and is accredited by National Environmental Laboratory Accreditation Program to The NELAC Institute Standards. NAREL is also a member of EPA's Environmental Response Laboratory Network (ERLN), and is an active member in the DHS-lead Integrated Consortium of Laboratory Networks (ICLN). Learn more about the ICLN.
Radiation Protection Division (RPD)
Based at EPA Headquarters in Washington, DC, RPD supports the RERT as the overarching organization for the Center for Radiological Emergency Management (CREM) and the Center for Radiation Information and Outreach (CRIO). CREM RERT personnel are radiation experts who, in conjunction with NCRFO, NAREL, EPA regions and offices, and numerous Federal agencies, are responsible for coordinating EPA's national planning and policy for radiological emergencies. CRIO RERT personnel are public affairs personnel who are specialized in radiological information and who work with other Federal agencies in developing public messaging and outreach policy. In the event of radiological emergency responses, RPD RERT personnel, while potentially being assigned to field positions, will generally be assigned to various roles in the EPA's Emergency Operations Center and to other Federal agencies' emergency operations facilities.
Equipment
The RERT can bring a number of different types of radiological monitoring, sampling and analysis equipment to the site of a radiological emergency. EPA's radiological monitoring equipment includes:
Mobile Environmental Radiation Laboratory (MERL)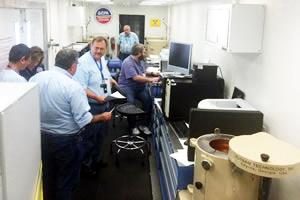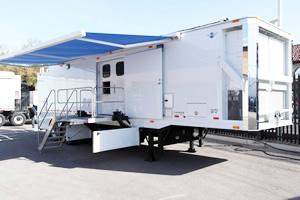 The Mobile Environmental Radiation Laboratory (MERL) consists of two towed, self-contained, stand-alone tractor/trailer systems (MERL and a separate Sample Preparation Laboratory). This system has its own laboratory information management system (LIMS) and satellite communications system.
MERL radioanalytical capabilities include:
Gamma analysis of soil, water, vegetation and air particulate filter samples
Gross Alpha/Beta radiation on air particulate filters and contamination swipes/smears.
Sample Prep Laboratory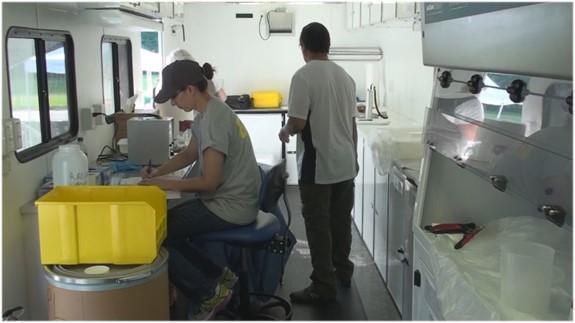 Provides radiation analyses for sample collected at an incident scene.
Includes quick sample prep capability.
Allows more staff to work on samples improving throughput.
Mobile Command Post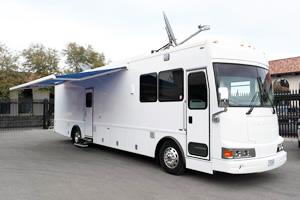 Provides responders, scientists and other personnel with a flexible enclosed environment to direct field activities.
Includes command center, meeting room, breakout area, restroom and shower.
Equipped with satellite TV, internet and radio for monitoring response activities.
Can be self-powered if needed.
Scanner Van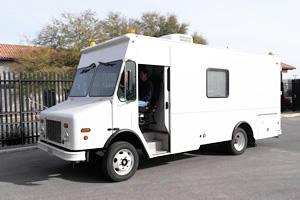 Rapid scanning system designed to find gamma radiation sources in urban environments
Designed to cover large areas quickly to identify hotspots
Field Monitoring and Sample Collection Equipment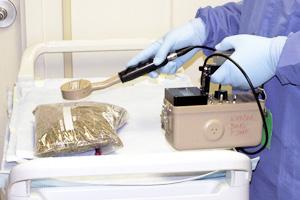 Handheld field monitoring equipment to detect alpha, beta, gamma, and neutron radiation
High resolution in-situ gamma-ray spectrometry
Low, medium, and high volume air samplers
Monitoring Aircraft - ASPECT (CMAD)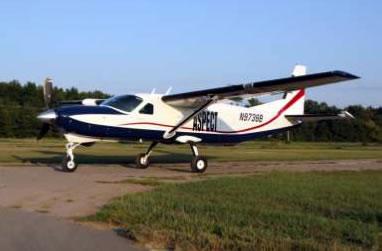 The Airborne Spectral Photometric Environmental Collection Technology (ASPECT) plane is maintained and supported by the EPA's Consequence Management Advisory Division (CMAD). This resource has been used by the RERT during radiological emergencies to provide aerial radiation monitoring.