TENORM: Coal Combustion Residuals
Coal is a fossil fuel used to produce power in the United States. Coal contains trace amounts of naturally occurring radioactivity. Coal combustion generates residuals which contain concentrated naturally occurring radiation materials, also referred to as Technologically Enhanced Naturally Occurring Radioactive Materials (TENORM). The most frequently occurring radionuclides (and their decay products

decay productsThe atoms formed and the energy and particles emitted as radioactive material decays to reach a stable form.) found in coal combustion residuals are:
On this page:
---
Coal Combustion
Coal is used as a fuel in boilers to generate heat to create steam for power generation and industrial applications. Radioactive materials that are naturally included in coal's composition are also combusted during this process. When combustion is completed, the naturally occurring radioactive materials mostly end up in fly ash, bottom ash and boiler slag

slagByproduct left after a desired metal is thermally separated from its raw ore. . About 10 to 20 percent of fly ash, bottom ash and boiler slag consists of TENORM. Learn more about coal ash.
Soils and rocks contain different amounts of naturally occurring radioactive material (NORM). Coal also contains NORM in differing quantities, based on the environmental conditions (e.g., hydrogeological makeup). When coal is burned, the products that result, called coal combustion residuals (CCRs) also have differing levels of TENORM. The resulting CCRs are directly related to the amount of radioactive material that was in the coal before it was burned. CCRs can contain concentrations of TENORM that are 3-5 times higher than background levels in average soil in the United States.
The image below shows the radioactivity concentrations of three different coal deposits in the United States.1 These radioactivity profiles tie coal to its place of origin.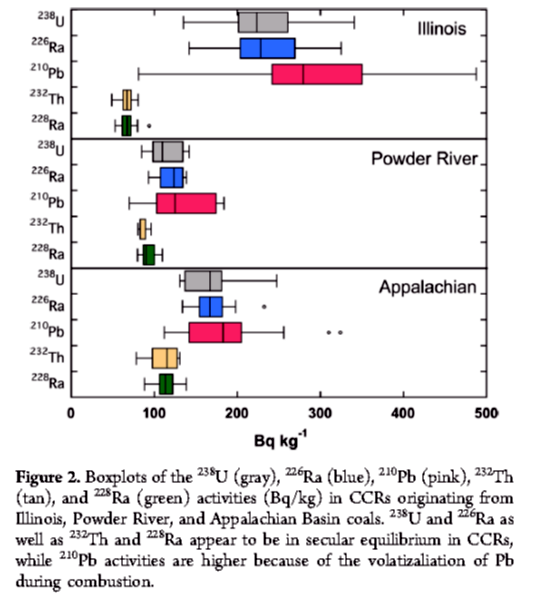 1 Image shared with permission from authors of Naturally Occurring Radioactive Materials in Coals and Coal Combustion Residuals in the United States (2015)
Waste Generation
Coal ash is one of the largest types of industrial waste generated in the United States. In 2012, 470 coal-fired electric utilities generated about 110 million tons of coal ash. Coal combustion residuals are one of the largest types of industrial waste generated in the United States.
Coal combustion produces three main waste streams:
Fly Ash is a light, fine particle residual, which can be carried up boiler stacks with hot flue gases during combustion. Despite being a fine particle residual, the majority of coal combustion residuals are fly ash.

Bottom Ash is too large or heavy to be carried by flue gases and settles to the bottom of a boiler. The amount of bottom ash produced during coal combustion depends on the mineral content of the coal and the type of boiler used. Generally, the higher the mineral concentration in the coal, the more bottom ash is produced. Just over ten percent of coal combustion residuals is bottom ash.

Boiler Slag is formed when the bottom ash melts under the intense heat of combustion. About two percent of coal combustion residuals is boiler slag.

Pollution Control
Reducing air pollution from fly ash and other constituents from coal combustion are a requirement of the Clean Air Act. Pollution control equipment is routinely used to reduce the emission of fly ash into the atmosphere. These systems work by removing particles out of plant exhaust through electrostatic precipitation, fabric filters and condensation. The filters are about 99 percent effective; about one percent of fly ash is released into the air.
Some utilities are now preferentially selecting coal with lower mineral (or ash) content to meet particulate emission standards. In other instances, utilities reduce the ash content by washing the coal. Washing can reduce the ash content by as much as 50 to 70 percent.
Waste Management and Reuse
Coal combustion residuals (CCR) are either sent off-site for disposal or beneficial use, or disposed onsite in landfills and surface impoundments. There are over 310 active coal combustion residual landfills and 735 active coal combustion surface impoundments. The 2015 American Coal Ash Association Production and Use Survey reported that more than 50 percent of all fly ash, bottom ash and boiler slag is reused.
CCR reuse depends on the type of ash:
Fly Ash: About 64 percent of the total fly ash reported as reused was in concrete and blended cement. Because fly ash can be used in Portland cement, the final fly ash concentration in concrete ranges from one to four percent. Just over 60 percent of its reported use was in concrete and blended cement. It can typically be substituted for cement at a rate of 10-40 percent.

Fly ash can be used in an encapsulated form, such as a filler in plastics, rubber, and similar products. Learn about beneficial use of coal ash. EPA has limitations on the use of unencapsulated fly ash. Learn more on the Coal Ash Reuse webpage.

Bottom Ash: Almost 43 percent of the total bottom ash reused was for concrete, blended cement and structural fills/embankments. The remaining usage was as road base, in snow and ice control, for mining applications and as an aggregate.

Boiler Slag: Ninety-six percent of the total boiler slag reused was as blasting grit and roofing granules. The remaining usage was as structural fills/embankments, in road base, for snow and ice control and as aggregate.

Fly ash, bottom and boiler slag that are reused must meet the definition for beneficial use as outlined in 40 CFR 257.53(6 pp, 132.1 KB, About PDF). Before beneficial use for CCRs can be considered, responsible parties should consult both this definition and the relevant state authorities to identify all the requirements that would apply.

Fifty percent of the total fly ash, bottom ash and boiler slag generated is not reused. Typically it is disposed of in landfills and surface impoundments. There are regulations for the construction and maintenance of those impoundments. Learn about the Final Rule: Disposal of Coal Combustion Residuals from Electric Utilities.