Radon Life Saver Award
As part of the Federal Radon Action Plan, EPA recognized fellow federal agency members that had demonstrated exceptionally noteworthy efforts to reduce radon risks.
To learn more about the federal government's strategic approach to reduce radon risk in the millions of homes, schools and daycare facilities that it influences, read "Protecting People and Families from Radon: A Federal Action Plan for Saving Lives.
Return to the Federal Radon Action Plan.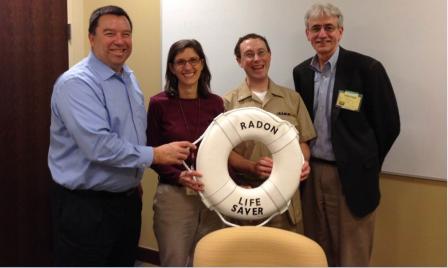 Pictured: (L to R) David Rowson (EPA), Dr. Ursula Bauer (CDC), Tony Neri (CDC) and Mike Flynn (EPA)
Center for Disease Control and Prevention
The Radon Lifesaver Award is presented by EPA to individuals and agencies who have made substantial progress identifying and addressing radon nationwide. Dr. Antonio Neri led efforts at CDC's National Center for Chronic Disease Prevention and Health Promotion, Division of Cancer Prevention and Control (DCPC) to raise awareness among the National Comprehensive Cancer Control Program (NCCCP) sponsored cancer coalitions about radon that resulted in a number of new collaborations.
The most visible collaboration resulted in a joint effort by the Minnesota Cancer Alliance (partially funded by the NCCCP) and the Minnesota Radon program. These programs helped develop a legislature-requested policy requiring all home sellers to sign a separate disclosure specific to prior radon test results and homebuyers to receive information specifically about radon during a single-family home sale in Minnesota. This policy was passed by the legislature and enacted in January 2014.
While it is too early to know the effect in Minnesota, the same law in Illinois tripled the number of homes tested annually when it was enacted. DCPC also has a number of collaborative evaluation and cost-effectiveness projects with EPA and other partners related to radon that are expected to further develop the evidence base for radon testing and mitigation nationwide. With the Center Director, Dr. Ursula Bauer in attendance, Dr. Neri received the Lifesaver Award from EPA's David Rowson, Director of the Indoor Environments Division and Mike Flynn Director of the Office of Radiation and Indoor Air.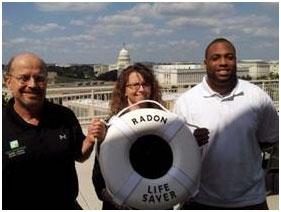 Pictured: (L to R) Peter Ashley, Chris Trent, Tavaris T. Kitchen, HUD
Department of Housing and Urban Development
The inaugural Radon Life Saver Award for Outstanding Effort to Reduce Radon Risks to Public Health was presented to the U.S. Department of Housing and Urban Development (HUD) on July 15, 2013 in recognition of their policies to advance radon testing and mitigation in federally assisted housing.
The Award is given by the Federal Radon Action Plan workgroup to individual and/or group members. HUD was recognized for their Multifamily Housing Radon Notice and its Companion letter to holders of FHA-insured multifamily housing mortgages, as well as their Work with AARST to educate:
Staff
Lenders
Industries
States
on the risks of radon. The Notice requires that radon testing be part of the environmental report for these assistance programs and is a significant step forward in protecting residents in public housing from radon.
HUD Documents: