Natural Radionuclides in Private Wells
Radiation Facts
More than 15 million Americans use private wells as their main source of drinking water. Those who use private wells should:
Test for radionuclides every three years.
Take appropriate steps if radionuclide levels are higher than the EPA's limits.
About 15% of Americans use private wells as their main source of drinking water. Unlike public water systems, wells are usually not regulated or routinely inspected for radionuclides, though some states and cities do regulate private wells. As a result, well owners are responsible for making sure their drinking water is safe to drink. Well water should be tested on a regular schedule. Each year, well owners should test for contaminants such as bacteria, nitrates and viruses. Every three years, well owners should test for radionuclides.
On this page:
---
About Natural Radionuclides in Private Wells
Uranium is a naturally-occurring radionuclide that decays over time and forms radium. Both elements are naturally present in rocks and soils. Radium breaks down further to form the radioactive gas radon. All three of these elements can dissolve in water, which means they can accumulate in wells. If the soil and rocks surrounding a well have high enough concentrations of radionuclides, the well water may contain levels that exceed the EPA's standards.
Well water should be tested every three years for radionuclides. Kits for testing well water are available online, in hardware stores, and from many state governments.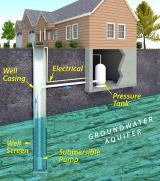 This picture shows how a private well at a home pumps water from the groundwater aquifer into a pressure tank, which provides the water to a household or building.
There are different kinds of tests for different radionuclides in well water. Ask your local drinking water office or your local radiation control program for the tests that are most useful to your area. You can find contact information for your state's radiation control program on the Conference of Radiation Control Program Directors (CRCPD) website.Exit
If you discover that you need a treatment system, radionuclides can be removed from water by installing a treatment system at the tap. These filtration systems are called Point of Use (POU) systems. Several types of POU systems are available. Two types that the EPA has found to work well are ion exchange and reverse osmosis. Often, they collect too much radiation to be disposed of with ordinary trash. The company that installs the POU system or state radiation and solid waste offices will be able to help well owners with proper disposal guidelines.
What You Can Do
Treat your drinking well water if necessary. If your well water needs to be treated, there are several organizations that can help you pick the best treatment: