Radioactivity in Antiques
Radiation Facts
Certain radioactive materials were used in antiques because of their unique color.
Antiques containing radioactive material may continue to emit very low-levels of radiation for thousands of years, if not longer.
Antiques that contain radioactive materials are usually not a health risk if they are in good condition.
Along with furniture, clothing, jewelry, dishes, and other treasures sold at thrift stores and antique shops, you might find some items that contain radioactive material. Some antiques were made and sold before scientists fully understood the health effects of radiation. Certain radioactive materials were used in antiques because of their unique color. For example:
Clocks, watches and dials that glow-in-the-dark without the use of a battery may contain radium or tritium.
Ceramics made until the 1970s may have glazes colored with radionuclides.
Vaseline glass, or canary glass, contains a small amount of uranium. This gives the glass its yellow-green color. It also makes the glass glow bright green under a black light.
Cloisonné jewelry gets some of its yellow, orange and off-white colors from small amounts of uranium in the glaze.
Radioactive antiques can continue to emit very low-levels of radiation for thousands of years, if not longer. The amount of radiation these items emit is small. However, it can register on a hand-held Geiger counter if the object is close enough to the monitor.
On this page:
---
About Radioactivity in Antiques
Clocks, Watches and Dials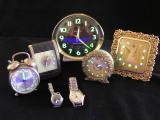 Various clocks and watches are pictured with glowing numbers on their faces, due to radium's glowing properties.
Glow-in-the-dark paint is now made without radioactive material, but in the early 1900s radioactive materials were used to make paint that glowed. Radium is one type of radioactive material that could be found in antiques. When radium was discovered in the early 1900s, people were fascinated by its mysterious glow and it was added to many everyday products, including paints. These paints were used on the dials of clocks and watches to make them glow-in-the-dark. This glow-in-the-dark paint was also used on airplane dials and gauges, which allowed people to read clocks, gauges, and dials at night with no other light.
During World War II, radium dials and gauges allowed pilots to fly at night without cockpit lights. This helped the pilots avoid being seen by enemy soldiers.
Radium is highly radioactive. It emits alpha, beta, and gamma radiation. If it is inhaled or swallowed, radium is dangerous because there is no shielding inside the body. If radium is ingested or inhaled, the radiation emitted by the radionuclide can interact with cells and damage them. During the production of radium dials, many workers who painted clock or instrument dials with radium developed cancer. To create fine tips on their paint brushes for small surfaces, many radium dial painters licked the bristles of their paintbrushes. In doing this, they often swallowed some of the radioactive paint. In the body, radium acts similar to calcium, so the radium that workers ingested was deposited into their bones. Many of these workers developed bone cancer, usually in their jaws. Eventually, scientists and medical professionals realized that these workers' illnesses were being caused by internal contamination from the radium they ingested. By the 1970s, radium was no longer used on watch and clock dials.
Ceramics
Before the 1970s, many companies used radionuclides to color glazes. The most commonly used radionuclides were uranium, thorium, and potassium. These elements emit alpha, beta and/or gamma radiation.
These glazes can be found on floor and wall tiles, pottery and other ceramics. Uranium was used in the glazes on Cloisonné jewelry to make orange, yellow and green colors. Some Fiestaware produced before 1973 used depleted uranium to create the color of the glaze. Learn more about Depleted Uranium.
Glass
For hundreds of years, glassmakers used small amounts of uranium to create yellow or green glass. The yellow tint of this glass led to the nicknames "Vaseline glass" and "canary glass." Under an ultraviolet (UV) or "black" light, the uranium causes the glass to glow bright green.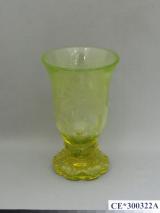 This image of a vaseline-glass cup can glow under a black light. (Source: National Museum of American History)
After 1970, United States glassmakers and ceramic producers stopped using radionuclides for color. They are still used in a few other countries. Sometimes ceramics and glass with radioactive coloring agents still enter the United States from these countries.
What You Can Do
Do not attempt to take apart radium watches or instrument dials. Radioactive antiques are usually not a health risk as long as they are intact and in good condition.
Do not use ceramics like antique orange-red Fiestaware or Vaseline glass to hold food or drink. They can chip, and you can ingest particles of uranium with your food or drink.
Dispose of any broken radioactive antiques. For instructions on proper disposal, contact your state or local radiation control program.