EPA Region 6 Mobile Laboratory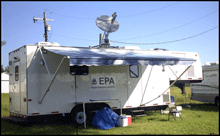 In 2003, EPA Region 6's Laboratory Services and Applied Science Division (LSASD) purchased a mobile laboratory to enhance the region's analytical options in the field. The mobile lab is a 5th wheel designed laboratory trailer that is 30 ft. in length and 8.25 ft. wide and has the following features:
satellite communication,
on-board power generator,
air conditioning system,
refrigerator, and
extensive cabinetry.
The mobile lab is designed to accommodate modern analytical instrumentation. Based at the Regional Laboratory in Houston, TX, the mobile lab has been deployed in the field for disaster support, enforcement, National Pollutant Discharge Elimination System (NPDES), Resource Conservation and Recovery Act (RCRA), and drinking water analyses, and is available upon request for support of all programs.
Mobile Laboratory Capabilities
ESB Mobile Laboratory Field Deployment Advantages

| On-Site Support | Rapid Screening Capability | Resource Efficient | Faster Results | Cost Efficient |
| --- | --- | --- | --- | --- |
| Travel within Region 6 | Multiple instrumentation | Outfitted for specific needs. | Screening methods are streamlined for quicker turnaround. | Eliminates unnecessary samples for full fixed lab analysis. |
Current Uses

| Volatiles (VOAs) | Portable GC and GC/MS | Microbiology | Sample Staging Area | Satellite Communication w/ WiFi |
| --- | --- | --- | --- | --- |
|   | Direct air or headspace | Total + Fecal Coliform (full Coliert testing) |   |   |
Control measures are in place to insure data quality. The Region 6 Lab in Houston serves as the base of operations and is able to provide confirmation analysis. Chemists currently at the lab are qualified to staff the unit.
Uses of the unit includes:
Superfund site characterization and/or remediation
Real – time analysis at remote public water supply sites
Regional enforcement activities
Homeland Security activities
Installed generators supply the necessary electricity to power the analytical instruments. The mobile laboratory's heating and air-conditioning allow for year round use. Except for certain consumables, the unit is self-sufficient.
In addition to analytical equipment, the unit contains:
Mounting bracket for snorkel to allow air sampling/analysis while mobile
Mounting bracket for weather station to measure wind speed, direction, ambient temperature, and humidity
Mounting bracket for a satellite dish for data transfer to the Regional Lab/Office.
The unit was deployed during Hurricane Katrina and Hurricane Rita responses.