About the Technical Support Project's Federal Facilities Forum
Who We Are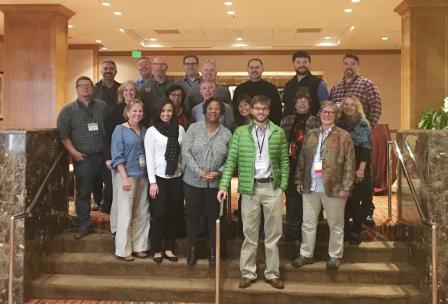 FFF Members attend the 2017 NARPM Training Program in Denver, CO.As one of the EPA Technical Support Project's (TSP) three technical forums, the Federal Facilities Forum (FFF) provides technical and regulatory support pertaining to federal facilities to RPMs. The FFF also maintains a line of communication between the regional offices, Headquarters, and the laboratories of EPA's Office of Research and Development (ORD). The FFF encourages information exchange among these organizations regarding site characterization, cleanup, and policy issues. Site-specific cleanup issues include problems encountered and solutions, lessons learned, new technologies, and guidance/policy differences with other federal agencies. Forum membership comprises engineers, geologists, environmental scientists, and other technical professionals from each EPA Region working on federal facility cleanup issues.
"Friends of the forum" representing the ORD laboratories, Headquarters program offices, and state agencies also participate in forum activities. The activities consist of monthly teleconferences, technical meetings, development of issue papers, and participation on other forum projects and committees.
Through its activities, the FFF aims to:
Facilitate resolution of technical and regulatory problems encountered by site personnel at federal facilities.
Develop and present training and technical presentations to meet the needs of federal site managers.
Maintain and enhance technology transfer among cleanup programs within EPA. 
Formulate or review issue papers, guidance/policy, and other technical documents. 
Provide EPA programmatic and regional personnel with a focal point for site information exchange and technical support for federal facility site managers.
Exchange technical and guidance/policy information among EPA regional offices, EPA laboratories, EPA Headquarters (especially the Federal Facility Restoration and Reuse Office and the Federal Facility Enforcement Office) and state partners.
Subcommittee/Workgroup Participation
Forum members participate on the Engineering Forum's greener cleanups and containment subcommittees as well as on other workgroups that focus on site optimization, cross-agency policy consistency, and National Association of Remedial Project Managers (NARPM) representation. The FFF co-chairs participate in the Federal Facility Leadership Council's monthly conference calls and annual meetings.
Federal Facilities Forum Issue Papers
Site Characterization for Munitions Constituents. EPA 505-S-11-001, 2012
Perchlorate Treatment Technology Update. EPA 542-R-05-015, 2005
More Issue Papers are available on the TSP Issue Papers Page.
Current Federal Facilities Forum Issues
Considering when it is appropriate to sample for other isomers of dinitrotoluene (i.e., 2,3-DNT, 2,5-DNT, 3,4-DNT, and 3,5- DNT) in addition to the standard isomers, 2,4-DNT and 2,6-DNT.
Evaluating national consistency of characterization and cleanup of pesticide contamination where buildings are demolished.
Assessing the national consistency of groundwater cleanup levels at Formerly Used Defense Sites compared to the cleanup levels at NPL sites.
Training
The FFF has provided training at the NARPM Conference in recent years. Courses have included radioactive site investigations, cleanup, and health and safety issues; emerging contaminant issues; munition site investigation approaches and technologies; and cutting edge technologies. FFF provides additional training during business sessions at NARPM and at the TSP meetings. FFF has monthly conference calls on the second Thursday of the month. Training is provided on the calls several times each year, and participants are also alerted to relevant workshops and webinars.
Members and Friends
If you have a site-specific federal facility issue you would like the FFF to address, or for more information, please contact one Monica McEaddy (FFRRO) at 202-564-0795  or McEaddy.Monica@epa.gov or  Anna Cornelius (R4) 404-562-9435 or Cornelious.Anna@epa.gov.
Join the Discussion!
If you are a Brownfields, Superfund, RCRA, or state project manager and are interested in being involved in federal facilities issues, please contact one Monica McEaddy (FFRRO) at 202-564-0795  or McEaddy.Monica@epa.gov or  Anna Cornelius (R4) 404-562-9435 or Cornelious.Anna@epa.gov.