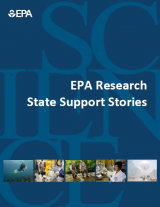 EPA's Office of Research and Development has compiled a series of support stories to illustrate the success of partnerships and provide examples of how state environmental agencies and public health departments are using Agency research results, decision support tools, and technical solutions to address a diversity of issues, including air and water pollution, chemicals, Superfund and contaminated sites, and homeland security.
The compiled document linked below contains a state index at the end to quickly search for all support stories in a particular state. 
See similar stories about EPA National Estuary Program research across the nation. 
You may need a PDF reader to view some of the files on this page. See EPA's About PDF page to learn more.